This Slow Cooker Apricot Chicken recipe is so incredibly easy, it's perfect for really busy weeknights - just a 5 minute prep with minimal ingredients! Juicy chicken thighs are combined with apricot jam and sesame oil for a sweet and sour flavor.
Easy apricot chicken will become one of your favorite meals that is always a go to if you can't think of anything else. It's definitely a "reader favorite" on my website. The ingredients infuse the chicken with tons of flavor so it doesn't dry out, which can be tough with slow cooked chicken.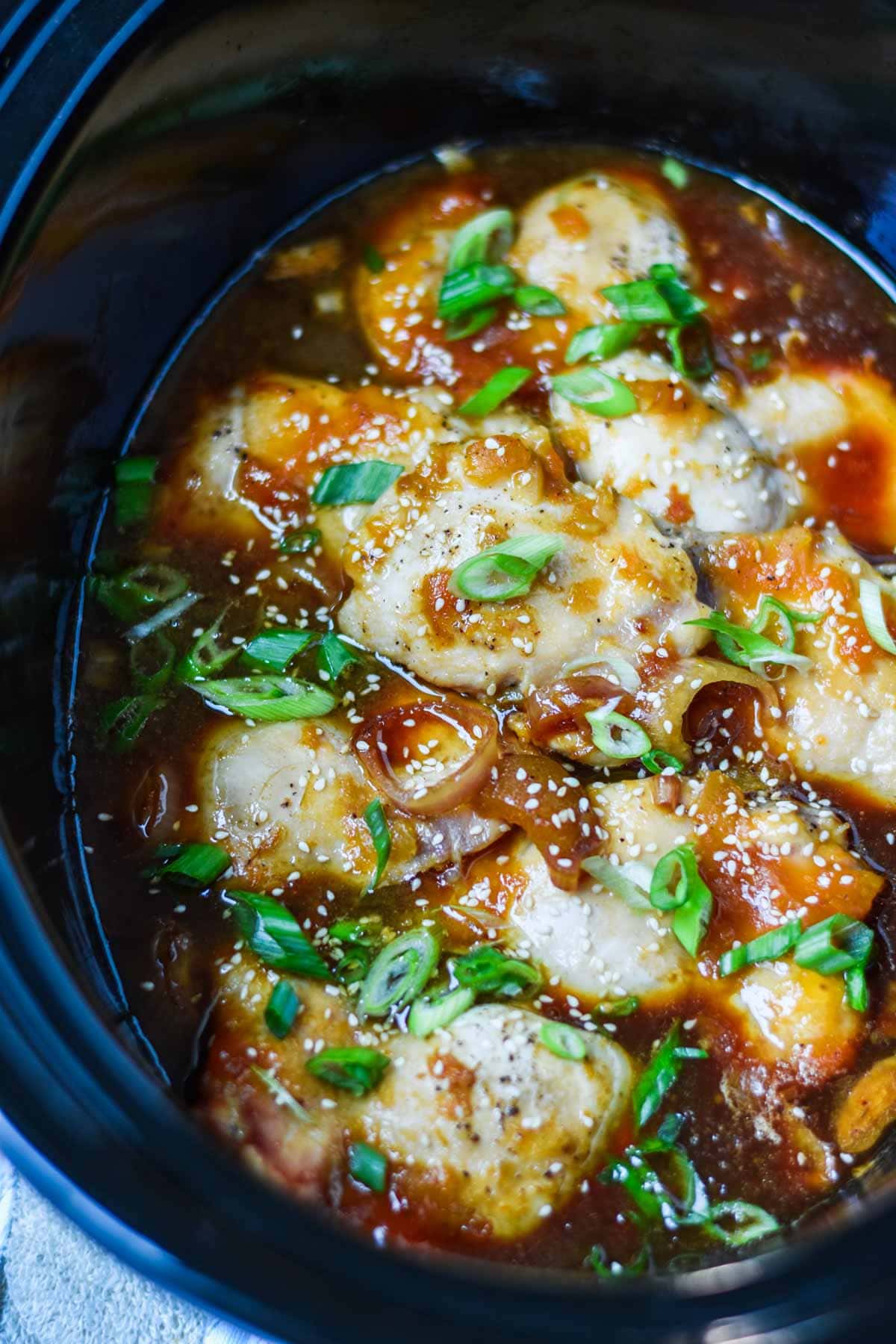 What makes this slow cooker apricot chicken recipe unique is it doesn't contain any soup or dressing mixes. This is especially helpful for those watching their sodium content, or those who cannot tolerate MSG. And you don't need them for a very flavorful and easy dish.
Why Make Apricot Chicken in the Slow Cooker?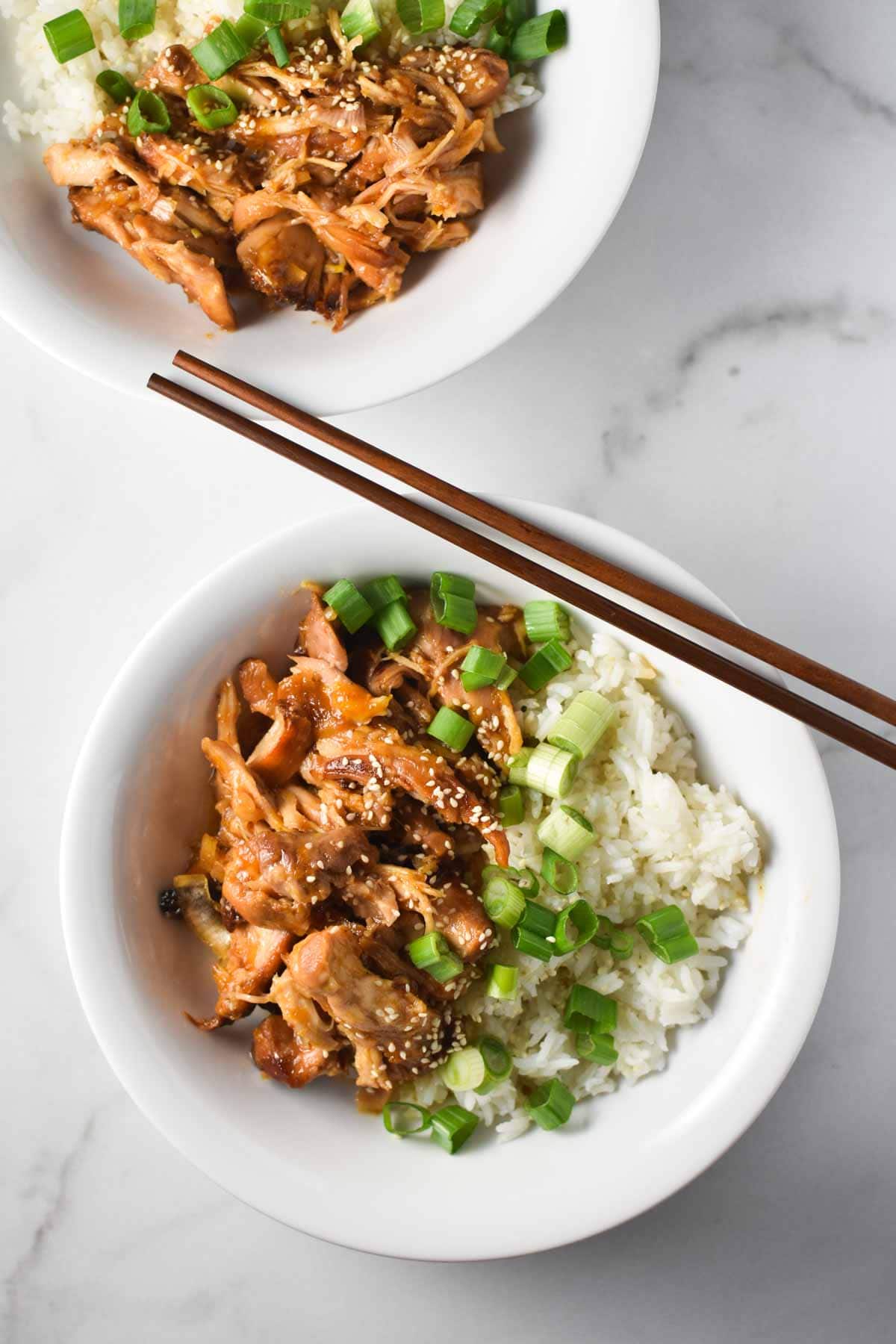 As a new mom who has now realized the witching hour perfectly coincides with dinner time, I'm looking for quick and easy recipes. If it is items I already have in the pantry, that's even better. The flavors are similar to sweet and sour chicken without a lot of effort.
Minimal Ingredients - This slow cooker apricot chicken has just 6 main ingredients and most are pantry staples.
Good for meal prep - It freezes and reheats well, making it a great recipe for new parents, busy weeknights, or to bring to a sick friend.
Low effort - No cooking skills needed, just dump everything in the crock pot!
Additive-free - It fits a migraine diet, is dairy free, and gluten free.
Jump to:
Ingredients
Apricot Jam or Preserves- If you're in the in the elimination period of your migraine diet, you will have to avoid citrus. A few that I've found without citrus are Trader Joe's Low Sugar Apricot Jam, Stonewall Kitchen, and Thrive Market. I typically use the Trader Joe's brand for this recipe. Smuckers Apricot Preserves would also be ok. Bonne Maman also has a great one, but it does contain lemon juice if that is tolerated well. I have used this as well.
Chicken Thighs or Breasts - When using a slow cooker, it's always best to go with chicken thighs as they're much more forgiving with high heat. This is especially helpful if your slow cooker is anything like mine and the "warm" setting still results in a low simmer! This way you don't have to pay too close attention to when the chicken is done, although they do take about an hour longer to cook.
Shallots - Shallots have sort of an onion/garlic flavor combo, making them perfect for this recipe. You don't need extra ingredients - just shallots! Fresh shallots, not dried, should be used for this particular recipe.
Coconut Aminos - This is a soy-free substitute for soy sauce. You can definitely use soy sauce if you're not sensitive to soy, or not in the elimination period of a migraine diet. Keep in mind, coconut aminos are sweeter than soy and have less sodium. You may need to adjust your seasoning accordingly.
Toasted Sesame Oil - Don't skip this ingredient! Found in most grocery stores, it's necessary for a nutty, deep flavor that transforms this into an Asian-inspired version of apricot chicken.
I know it seems like we should be adding more liquid to the mixture, but trust me, the chicken will give off plenty of juice as it cooks. This combines with the apricot jam, sesame oil and coconut aminos for a nice sauce over rice.
Recipe Substitutions
This crockpot apricot chicken is already dairy free and gluten free, but here are some more substitution ideas if you need them.
Use mango or peach jam instead of apricot.
Soy sauce can be a substitute for coconut aminos (if not on a migraine diet).
Use 3 cloves of garlic instead of shallots.
What Slow Cooker to Use
A good slow cooker can make a big difference when cooking chicken, especially with timing. Mine cooks pretty fast! I use the Crockpot Programmable Cooker for this recipe. Depending on how fast or slow yours cooks, you may only need 2-3 hours on low heat or 1-2 on high heat. I don't recommend using the high setting as I feel like you get the best flavor on low heat.
A few readers have tested this in an instant pot and reported success, but I have yet to test it myself! I would probably cook for about 8-10 minutes if I intended to use it that way.
I don't recommend using the slow cooker function on an instant pot. It just doesn't work as well because it heats from the bottom and not all the sides like a traditional slow cooker.
Step by Step Process
Step 1: Mix everything together in the slow cooker
This is as simple as it gets! Start by chopping shallots and placing your chicken thighs or breasts in the bottom of the slow cooker. Then cover with the apricot jam, sesame oil, shallots, coconut aminos and salt and pepper. You can mix everything together so the chicken gets fully coated.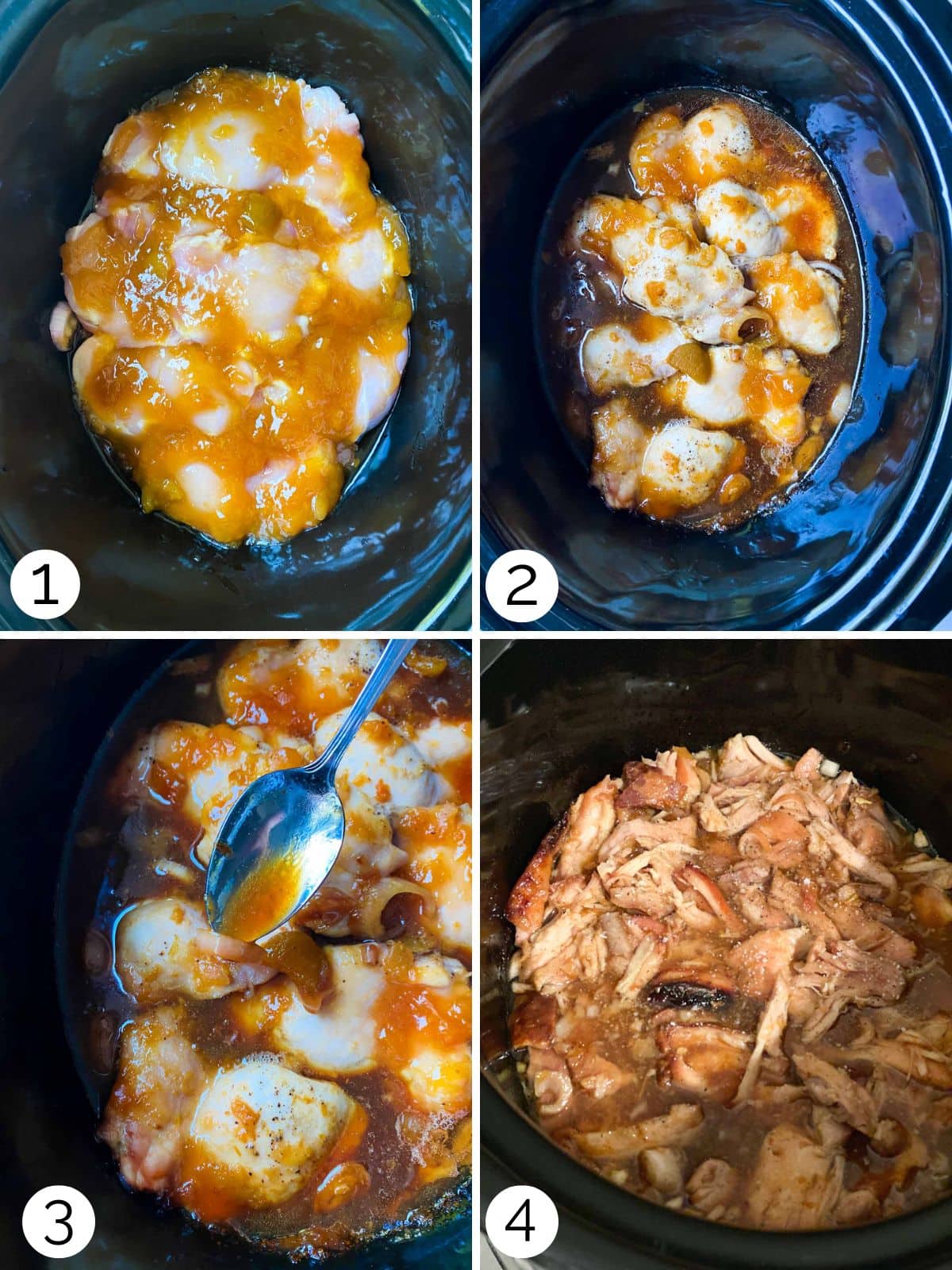 Step 2: Slow cook on low
Turn the heat to "low" and place the cover on top of your slow cooker. All you have to do is wait 3 hours and the chicken should shred very easily. If not, it needs more time.
Step 3: Spoon the sauce
Use a large spoon to coat the chicken with extra sauce that forms underneath. If you'd like to thicken the sauce, remove the chicken thighs and add 1 teaspoon of cornstarch at a time to the sauce, whisking smooth till desired thickness is reached.
Step 4: Shred the chicken (if desired)
There are two ways to shred this chicken:
Use two forks to "pull apart the chicken in different directions". I prefer this method so I don't dirty another dish!
Place the chicken breasts into a kitchen aid mixer and mix on a very low setting till pulled apart.
Recipe Tips
The toasted sesame oil is important. You can find this at most grocery stores - especially at whole foods or Asian markets.
If you'd like, you can add fresh ginger to the mix.
Sriracha is wonderful to add if you like some heat. Here are a few pantry staples I recommend. I used Underwood Ranch for this recipe.
I have yet to try this recipe in the instant pot, but I imagine it would work with a 30 minute cooking time and ½ cup of broth...if you do try it, let me know what worked for you! With a chicken breast, you will need to decrease the cooking time to about 2 hours on low heat. If the chicken shreds easily, it's done.
As for jams with citric acid, it is ok to have on the Heal Your Headache diet. And all jams need some kind of acid to pair with pectin and help everything set to the right consistency. If pectin is an issue, you may have to make your own jam at home.
Storage and Reheating
This recipe will keep well in the fridge, stored in an airtight container, for up to 3 days.
Freezer - This chicken freezes really well if you have leftovers, which I would recommend doubling the recipe if you intend to meal prep. To do this, I place the chicken with the sauce in a ziplock bag, or a freezer-safe reusable bag. Lay it flat in the freezer so it can be stacked easily without taking much space.
Defrosting - Pull it out the night before and place in the fridge or place the bag in warm water for a few minutes.
Reheating - You can reheat in a covered baking dish at 350 degrees F for about 15-20 minutes or microwave.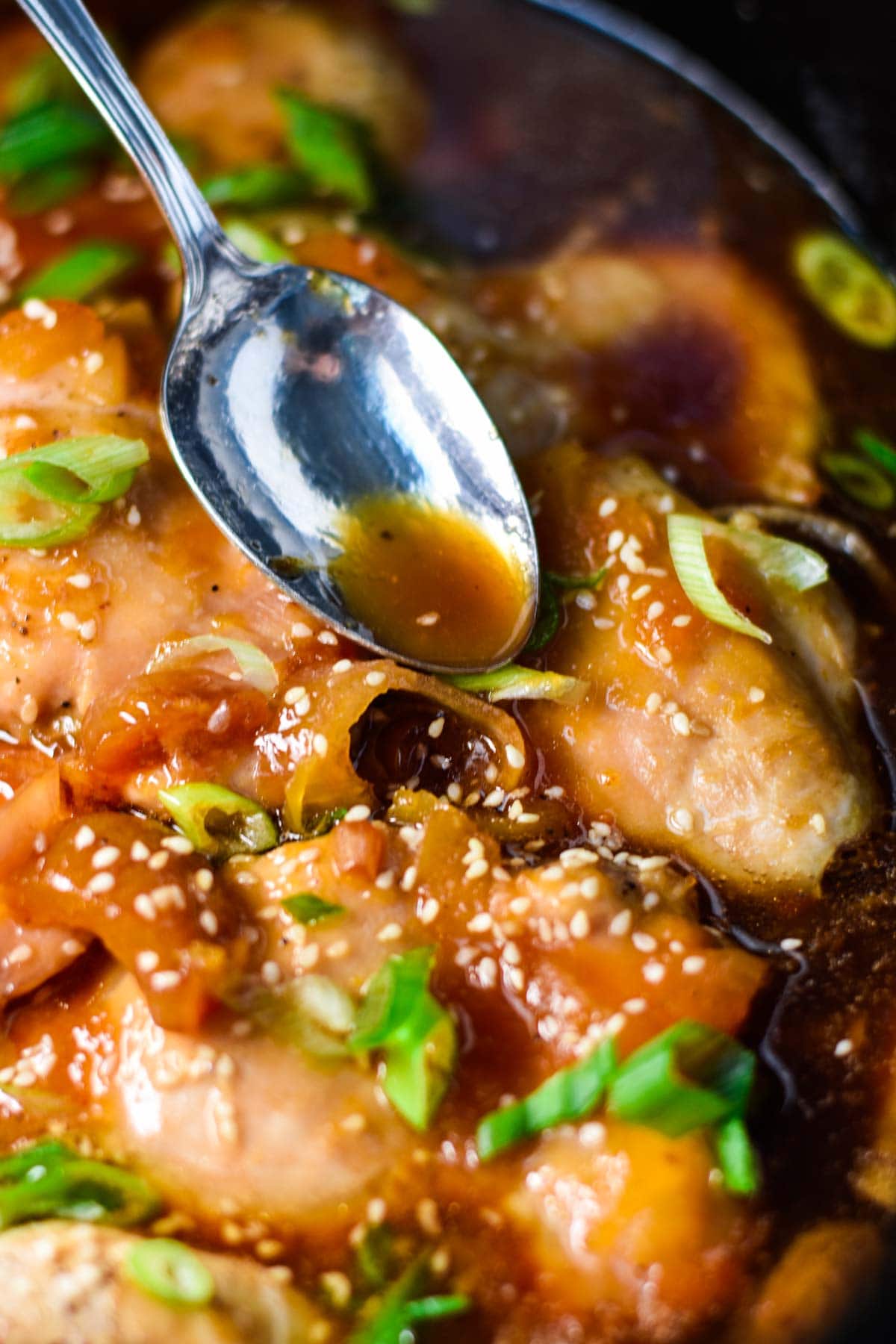 Side Dishes for Apricot Chicken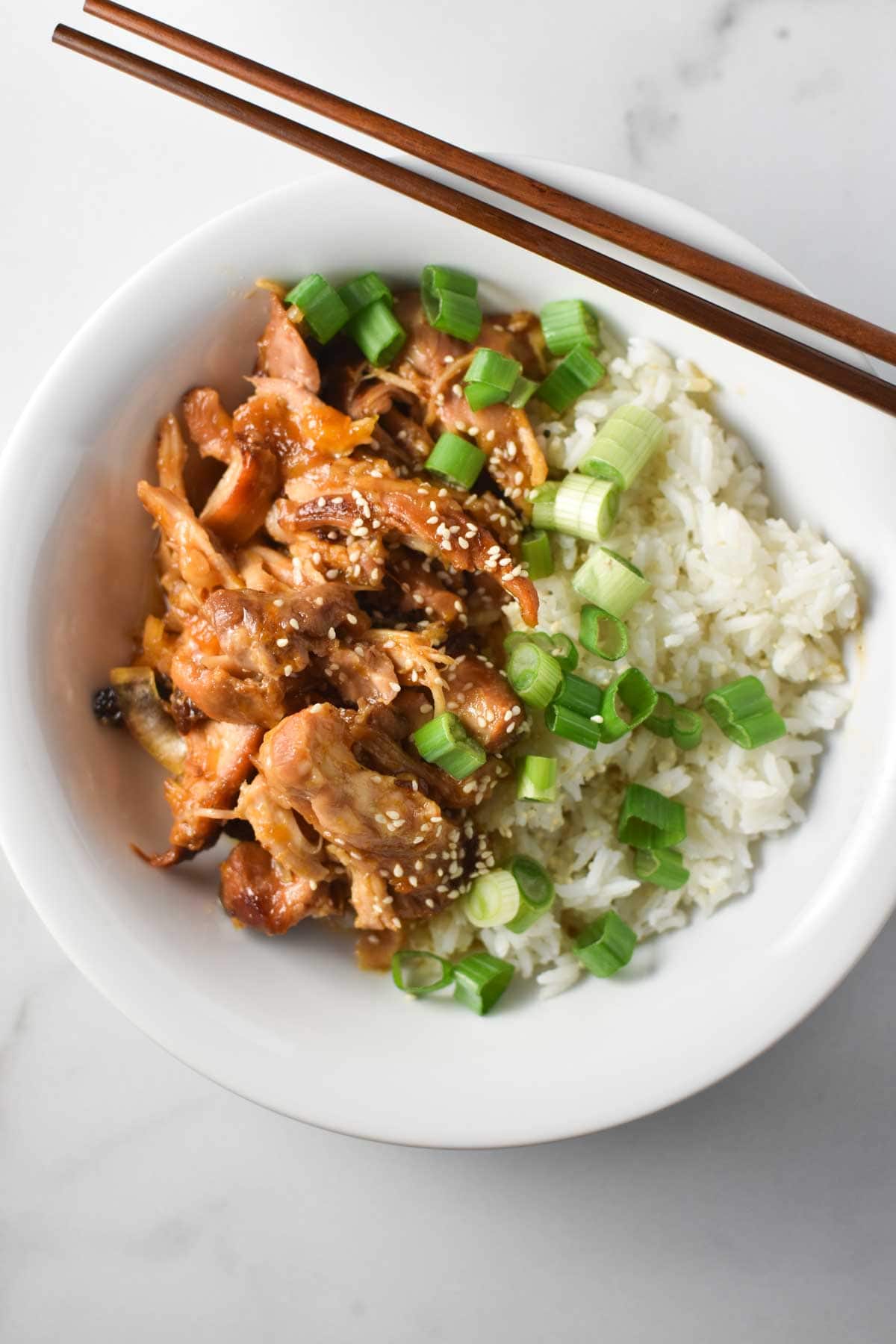 Frequently Asked Questions
Can I use boneless, chicken breasts?
Yes, you can, but they will most likely need a shorter cooking time and have a tendency to dry out more quickly, as well as be a little less flavorful. Chicken thighs are much more forgiving. If you'd like, you can use bone-in as well.
What can I use besides apricot jam?
I would recommend a mango or peach jam to replace apricot jam in a pinch!
Can I freeze cooked apricot chicken?
Yes! My slow cooker apricot chicken is delicious frozen and reheated. It doesn't miss a beat. I highly recommend doubling or tripling the recipe to have some on hand for freezer meals.
Slow Cooker Recipes
For more recipes like this easy apricot chicken, see these posts.
If you make this, tag me #thedizzycook or @thedizzycook on Facebook and Instagram. And if you love the recipe, please leave a review below! Follow along on my Pinterest for more great recipes.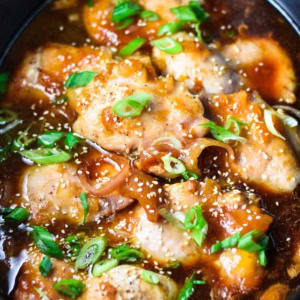 Slow Cooker Apricot Chicken
This recipe for apricot chicken uses a slow cooker for an easy weeknight dish. It's a sticky, sweet sesame chicken that pairs great with rice and broccoli or green beans.
Print
Pin
Rate
Ingredients
2

lbs

boneless, skinless chicken thighs

¾

cup

apricot jam

1

tablespoon

toasted sesame oil

2

large shallots, chopped

2

tablespoons

coconut aminos

½

teaspoon

kosher salt + pepper to taste

3

green onions, chopped

Optional: Sriracha and sesame seeds
Instructions
In a slow cooker, add the boneless, skinless chicken thighs in one layer. Top with jam, sesame oil, chopped shallots, coconut aminos, and salt. Stir so the chicken thighs are coated on both sides with the sauce.

Cook on low heat for 3 hours or until the chicken shreds easily with two forks. You can also use a handheld or countertop mixer on a low setting to shred the chicken quickly. Taste and adjust any seasonings. I love to add 2 teaspoons of sriracha for some heat.

Transfer to a plate or bowl with rice and top with chopped green onions and sesame seeds, if using.
Notes
Chicken thighs will be more forgiving in the slow cooker than breasts as far as not getting dried out. With breasts, you'll need to decrease the cooking time.
Slow cookers range in how high of heat they put out. You'll know when the recipe is done if it shreds easily. I don't recommend leaving it on "warm" or the chicken will dry out eventually

If you find the recipe too sweet, you can add more salt to balance the flavor, but understand it does have a sweet and sour flavor to it.

Soy sauce can be substituted for coconut aminos if not adhering to a migraine elimination diet or low-sodium diet.
Nutrition
Calories:
425
kcal
|
Carbohydrates:
32
g
|
Protein:
44
g
|
Fat:
13
g
|
Saturated Fat:
3
g
|
Trans Fat:
1
g
|
Cholesterol:
215
mg
|
Sodium:
303
mg
|
Potassium:
632
mg
|
Fiber:
1
g
|
Sugar:
15
g
|
Vitamin A:
146
IU
|
Vitamin C:
5
mg
|
Calcium:
34
mg
|
Iron:
2
mg