A healthy meal, these Chicken Zucchini Poppers are easy to make, but the best part is the creamy cilantro sauce! Ground chicken and shredded zucchini combine into small patties and are pan-fried while you whip up the easy cilantro dip. This recipe is perfect for those who are looking for a low carb meal or snack that's high in protein!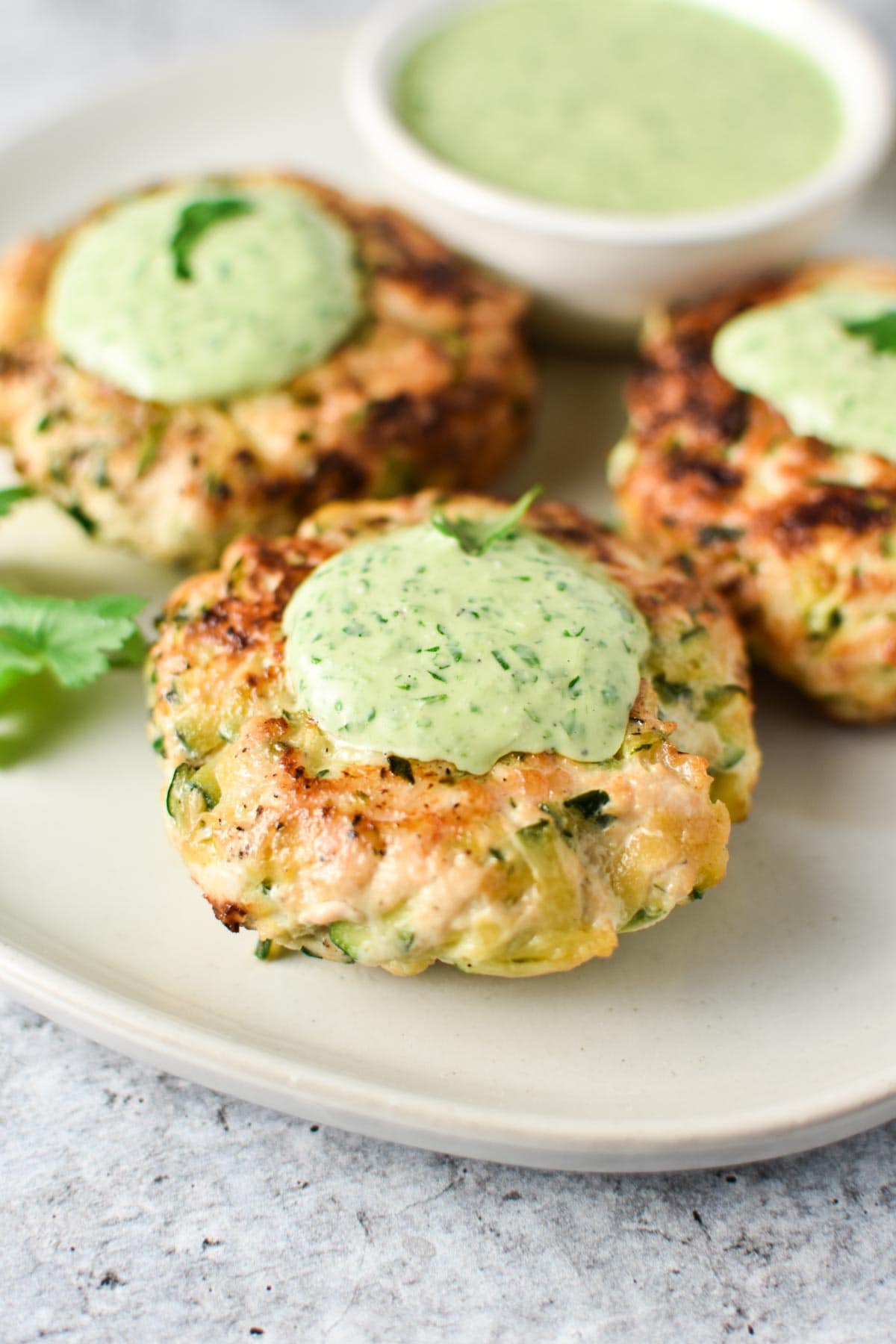 This recipe has quickly become one of the most popular on my website and it's pretty much because of this creamy cilantro sauce. Lovingly known as "THE SAUCE" with Dizzy Cook readers, I've had people just make it as a dip for chips, vegetables, chicken, beef…and some just eat it with a spoon. It's that good. So in reality, these chicken poppers are just a great vehicle for the sauce!
A Perfect High Protein Snack
What I love about this chicken popper recipe is it makes the perfect high protein snack. You can adjust the patties to make a bunch of small, almost meatball-sized, bites. They keep well in the fridge for about 3 days, or freeze well, and you just pop one or two when you feel hungry. They're a healthier alternative to protein bars.
You'll love this recipe because:
It's a quick 20-30 minute meal.
Chicken zucchini poppers are awesome for meal prep, and can easily be frozen.
These make an easy dinner that can sneak in some extra vegetables for kids…or dads.
Made with chicken and zucchini, it's a really healthy high-protein snack.
The sauce that comes with it can be doubled and used as a dip for steaks, grilled chicken, or roasted vegetables.
This recipe can easily be made keto, dairy free, low carb, whole30, gluten free, and migraine diet friendly.
Jump to: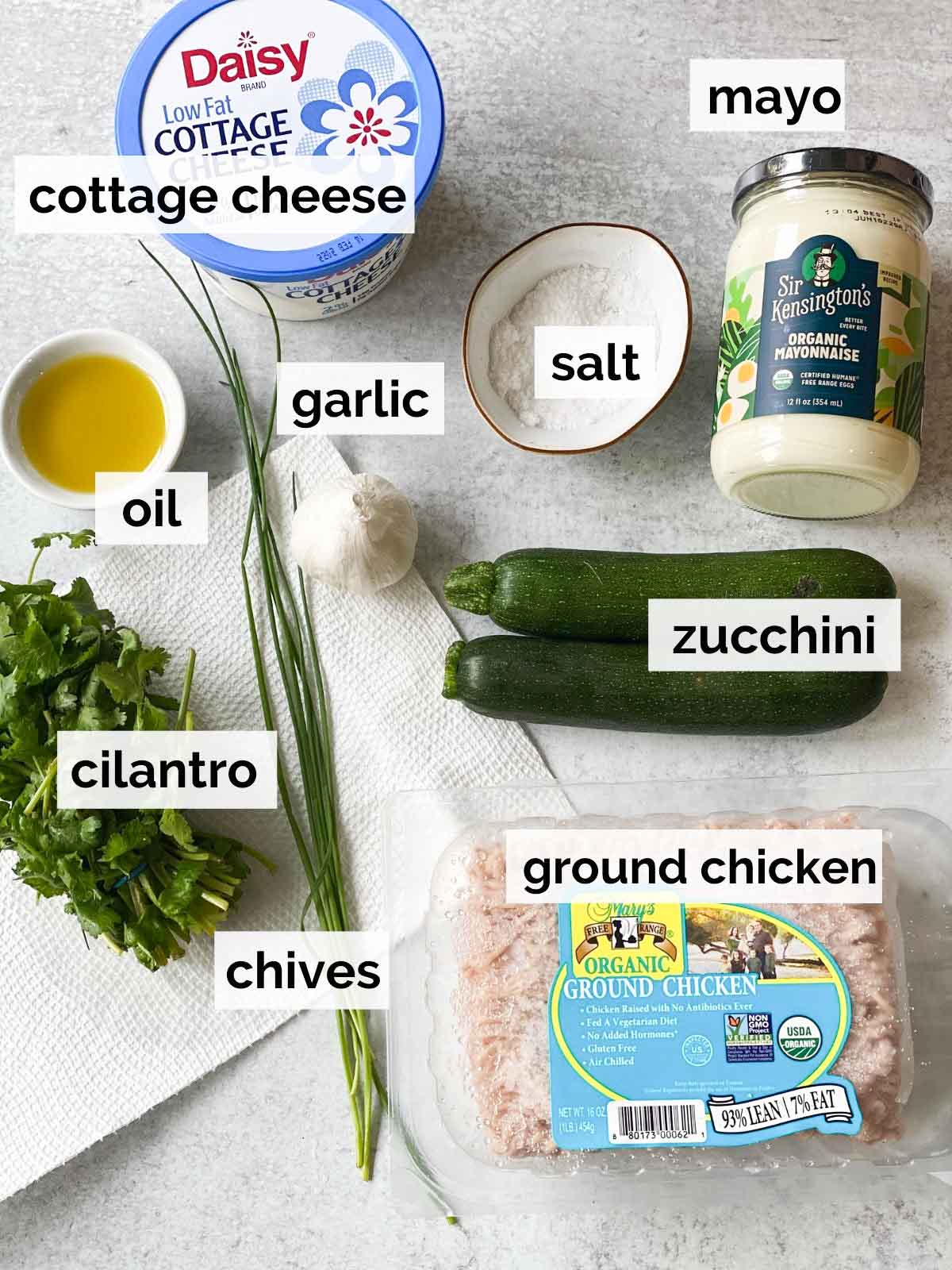 Ingredients
The ingredients for the poppers are extremely minimal and simple. This is because I wanted the flavor of the chicken zucchini poppers to compliment the sauce. They are meant to be served as a pair so you have both flavors combined.
For the chicken poppers:
Ground Chicken - I like to use Mary's Organic ground chicken if you can find it. Sometimes ground chicken can contain solutions or broth, which you want to avoid. Not only is it better from a migraine diet perspective, but the flavor and how it cooks will also be improved. Chicken with added solutions or water doesn't brown or sear as nicely. Also, don't skip the fat! If using chicken breast, make sure it contains at least 7% fat for the best flavor, or use ground chicken thighs.
Zucchini - About 2 small zucchini equal 1 ½ cups grated. Zucchini contain a lot of water so you want to make sure that gets squeezed out before cooking. This could be substituted with summer squash as well.
Oil - Olive oil or avocado oil would work well to cook these in.
Seasonings - Garlic, chives, salt and pepper round out the ingredients for the chicken poppers. If chives aren't readily available, they can be substituted with green onion.
For the sauce:
Cilantro - The cilantro flavor is present without being overpowering. However, if you hate cilantro, I recommend substituting basil. I have a great creamy basil dressing that would pair wonderful with this too.
Mayonnaise - If I'm in a rush, I'll use Sir Kensington's Organic which is widely available at Target and Whole Foods. Or you can make your own.
Cottage Cheese - I use Daisy brand, but you can also omit this if you want the recipe to be dairy free. It definitely is worth adding for extra creaminess and flavor, but not absolutely necessary. Even if you hate cottage cheese, like I do, you won't even notice it once it's blended. Trust me.
Distilled White Vinegar
How to Make Chicken Zucchini Poppers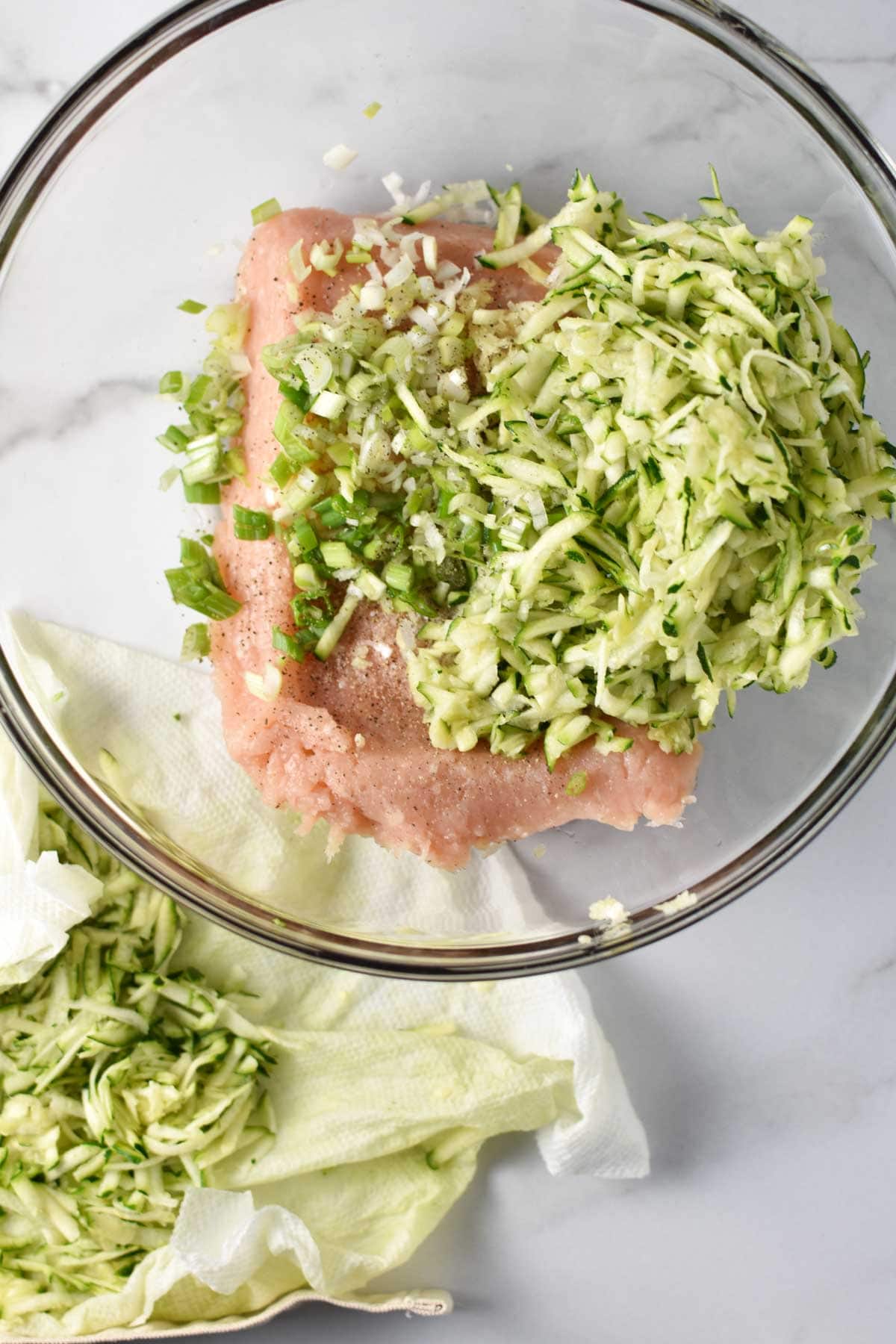 Step 1 - Start by grating the zucchini with a cheese grater. Do this over a paper towel so you can just fold up the paper towel around the zucchini and squeeze out all of the liquid. If you're a big juice fan, you can save the juices for a smoothie.
Step 2 - Mix the zucchini, ground chicken, and spices together and form into small patties. Chill these on a sheet pan or plate while you make the sauce.
Step 3 - Combine the cilantro, mayonnaise, cottage cheese, white vinegar, and spices in a small food processor. You can chop the cilantro very finely and mix everything together if you don't own a food processor, but the flavor combination definitely works best this way. Blend till everything is fully combined into a thick green dip. Chill until you're ready to serve so the flavors have time to combine together.
Step 4 - Using a large, nonstick pan, heat olive oil over medium high heat. Add chicken popper patties and sear for 4 minutes, flipping when golden brown. Cook another 4 minutes on the opposite side, till completely cooked through. If you have a meat thermometer the temperature should reach 165 degrees F. If you're cooking a big batch and have a smaller pan, cover the poppers with foil and place in a warm oven while you make the rest.
Step 5 - Serve the patties with the sauce for dipping.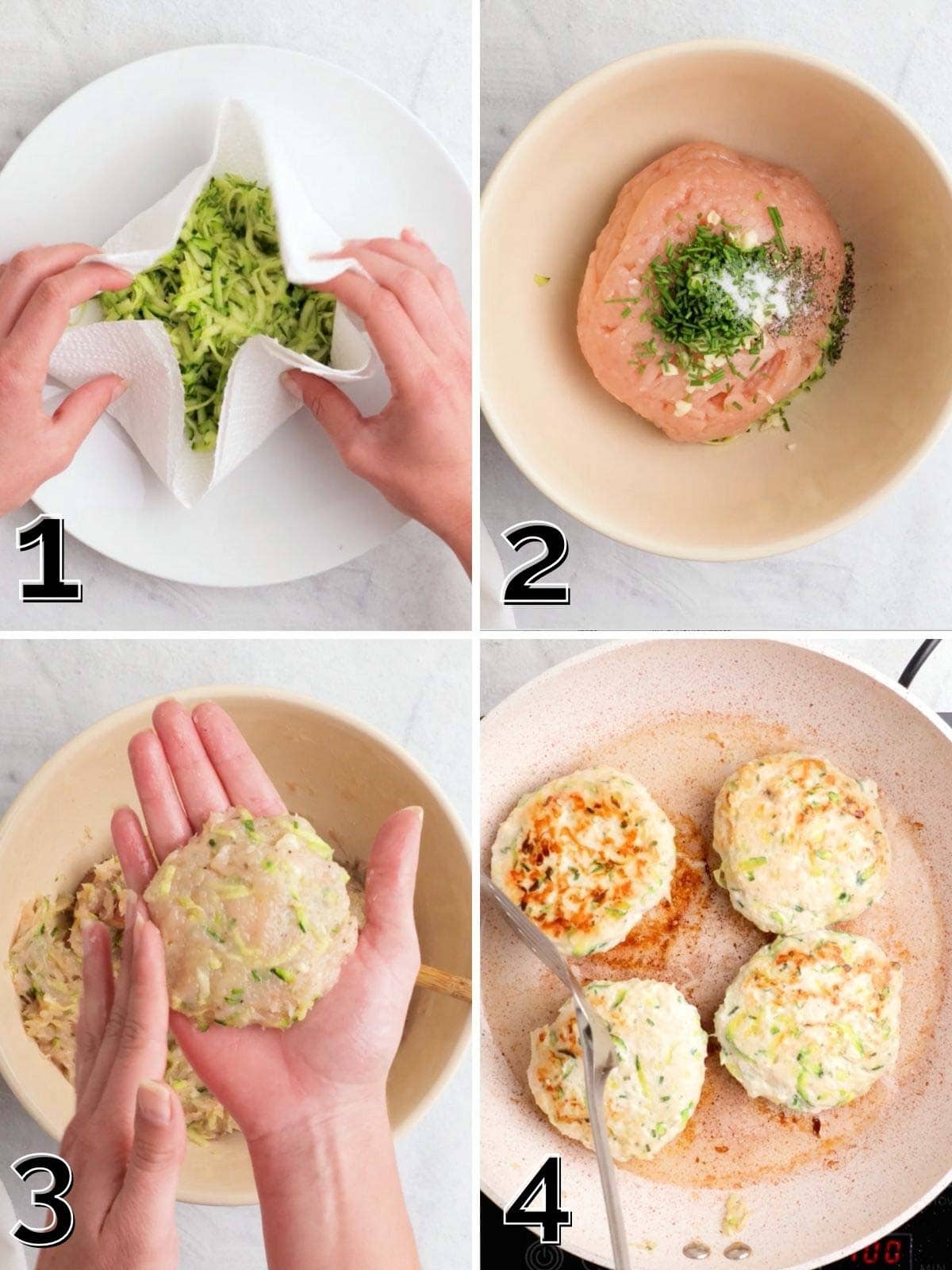 Tips for Success
This is a pretty simple recipe, but there are three ways you can really mess it up!
Don't skip squeezing the water out of the zucchini. If you do, the patties will be too moist and won't form together well.
Don't skip making the sauce. The two people in the comments who didn't like this recipe did not make the sauce with it, and that means they did not make the recipe correctly. The chicken zucchini popper recipe was formulated to be paired a sauce for dipping or topping for the best flavor. If you hate cilantro, there are more sauce suggestions below!
Use ground chicken with fat. One that's totally fat-free or with minimal fat will be more dry and less flavorful. I recommend chicken breast at least 7% fat or ground chicken thighs for the best flavor.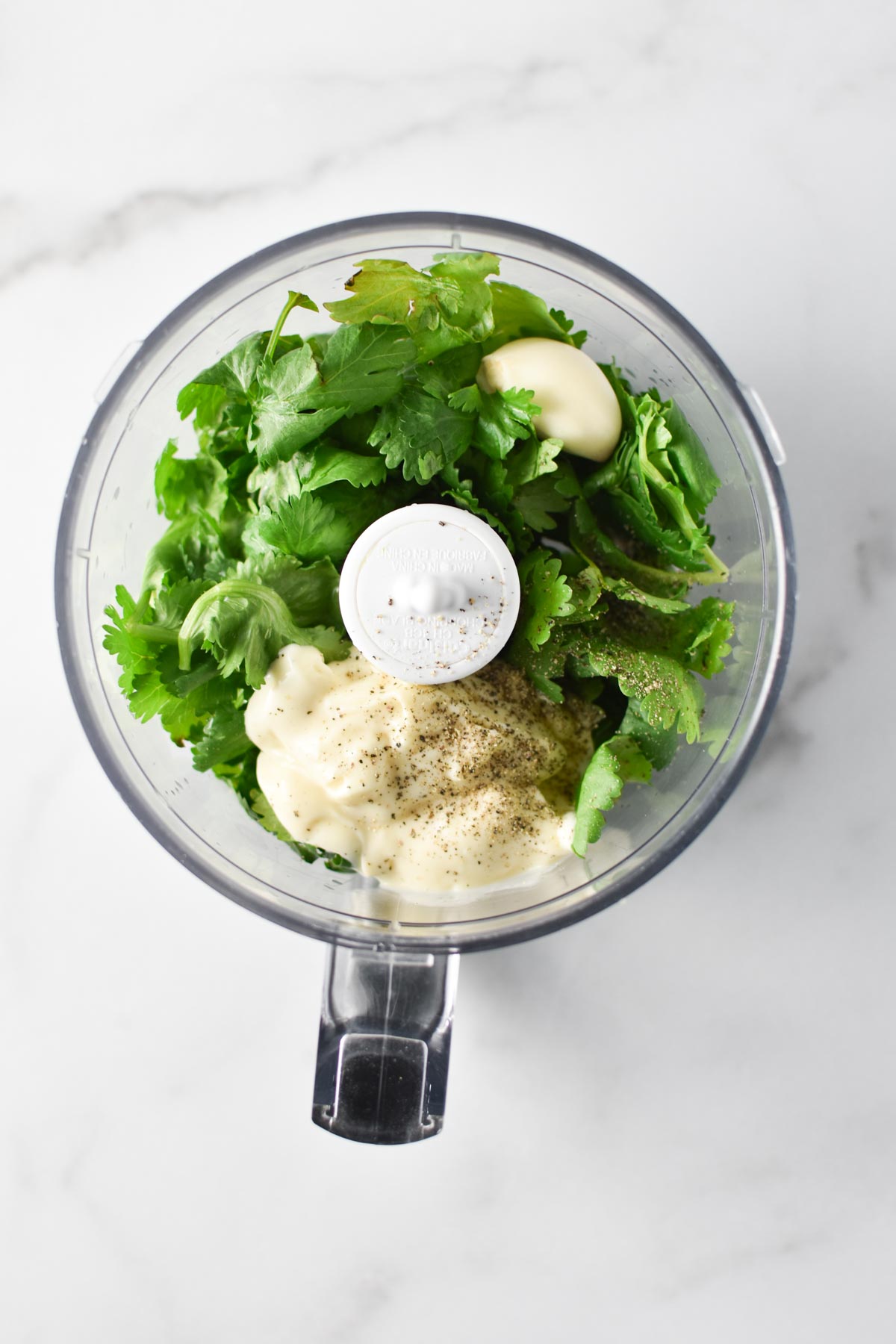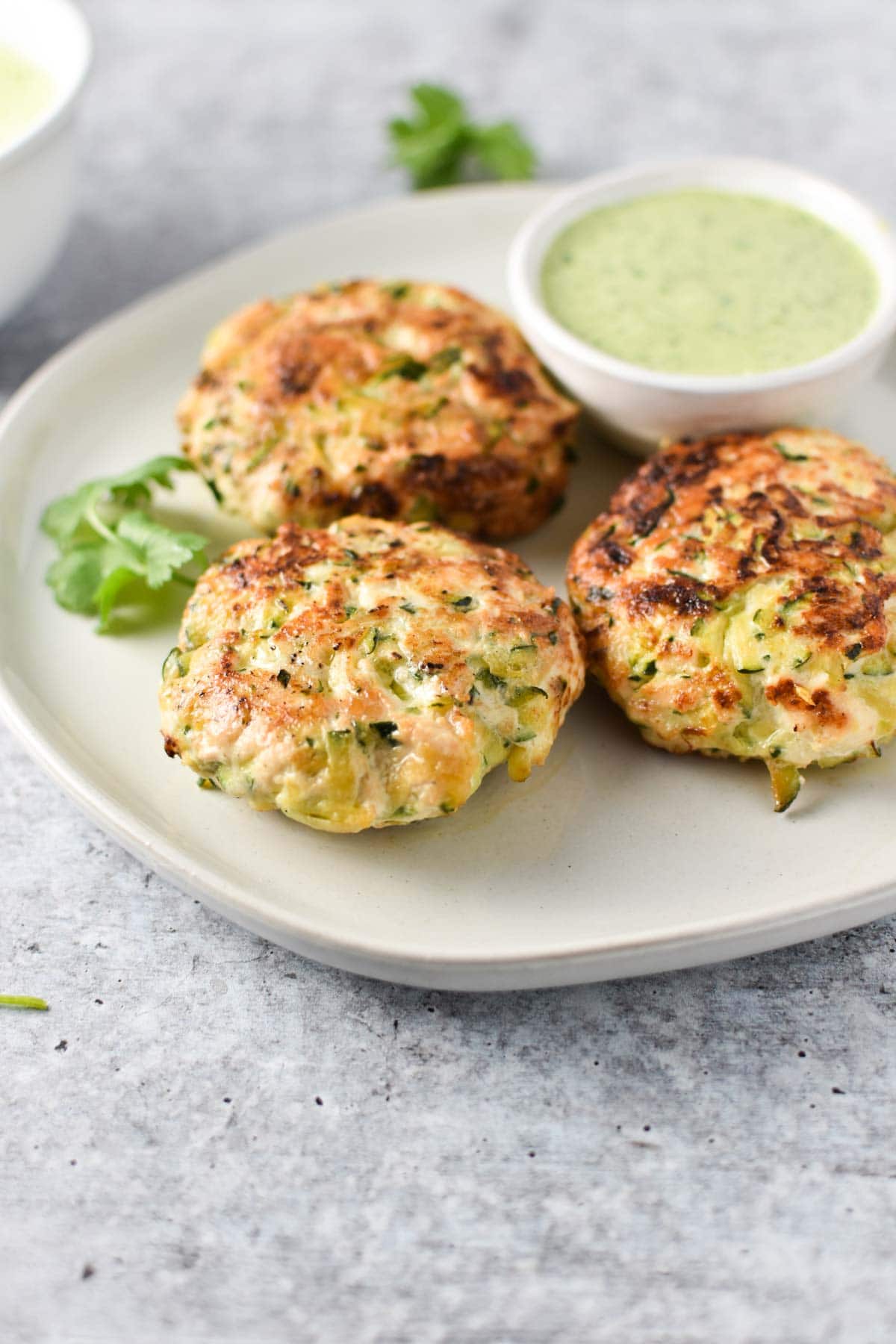 Storage Tips for Leftovers
These will store in an airtight container for up to 3 days. If you don't intend to use them by that time, I recommend just throwing them into a freezer bag. If they're cooked, they shouldn't stick together. You could also freeze the raw patties between sheets of wax paper. Just defrost overnight in the fridge and pat with a paper towel if there is excess moisture.
To reheat cooked chicken zucchini poppers, microwave in 30 second increments for about 1-2 minutes. Or wrap the patties in foil and place in the oven at 350 degrees F for about 10-15 minutes.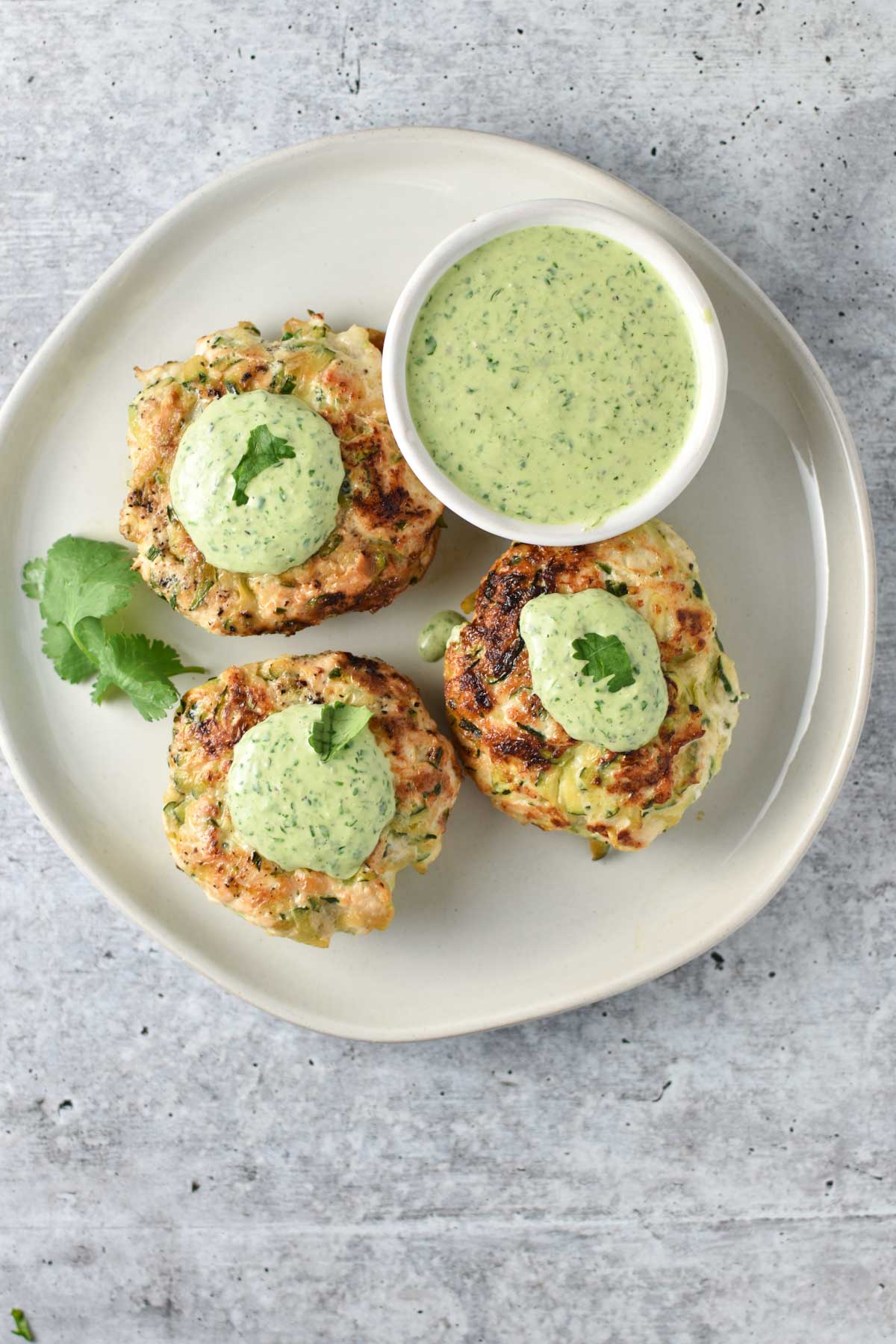 Chicken and Zucchini Recipes
For more recipes like these chicken zucchini poppers, check out these posts. And if you have leftover zucchini, I highly recommend these stuffed zucchini. And for other low carb recipes, check out my pepita salmon or air fryer flank steak.
If you make this, tag me #thedizzycook or @thedizzycook on Facebook and Instagram. And if you love the recipe, please leave a review below! Follow along on my Pinterest for more great recipes.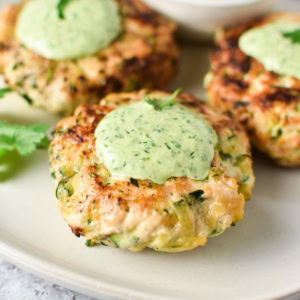 Chicken Zucchini Poppers with Creamy Cilantro Sauce
These garlic and zucchini chicken patties are easy to make, healthy, and delicious. Topped with a little creamy cilantro sauce, they're the perfect gluten free weeknight meal.
Print
Pin
Rate
Ingredients
1

pound

ground chicken (at least 7% fat recommended)

1-2

medium

zucchini squash (about 1½ cups shredded)

2

garlic cloves, minced

2

tablespoons

fresh chives, chopped

½

teaspoon

kosher salt

¼

teaspoon

fresh black pepper

1-2

tablespoons

oil for cooking
Creamy Cilantro Sauce
1

cup

fresh cilantro

1

small

garlic clove (or more depending on preference)

⅓

cup

mayonnaise

1

tablespoon

cottage cheese

1

tablespoon

distilled white vinegar
Instructions
Combine cilantro, garlic clove, mayonnaise, cottage cheese, and vinegar in a food processor and blend till combined. Pop in the fridge to thicken and let flavors combine at least 30 min. You can also just chop the cilantro small and mix everything together by hand. Add salt and pepper to taste.

On a cheese grater, grate the fresh zucchini squash into small pieces and place on a paper towel. Sprinkle with a tiny bit of kosher salt and squeeze to remove excess moisture. Place into a large bowl with chicken, garlic, chives, and ½ teaspoon kosher salt and a sprinkle of fresh black pepper. Form mixture into 3 inch patties, you should have 6 total.

Prepare a large nonstick or cast iron skillet with oil and bring to medium heat. Cook chicken patties on each side for 4 minutes until browned on both sides and cooked through. If they're not quite cooked through but getting really brown, pop them in the oven at 350 degrees for 2 minutes or so.

Serve warm with dipping sauce or top each popper with a little bit of the sauce.
Notes
If you can't find fresh chives, substitute green onion.
I prefer ground chicken thighs, which are more flavorful and juicy than ground chicken breast, but both will work for this recipe. It helps the flavor to have chicken breast with some fat - I use one that's 93/7% fat.
If you want to make this sauce dairy free, paleo, Whole30, leave out the cottage cheese and replace it with mayo. Cut back on the vinegar to 1-2 teaspoons to taste. Mixture might be a little more thin.
For an egg free mayo, see my Aquafaba Mayo recipe.
Store in the fridge or in the freezer for long term (see post for defrost instructions).
Nutrition
Serving:
2
patties
|
Calories:
204
kcal
|
Carbohydrates:
2
g
|
Protein:
14
g
|
Fat:
16
g
|
Saturated Fat:
3
g
|
Cholesterol:
71
mg
|
Sodium:
331
mg
|
Potassium:
494
mg
|
Fiber:
1
g
|
Sugar:
1
g
|
Vitamin A:
289
IU
|
Vitamin C:
7
mg
|
Calcium:
15
mg
|
Iron:
1
mg
This recipe was originally published December 2, 2019 and was updated March 1, 2022 with more ingredient details, instructions on how to make, and sauce suggestions.