This heavenly halibut recipe is soft and flakey, baked with a cheesy garlic topping. Minimal ingredients and meal prep make this a great recipe for weeknight dinners.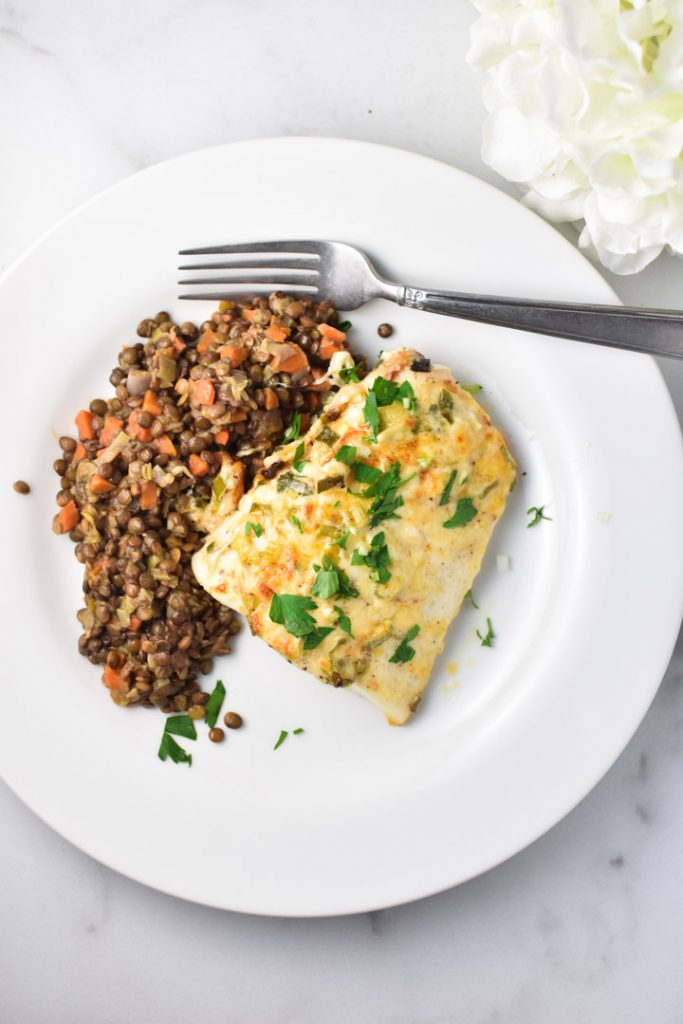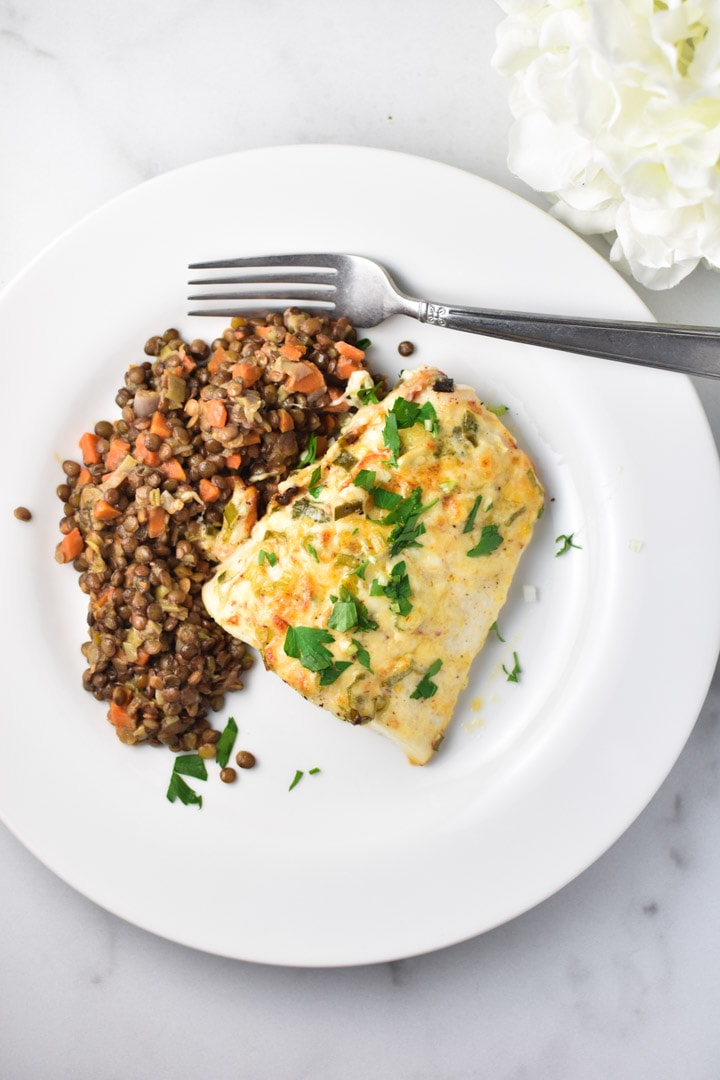 Baked Halibut with Mayonnaise
It seems so weird that mayonnaise would go great with halibut, especially when warm, but as I've found with my popular Mediterranean Baked Halibut recipe it creates a flavorful combination. When developing this recipe I wanted something that was just as easy to make, but with a different flavor profile. Enter Heavenly Halibut! Typically this recipe for halibut is made with parmesan cheese, but if you're in the elimination period of the migraine diet, only fresh cheese is permitted.
Some of my favorite mayonnaise options if you're following this diet are:
Sir Kensington's Organic Mayo (must be the organic one)
Primal Palate Avocado Oil Mayo
Sir Kensington's Organic Mayo does contain lemon juice, but the amount is very minimal when looking at the ingredients. It also tends to be well-tolerated with the majority of readers. Avocado oil is permitted on the diet, however, I find I don't love the flavor of Primal Palate as much as Sir K's. Mayonnaise seems to be an extremely personal preference, so you might have to trial a few before finding what you like best.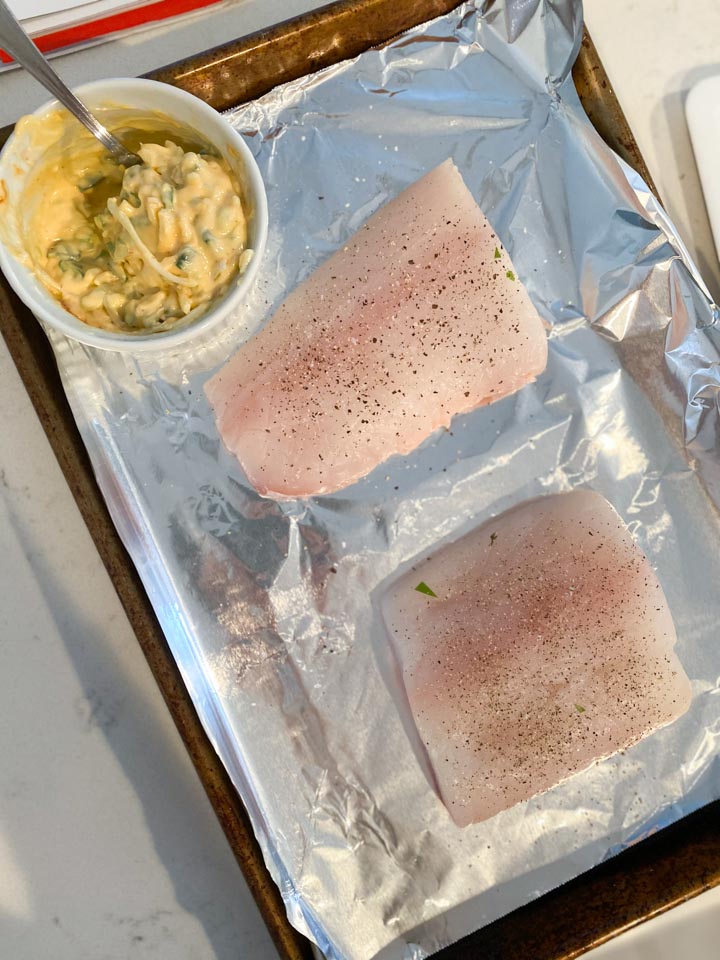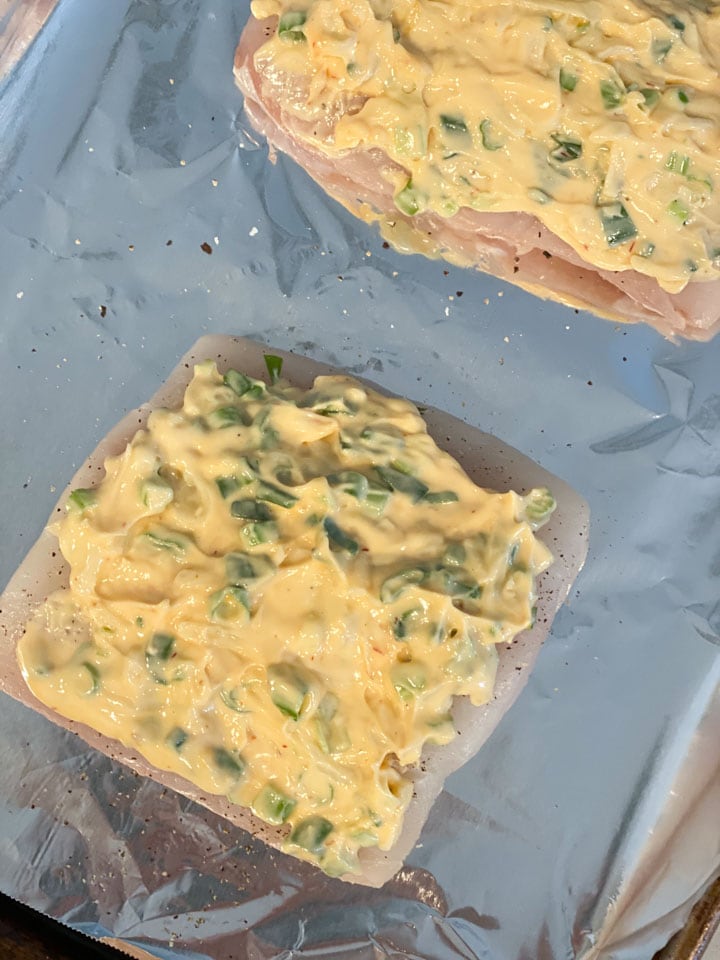 Cooking Tips
Halibut is what I used for this recipe and I prefer the flavor, but flounder or another mild, white fish would work here as well. Usually the ones I buy tend to be at least an inch or more thick. So if you have a cut that is thinner, you may need to adjust the cooking time.
I buy my halibut filets fresh from Central Market as they usually have a high quality selection and they're also wild caught. If you don't have access to a really good fish monger frozen is fine as well. Just defrost before baking. Frozen fish tends to actually be better tolerated for those with histamine issues as well.
If you're picking a fresh filet, look for ones that are white and glossy - not dried out. Also take a sniff!! It should not smell fishy.
Another tip is to bake the halibut rather than broiling the whole time. I think this allows the fish to cook through without getting rubbery or overcooked, especially if it's a thick filet. I just broil the final minute or two to get a nicely browned crust. Halibut has a low fat content so it tends to dry out fairly easily, but this is why it also pairs so well with a creamy sauce on top!
Heavenly Halibut Side Dishes
For these pictures, I served this with my own tweaks to Ina's warm French lentils. If you're following a migraine elimination diet, lentils are actually not allowed. But I thought this was a good example that I've reintroduced a lot of foods behind the scenes. Some of my favorite sides for this are:
Roasted or mashed potatoes
Whipped Cauliflower
Whipped Parsnips (from my cookbook)
Green Beans
Roasted Broccolini
Other Fish Recipes
Some of my favorite fish and seafood recipes. If you're looking for a dairy free recipe that's similar to this, I highly recommend the Mediterranean Baked Halibut.
Pepita Crusted Salmon
One Pan Salmon with Creamy Garlic Spinach
Chipotle Shrimp Tacos
Chili Garlic Shrimp
Clams in Herbed Butter Broth
If you make this recipe, don't forget to tag me #thedizzycook or @thedizzycook on Facebook and Instagram. And please leave a review below!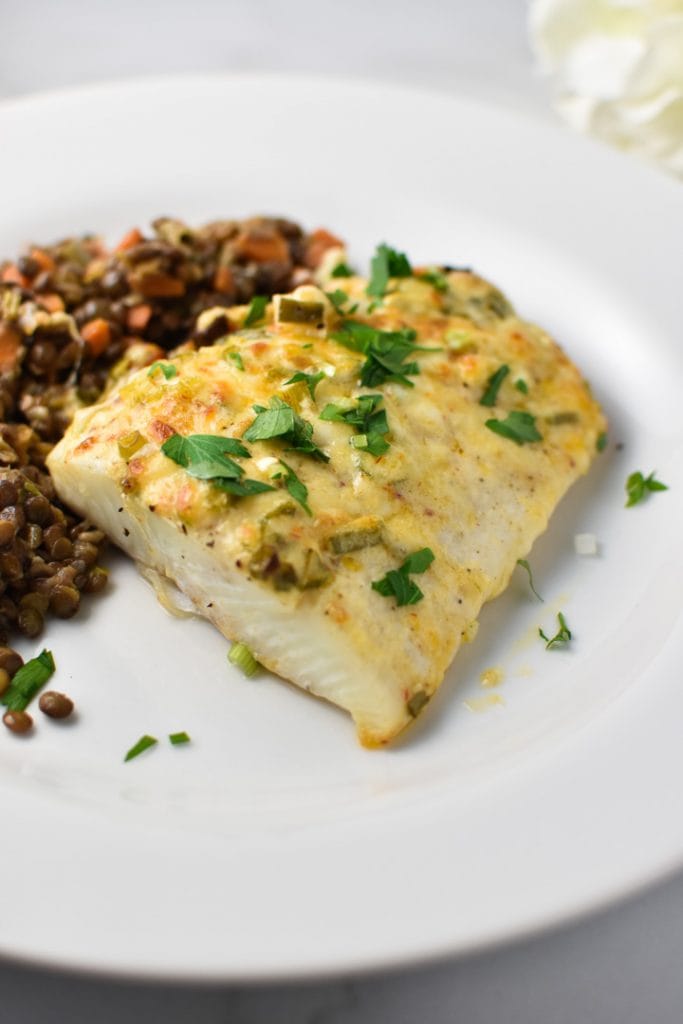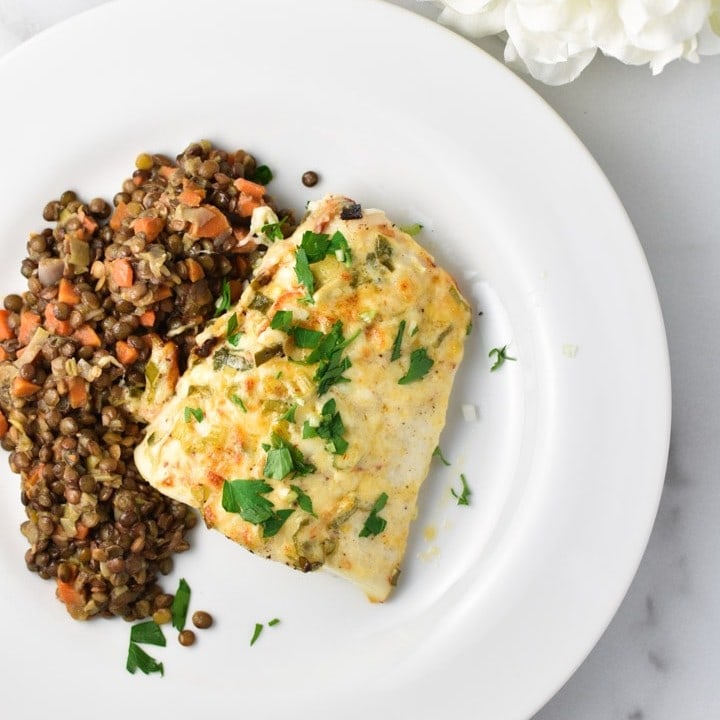 Heavenly Halibut
Fresh and delicious halibut is baked with a creamy, cheesy sauce for an easy weeknight dinner. Serves between 2-3 people.
Print
Pin
Rate
Ingredients
1

pound

fresh halibut

kosher salt and pepper

2

tablespoons

mayonnaise

2

tablespoons

softened butter

1.5

tablespoons

green onions, chopped

2

small cloves garlic, minced

¼

cup

shredded mozzarella cheese

2

teaspoons

distilled white vinegar or lemon juice (if tolerated)
Instructions
Preheat oven to 425 degrees F. Slice halibut filet into individual servings and sprinkle with kosher salt and pepper. Mix together the mayo, softened butter, green onions, garlic, mozzarella cheese, and vinegar or lemon juice. Spread on top of each halibut filet.

Bake at 425 degrees for about 15 minutes, or until just cooked through. Remove the halibut and turn the broiler to high. Broil for 1 minute, until the cheese is lightly browned, being careful to not overcook. Serve warm.
Notes
If you like a little bit of heat, add ¼ teaspoon of red pepper flakes or sriracha to the mixture.
If lemon is tolerated (past the elimination phase) serve with a squeeze of lemon juice on top.
Nutrition
Serving:
1
filet
|
Calories:
243
kcal
|
Carbohydrates:
2
g
|
Protein:
4
g
|
Fat:
25
g
|
Saturated Fat:
11
g
|
Cholesterol:
47
mg
|
Sodium:
278
mg
|
Sugar:
1
g
|
Vitamin A:
489
IU
|
Vitamin C:
2
mg
|
Calcium:
76
mg