A chicken marsala with no wine, gluten free, and migraine safe - that can't possibly be good, right? I'm here to tell you that it is possible and it's also quite delicious.
In all honesty, I probably should have named this "Chicken in a Mushroom Cream Sauce", but it just doesn't have the same feeling that comes from "Chicken Marsala". Do you guys have the same memory of Chicken Marsala that I do as one of the ultimate family dinner staples? It's the kind of dinner your mom serves on a night that everyone sits down at the dinner table and no one complains about what's on the plate. It was truly one of my favorite meals growing up.
About Marsala Wine & MSG
The traditional Chicken Marsala recipe requires Marsala wine, a fortified wine with a rich savory flavor. Unfortunately wine, especially a wine of this type, can be a huge migraine trigger for many. It can also upset vestibular symptoms.
Contrary to popular belief, alcohol does not completely cook out of a dish. In fact, according to the USDA, in a dish that's cooked this long it would only burn off about 40%. And if you're sensitive to sulfites, reducing alcohol just concentrates them in a smaller surface area as they do not burn off like alcohol does.
Another factor to consider is whether you have a high sensitivity to MSG. Mushrooms contain free glutamates, so a few people find they are sensitive to them in the same way they would from added MSG. While mushrooms are allowed on Heal Your Headache and MANY can eat them with no issue, it is something to watch for, especially if you eat them often.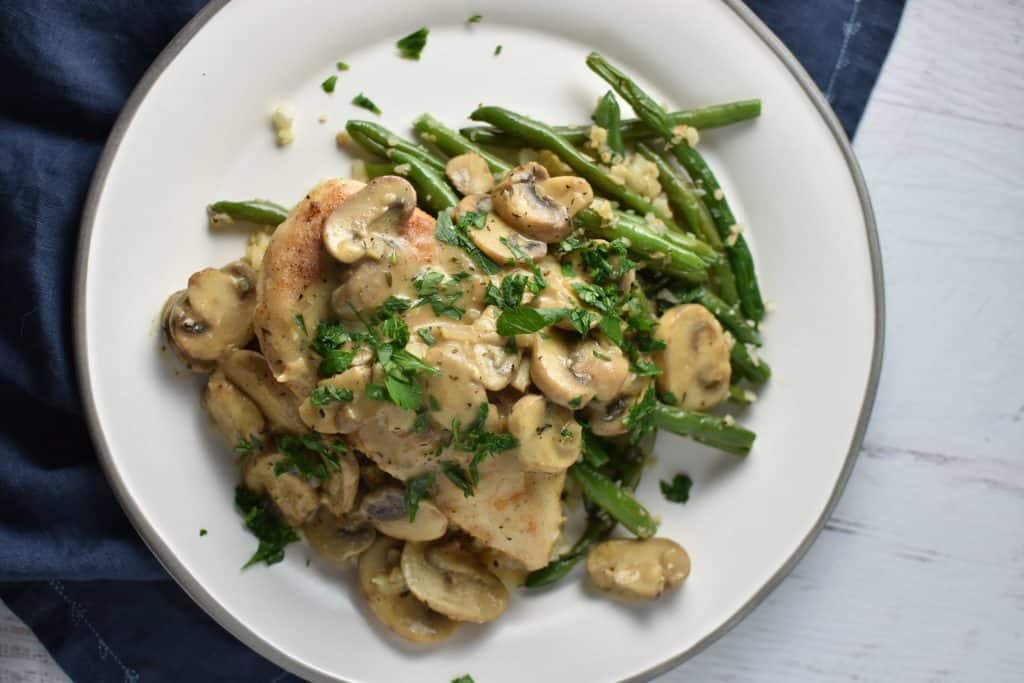 Mushrooms & Glutamate
White or cremini mushrooms are the lowest on the spectrum when compared to shiitake or enokitake, which are higher in glutamate. To give you some perspective, the Glutamate Association(apparently this is a thing) estimates there are 180mg in a 100 gram serving (about 4 ounces).
In parmesan cheese, there are 1,680mg in the same amount. Other items on the high end include fish sauce, soy sauce, aged cheeses, and walnuts. This is one of the reasons they should be eliminated on a migraine diet along with their higher tyramine content.
As I said on instagram this week, one of the big reasons I started this site was so people could live their lives as normal as possible. A large factor in feeling good is being able to enjoy the things you love with family and friends. A migraine diet doesn't have to mean that you have to separate your life (or meals) from others. I hope this dinner encourages you to sit down and enjoy a meal with your family this week. I promise even the pickiest eaters will hardly notice a difference.
Does It Taste the Same?
While Marsala wine does add complexity to the dish, going alcohol free doesn't mean this dish lacks flavor. Garlic combined with heavy cream is always delicious, but adding the vinegar allows you achieve a similar acidity that you would get with wine. Thyme leaves and a bit of mustard powder heighten the flavor. I promise you will not be disappointed!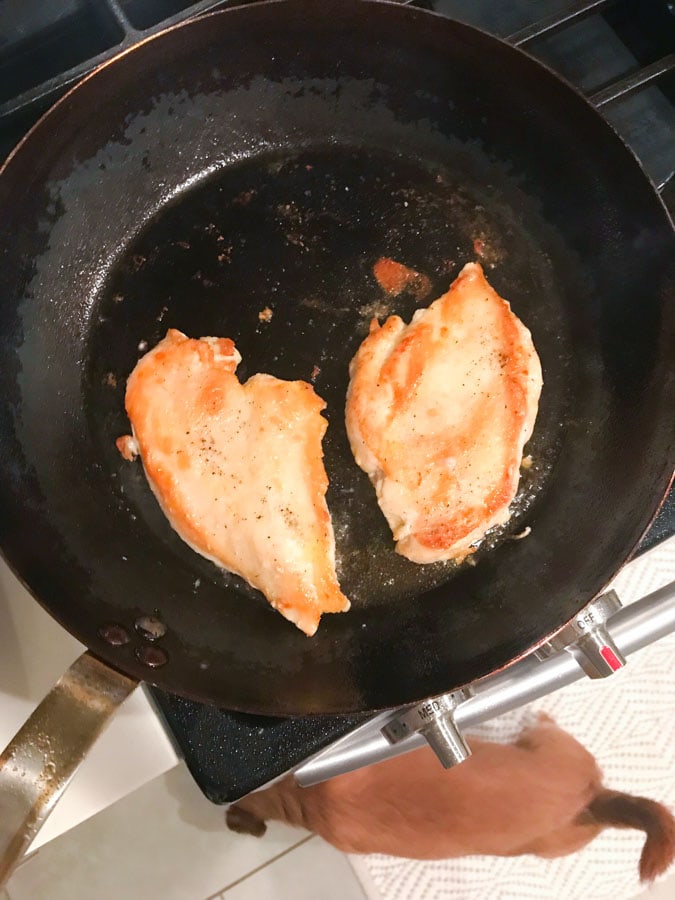 Tips for Cooking
A light dusting of flour provides a crispy, brown exterior to the chicken breast, but this can also be achieved through white rice flour or arrowroot powder for those who are gluten free.
Wipe your mushrooms with a damp cloth to clean them rather than running them under cool water. This will allow them to not become water-logged and get a nice brown caramelization when you cook them.
Also don't crowd your pan when cooking the mushrooms, as they release moisture, they will steam instead of brown if you put too many in the pan. You may need to work in batches.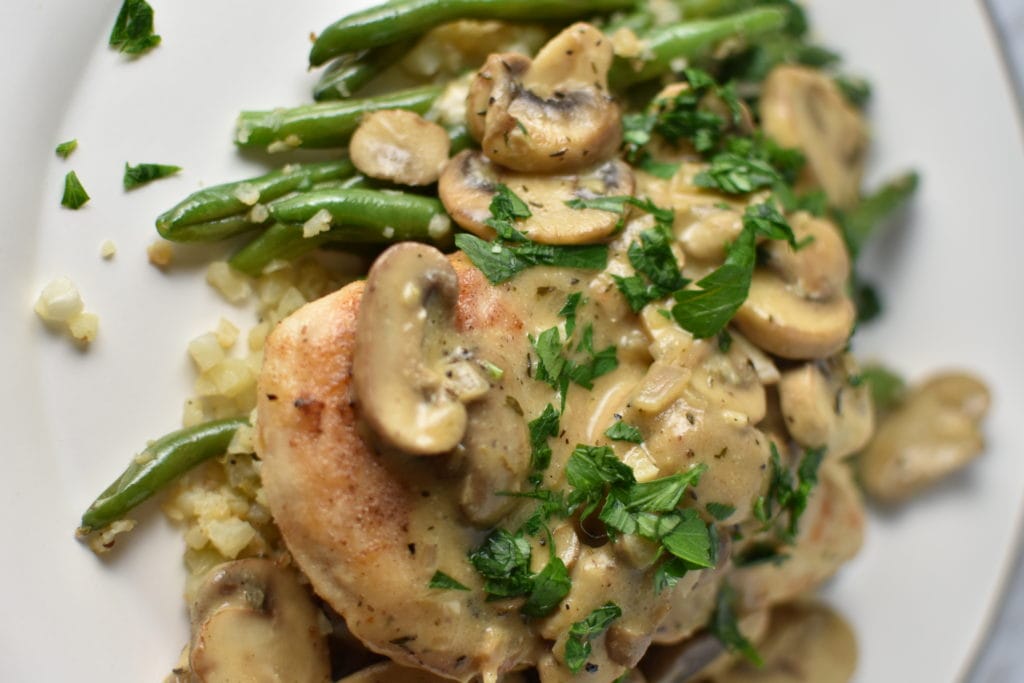 Other Alcohol-Free Recipes:
Steamed Clams in Herbed Butter Broth
Wine-Free Short Ribs
Pear Mojito Mocktail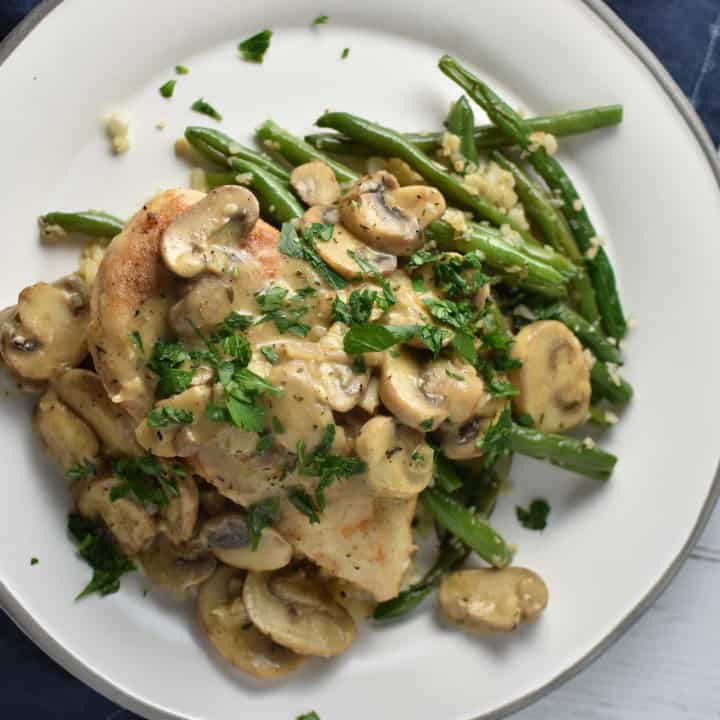 Chicken Marsala (with no wine!)
This take on Chicken Marsala is gluten free and migraine diet safe, without the wine or alcohol triggers. It's a decadent and easy family meal!
Print
Pin
Rate
Ingredients
4

thin cut boneless, skinless chicken breasts (or 2 large ones sliced in half to about ½" thick)

3

tablespoon

ghee or olive oil and butter

* I like to use ghee instead of butter here since it can reach a higher smoke point

½

cup

all purpose flour

* Use white rice or arrowroot flour for gluten free

1

shallot, peeled and chopped

2

garlic cloves, peeled and chopped

8-10

oz

cremini mushrooms, sliced

1.5

cups

chicken or vegetable broth

¼

cup

heavy cream

1

tablespoon

white vinegar

½

teaspoon

ground mustard powder (or 1 teaspoon of dijon)

1

teaspoon

dried thyme leaves

1.5

tablespoon

fresh parsley, chopped
Instructions
Lightly salt and pepper your chicken breasts, then dip them into your flour of choice. Cover both sides with flour, shaking off the excess. Save 1 tablespoon of the flour for later.

In a large pan (emphasis on large!) over medium heat, add 1 tablespoon of olive oil and 1 tablespoon of butter or 2 tablespoon of ghee. When shimmering, add flour coated chicken and fry until golden brown on both sides, about 3-4 minutes per side. Transfer to a plate and cover with foil.

In the same skillet with the drippings from the chicken, add 1 more tablespoon of butter or ghee and melt. Add mushrooms for 3-4 minutes until browned on both sides The major tip here is to not crowd your mushrooms or they will steam. Give them some space in a single layer and they will get nicely browned.

Add your shallots and garlic to the mushrooms, scraping up any bits from the bottom. Mix in the 1tbsp of flour. Pour in the chicken broth & vinegar and simmer over medium heat for about 5-7 minutes, until reduced by half and thickened.

Add the heavy cream, mustard, and thyme. Return the chicken to the sauce mixture and simmer another 2-3 minutes to thicken. Top with parsley and serve!
Notes
I like to use ghee instead of butter here since it can reach a higher smoke point, but combining olive oil and butter helps to not burn the butter at a higher heat.
Nutrition
Calories:
427
kcal
|
Carbohydrates:
18
g
|
Protein:
28
g
|
Fat:
27
g
|
Saturated Fat:
13
g
|
Polyunsaturated Fat:
3
g
|
Monounsaturated Fat:
9
g
|
Trans Fat:
1
g
|
Cholesterol:
121
mg
|
Sodium:
82
mg
|
Potassium:
561
mg
|
Fiber:
1
g
|
Sugar:
2
g
|
Vitamin A:
337
IU
|
Vitamin C:
2
mg
|
Calcium:
42
mg
|
Iron:
2
mg