A classic lunch, this Dill Tuna Salad is so easy to whip up for a high protein, high omega-3 meal that's both delicious and healthy. With creamy mayonnaise, crunchy celery, dried or fresh dill, and green onion, it takes about 5 minutes to mix together.
This is absolutely my go to lunch when I need a quick meal that I already have ingredients for. Tuna salad with dill works great on a sandwich, in a wrap, on top of greens for a salad, or paired with crackers.
You can also meal prep this easy tuna salad for up to 2-3 days, making it convenient for a work lunch, but it's also very fast to mix up the same day.
Pair this delicious dill tuna salad with sliced veggies like jicama, radish, cucumber, or carrots, as well as crackers or put on toasted whole grain bread for a sandwich.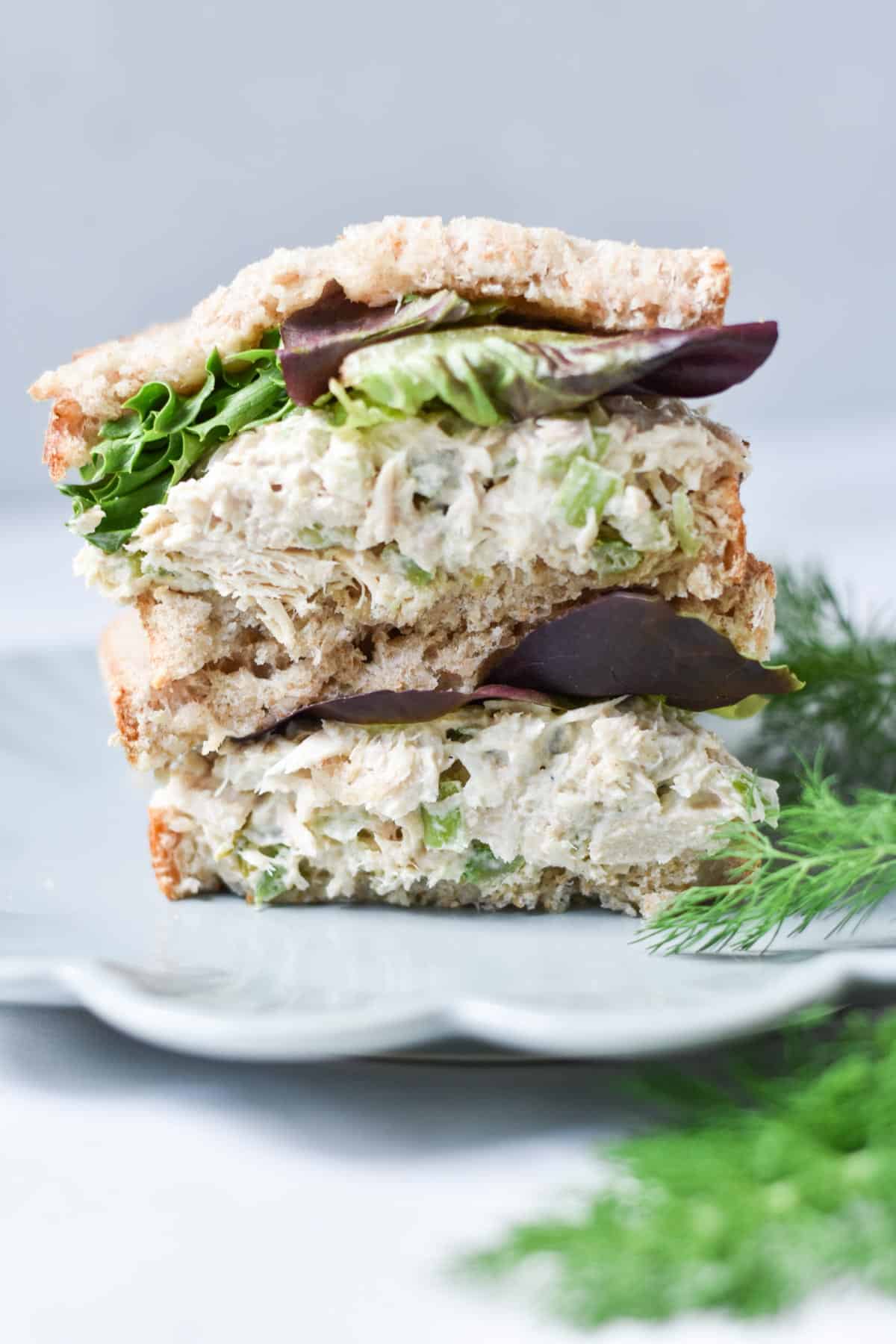 You'll love this recipe because it's:
Brain food - High in omega-3 fatty acids and protein, it will keep you full while boosting brain function.
Healthy - It has a perfect balance of protein, vegetables, and fat.
Gluten Free and Dairy Free - This recipe works well if you have other dietary restrictions.
Jump to:
What Canned Tuna is Best for Tuna Salad?
There are so many different types of canned tuna out there! What's the best tuna for tuna salad? Here are a few of my favorites:
If you're planning to add mayonnaise, you won't need ones packed in oil. Look for brands packed in water with no added salt.
Cost effective - Costco carries Wild Plant and Safe Catch in bulk. Target's Good and Gather brand also has sustainable tuna, however it is higher in sodium.
Higher end - Tonnino, and Whole Foods also carries pole and line caught tuna.
Bigeye, albacore, and bluefin tuna may contain a higher mercury content compared to other species, like yellowfin or skipjack.
However, if you like a mild fish flavor, albacore will be the best one to use.
Ingredients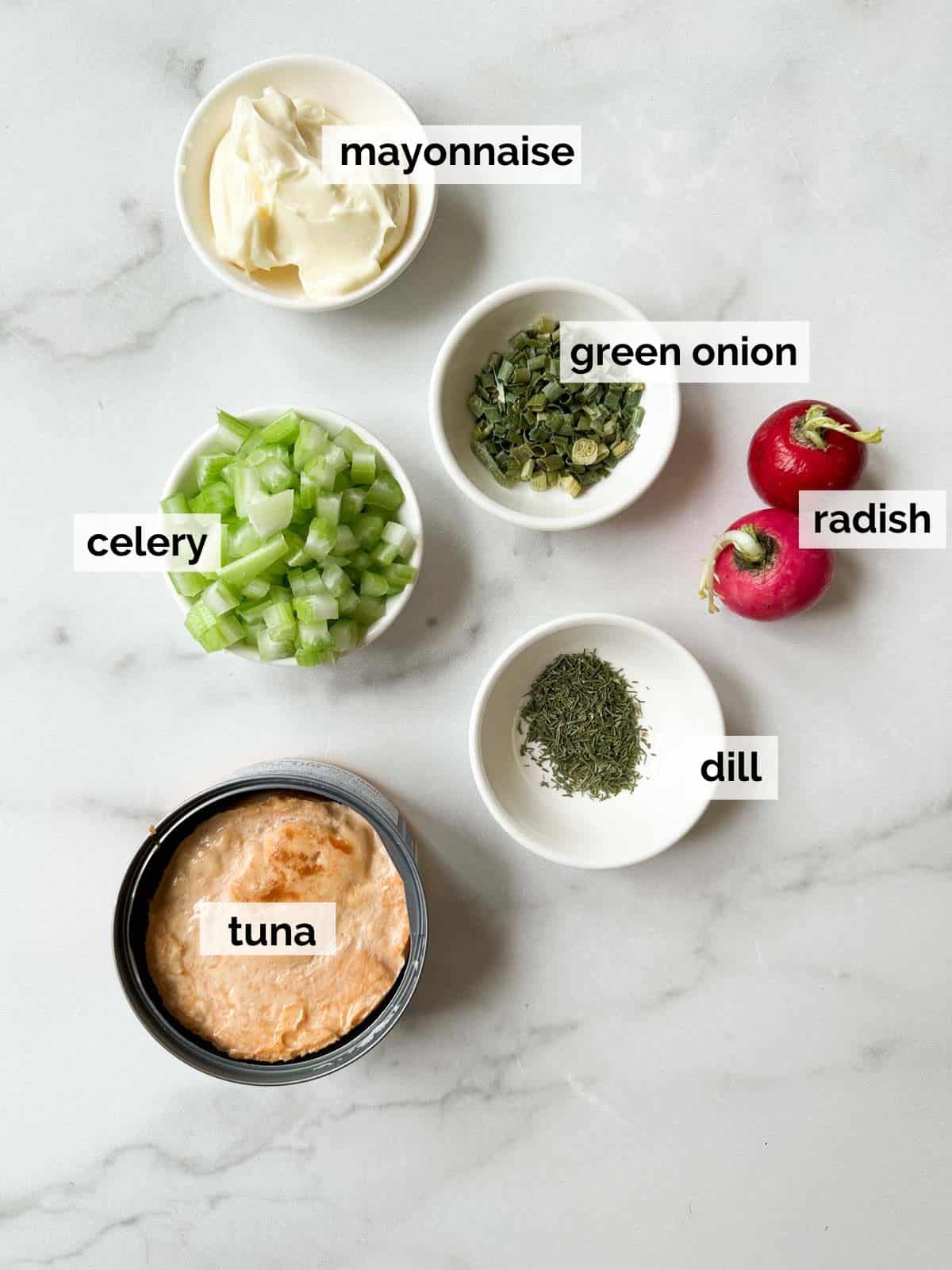 Just a few simple ingredients are needed to make this classic dill tuna salad.
Canned tuna fish - Look for brands packed in water with no added sodium or broth.
Dill - This can be fresh or dried.
Green Onion - This can be fresh or freeze dried, although I recommend fresh for best flavor.
Mayonnaise - I like to use homemade or Sir Kensington's Organic.
Celery - Added for extra crunch. If you're sensitive to natural nitrates, try using jicama instead.
Radish - Another great way to add crunch and extra veggies!
Salt and pepper
How to Make Tuna Salad with Dill
Step 1: Drain the tuna
Completely drain all the water from the canned tuna fish. You can even run it under cool water and pat dry with a paper towel.
Step 2: Combine the ingredients
Add everything to a medium sized bowl and stir well to combine. I like to do this with a fork so I can really break up the tuna pieces.
Step 3: Refrigerate
Even if you can just refrigerate for 30 minutes, it really helps the flavors to combine. This is what makes deli-style tuna salad so good!
Additions or Substitutions
If you'd like to make a tuna salad without mayo, I recommend buying tuna packed in olive oil and using the olive oil in it.
For a tuna salad without egg, use my egg free mayo.
Celery can be substituted with chopped jicama.
Fresh herbs can be substituted for dried and vice versa.
Chopped apple or tomato can also make great additions.
Serving Suggestions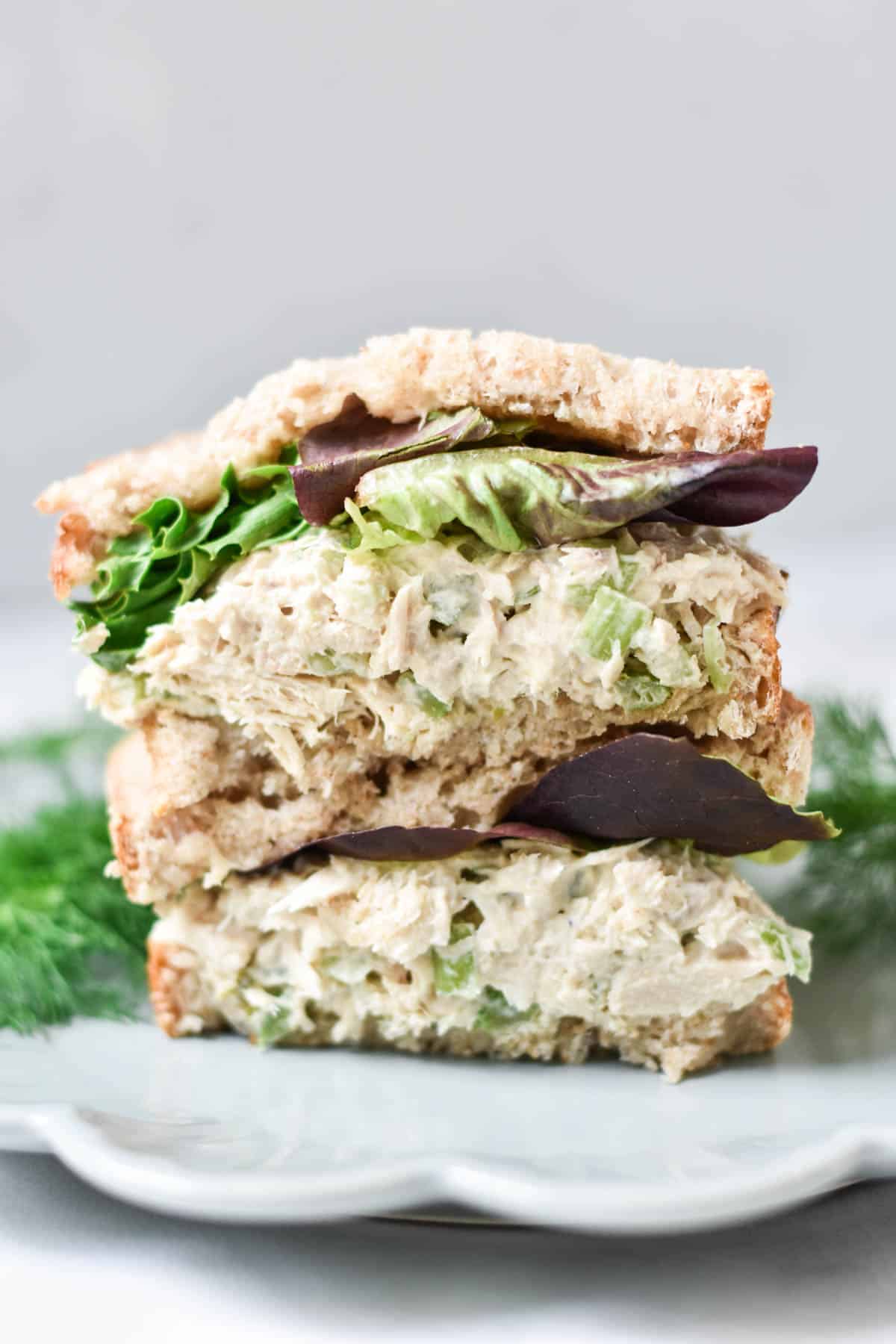 I love to serve tuna salad on whole grain bread for a tuna salad sandwich. I find it's best when you lightly toast the outsides (on a level 1-2 on the toaster).
You can also make a tuna salad salad. The best dressing I would recommend to pair with it is my vinaigrette.
Serve this with crackers like water crackers or Crunchmaster's sea salt for gluten free.
Storing Tuna Salad
Store this tuna salad with dill in an airtight container in the fridge for up to 3 days. The flavor will intensify the longer it sits.
If you're packing for a lunch, be sure to keep it cool in a sealed in an insulated bag with an ice pack while traveling.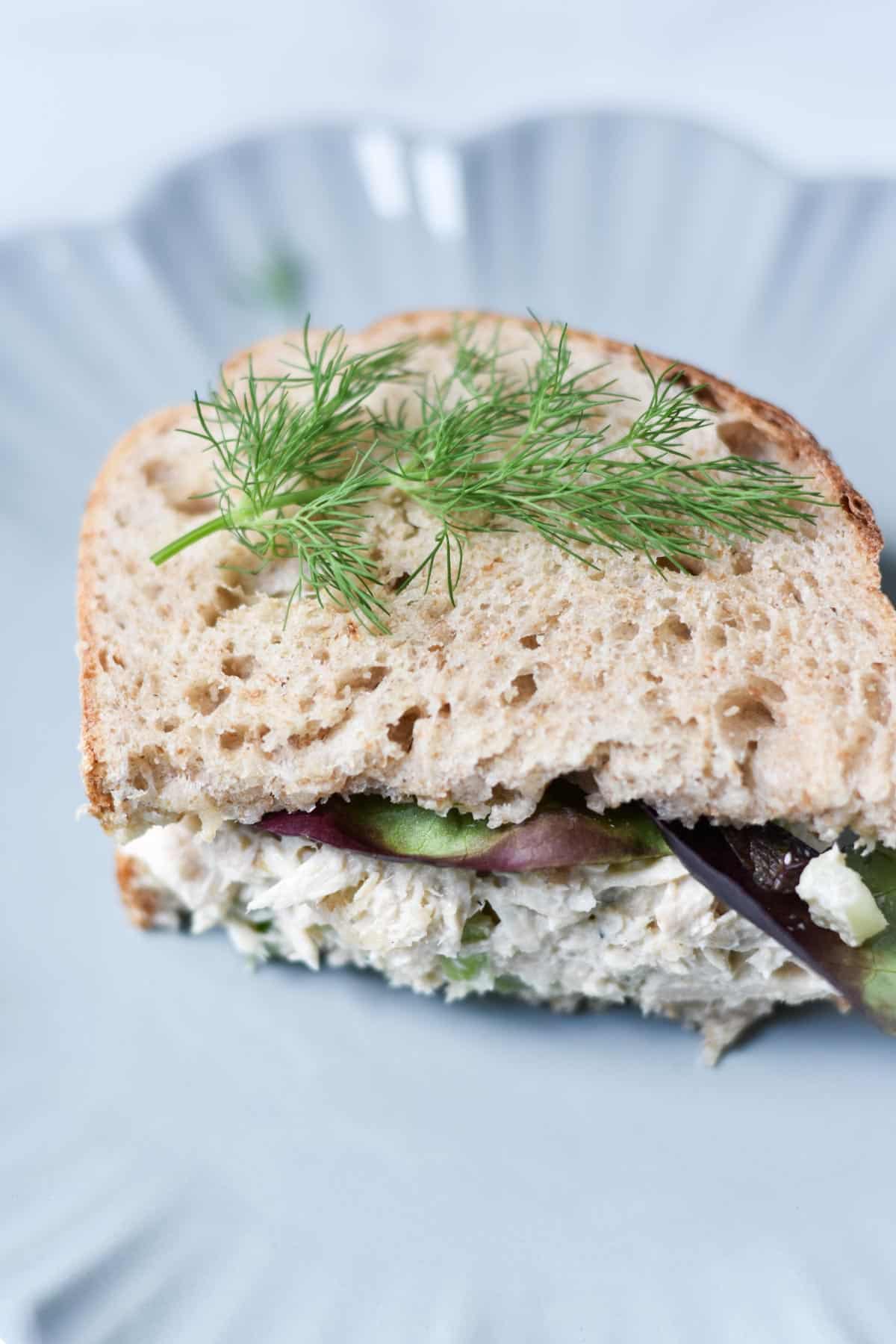 Frequently Asked Questions
What seasonings taste good with tuna salad?
A lot more than you would think! I like the classic flavor of dill and green onion here, but you can mix it up by adding chives or shallots, chopped pickles, dijon, a pinch of curry powder, or basil. Lemon juice is also a great addition (if tolerated).
Is fresh or dried dill better?
This is one recipe I actually prefer dried, just because it's easier. Dill often goes bad on me very quickly, even stored in water! But fresh dill is lovely in this recipe as well.
Is tuna high in histamine?
Tuna is generally high in histamine, but canned tuna is allowed on a migraine diet. When tuna is canned it stops the aging process, but it's best to consume shortly after opening. If you have an issue with histamine, you can make this salad with fresh tuna or salmon.
Tuna Recipes
For more delicious recipes using tuna fish like this dill tuna salad, see these posts.
If you make this, tag me #thedizzycook or @thedizzycook on Facebook and Instagram. And if you love the recipe, please leave a review below! Follow along on my Pinterest for more great recipes.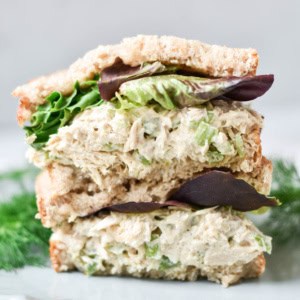 Dill Tuna Salad
Healthy and high in protein with simple ingredients, this makes a great tuna salad sandwich!
Print
Pin
Rate
Ingredients
5oz

can

tuna (no salt, seasonings, or broth added)

⅓

cup

celery, about 1 stalk chopped

1

green onion, chopped

2

radish, chopped

1¾

tablespoons

mayonnaise

I used Sir Kensington's Organic

⅛

teaspoon

dill (fresh or dried)

¼

teaspoon

freshly cracked black pepper

Crackers or bread for serving
Instructions
Drain the tuna fish completely and combine all the ingredients in a bowl. Stir till incorporated, adding salt and pepper as needed. Refrigerate for 10-30 minutes to allow the flavors to combine. Serve cold on bread or crackers.

Serve cold on bread or crackers.
Nutrition
Calories:
99
kcal
|
Carbohydrates:
1
g
|
Protein:
17
g
|
Fat:
3
g
|
Saturated Fat:
1
g
|
Polyunsaturated Fat:
2
g
|
Monounsaturated Fat:
1
g
|
Trans Fat:
1
g
|
Cholesterol:
32
mg
|
Sodium:
233
mg
|
Potassium:
171
mg
|
Fiber:
1
g
|
Sugar:
1
g
|
Vitamin A:
114
IU
|
Vitamin C:
1
mg
|
Calcium:
20
mg
|
Iron:
2
mg