I had an epiphany today...not every recipe has to be an elaborate meal. Sometimes it's easy to assume that people want recipes that are new and different, so you tend to avoid the old classics. As I organized some of my recipes under different links, I realized I had not posted a lunch recipe. In my opinion, my lunches are pretty boring. They're thrown together quickly as an afterthought between running to the grocery store and thinking of something innovative for dinner. What I failed to realize is that I make these recipes when I don't feel well or don't have time, which means they're perfect for anyone struggling with a bad migraine day.
That leads me to my next thought - I am shocked that I feel fine today. We took a quick trip to New York, and the return flight was less than enjoyable since half the country was covered in storms. My father was a pilot and has told me countless times what all the little bumps and noises mean. Sometimes I go over them in my head any time there's bad turbulence. I also remind myself of that time Mindy Kaling and BJ Novak thought they were going to die in a plane crash (from her book Why Not Me?), and they made it through. It doesn't help much! Luckily I think my sea bands saved me this trip since I typically feel very nauseous. I also practiced deep breathing and listened to my Calm app. Once we got home we had a round of storms come through, which is normally a big trigger for me. After all of those triggers stacked up I still felt pretty good today, which is a huge win. It goes to show if you stick to your migraine diet and your supplements, it can help you tremendously.
On a lighter note, I had a great time hanging out with my sister in law who is a dancer in NYC. We had a late lunch at Jack's Wife Freda, who's tomatillo shakshuka will need to be copied on here. We then hit up Milk Bar, who's blueberry and cream cookie will also need a HYH adjustment. I do pretty well with malted barley flour, but it's an "avoid" item when you first begin the Heal Your Headache diet. I'll work on these for you guys. It's a tough life, but someone's got to test out cookies.
Sorry I'm dangling cookies in your face while we're talking about tuna salad. Canned tuna can be high in histamine, as well as most seafood, but it is still allowed on the Heal Your Headache diet. If you cannot tolerate it, you could add some cooked chicken breast for a delicious chicken salad. I typically buy Safe Catch Tuna because it's sourced responsibly, checked for mercury levels, and they don't add any MSG. I like the "No Salt Added" kind the best. If you're using a local brand, be sure to check the label as you'd be surprised that they put questionable items like MSG-laden "broth" in your canned tuna.
Jicama is a root vegetable that is an ugly brown bulb on the outside, but chalky white on the inside. It has a very mild taste, slightly sweet in my opinion, and it's really crunchy. My mom used to put apples in my tuna salad when I was a child, but jicama is a lovely alternative without the sweetness. You can use the mayo of your choice, but my personal favorite is Sir Kensington's Organic which contains zero grams of sugar but a tiny amount of lemon. As stated previously, it's impossible to find a strict HYH safe mayo so making your own is also an option. Finally, I am in no way sponsored by these people (although I wish I were because I would do anything for some free food), but I love Primizie Simply Salted Crisps with all my heart. You can buy them here on Amazon in a 3-pack. The ingredients are wheat flower, sunflower oil, salt, and yeast. I believe some of the other flavors are also safe like the Italian Everything, but please double check the ingredients for your personal triggers!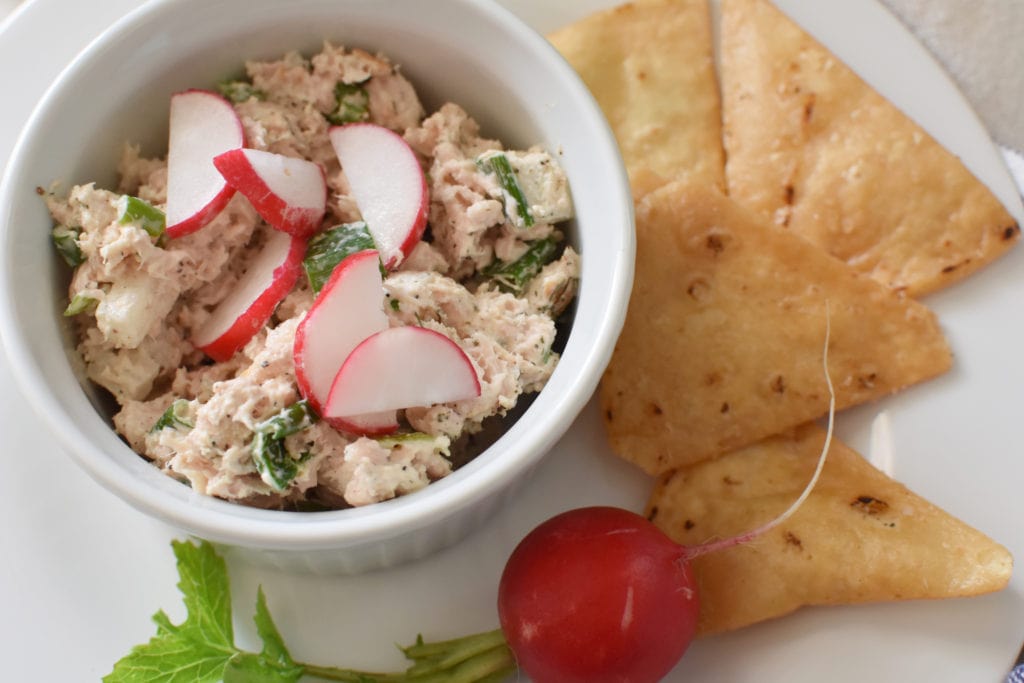 Heal Your Headache Tuna Salad
This tuna salad is the perfect lunch for a migraine diet and it a Heal Your Headache recipe.
Print
Pin
Rate
Ingredients
1

can

tuna (no salt, seasonings, or broth added)

I used Safe Catch No Salt

1-½ to 2

tablespoon

mayonnaise

I used Sir Kensington's Organic

⅛

teaspoon

dried dill

¼

teaspoon

freshly cracked black pepper

1

green onion, chopped

2-3

tablespoon

peeled and chopped jicama

I get mine pre-peeled from Trader Joe's

1

radish, washed and chopped

Crackers for serving
Instructions
Drain the tuna fish and combine all the ingredients in a bowl. Stir till incorporated and refrigerate for 10 minutes to allow the flavors to combine.
Nutrition
Calories:
99
kcal
|
Carbohydrates:
1
g
|
Protein:
17
g
|
Fat:
3
g
|
Saturated Fat:
1
g
|
Polyunsaturated Fat:
2
g
|
Monounsaturated Fat:
1
g
|
Trans Fat:
1
g
|
Cholesterol:
32
mg
|
Sodium:
233
mg
|
Potassium:
171
mg
|
Fiber:
1
g
|
Sugar:
1
g
|
Vitamin A:
114
IU
|
Vitamin C:
1
mg
|
Calcium:
20
mg
|
Iron:
2
mg