This orecchiette with sausage and broccoli rabe is one of my favorite weeknight meals lately. It's basically an entire meal in a bowl - protein, greens, and lots of comforting pasta. But this isn't a heavy pasta dish! The orecchiette catches a little bit of the light and flavorful sauce in each "boat" so every bite is bursting with simple flavors.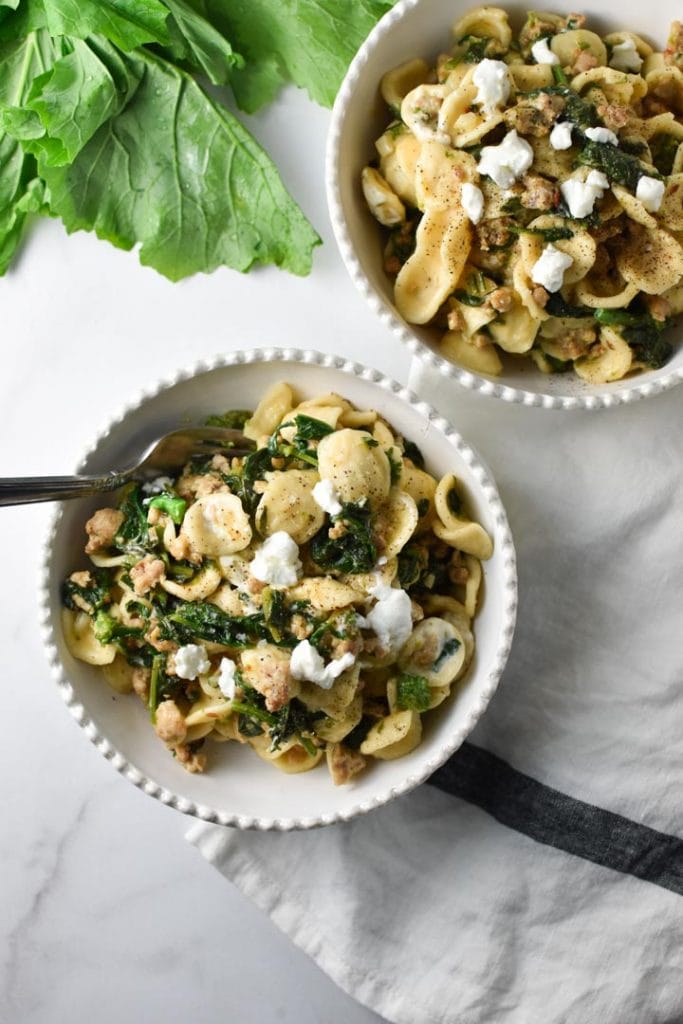 What is Broccoli Rabe?
The first time I saw a recipe similar to this one was years ago, on some Dallas blogger's website when blogging wasn't really a thing. I can't even remember the exact recipe, or who the blogger was, but the combo is something I've turned to when I'm not feeling very inspired. Orecchiette with broccoli and sausage isn't exactly a groundbreaking recipe. I've seen it a few places here and there, but typically with broccoli or spinach and always with parmesan.
Broccoli rabe, also known as "rapini" is a bunch of large dark green leaves mixed with little branches of what looks a bit like broccoli heads. Sometimes it's flowering a bit. It's got a bitter flavor to it that's similar to mustard greens.
I love using it in this dish because it's easy to chop and wilt down as opposed to broccoli or broccolini heads. In my opinion, it mixes better with each bite of pasta. Plus my husband thinks saying "broccoli rabe" is hilarious.
Substitutes for Broccoli Rabe
Can't find rapini in your local store? No worries! Mustard greens are a substitute OR this pasta would also be great with broccoli, broccolini, or even wilted spinach or kale. Just sauté it the same way till it's softened.
If you're using broccoli, make sure the florets are really small so they cook quickly. Or you can pre-roast or cook them and add them to the pan.
Pasta Without Parmesan
With really good, flavorful ingredients like garlic, sausage, and broccoli rabe there's not a need to make this into a heavy, cheesy sauce.
This garlic sauce is broth based and thickened with the starch from the pasta. It's meant to lightly coat each bite without overpowering. The red pepper flakes add a hint of heat that you can leave out for any family that doesn't enjoy a bit of spiciness.
Occasionally I like to add a little bit of goat cheese as I feel like it gives it a great tangy flavor that we miss without adding parmesan. However, I find that this recipe is delicious either way. So if you're dairy free or hate goat cheese, feel free to skip it in this recipe.
What Sausage is Best
Migraine-friendly sausage can be difficult to locate if you don't know what to look for. Your best bet for sweet Italian chicken sausage that's safe is to use a local butcher. You want the kind that's fresh, from behind the counter, not sealed in an air-tight package. The ones sealed in the package, you don't know how old they are and they could have a build up of tyramine.
You want to look for one that doesn't contain a ton of ingredients or onion powder. Also look for hidden MSG names. It's always good to double check the labels or ask your butcher.
I find ones that are compliant from Whole Foods and Central Market. Some readers have even let me know that they can find them at Sprouts or their local butcher.
If this isn't available to you, you can always make your own sausage. There are a few recipes for sweet Italian chicken sausage online, but I also love to make this with the recipe for Sausage Balls from my cookbook. You can find these on page 53. Skip the ball-making step and just mix the meat and spices together.
Basically this orecchiette with sausage and broccoli rabe recipe has been on my menu a ton while I've been going through fertility treatments. I've been craving something cozy and comforting, but attempting to not resort to all the junk food. I think this recipe is a great balance. Plus it cooks all in one dish.
I think this is what makes it a perfect meal for high pain days. You don't have to think about much with this one, the portions can be adjusted, and you can even pre-cook the sausage and freeze it if that's easier for you.
Easy Pasta Recipes:
If you like this orecchiette with sausage and broccoli rabe you'll love these recipes!
Pumpkin Sage Pasta
Boursin Pasta
Corn, Zucchini and Goat Cheese Pasta
Lazy Lasagna
Orecchiette with Sausage and Broccoli Rabe
This delicious and hearty pasta comes with the easiest, light sauce. See my tips in the post for migraine-friendly ingredients.
Print
Pin
Rate
Ingredients
8-10

oz

orecchiette pasta

2

tablespoons

olive oil

¾

lb

chicken sausage

3

large cloves

minced garlic

1

bunch

broccoli rabe or rapini

1

cup

vegetable or chicken broth

¼

teaspoon

red pepper flakes

*Use less if you don't like spicy

2

oz

goat cheese (optional)

kosher salt and pepper to taste
Instructions
Boil pasta in salted water according to package directions, drain, but keep about ½ cup of the pasta water. Rough chop washed broccoli rabe into bite size pieces.

In a large pan, heat 1 tablespoon olive oil over medium. Add sausage and stir till cooked through. Remove from the pan and set aside. In the same pan, add another tablespoon of olive oil and garlic and saute for about 30 seconds. Then add chopped broccoli rabe and season with a pinch of kosher salt. Cook for about 2 minutes till wilted down.

Add 1 cup of broth and bring to a simmer for about 2 minutes then add your pasta. Adding the pasta should help thicken the sauce a bit to coat the little bowls. If you like more sauce, a tablespoon or two of the pasta water until it meets your expectations. Mix in sausage and add red pepper flakes. Taste and adjust any seasonings. Top with goat cheese (or mix in while warm) if desired.
Notes
For gluten free, just substitute your favorite GF pasta. The sauce may not thicken quite the same. If this happens, you can stir in a teaspoon of arrowroot powder to help it out.
If you can't find broccoli rabe or rapini, feel free to use what you have on hand - kale, spinach, mustard greens, etc. My favorite would be kale or spinach.
To make this dairy free, you can easily leave out the goat cheese.
For sausage recommendations, see the post.
For broth, I like to use Trader Joe's Hearty Vegetable (which does have onion but no MSG) or make my own migraine-friendly broth. You can find chicken broth here or vegetable broth in my new cookbook.
Nutrition
Calories:
505
kcal
|
Carbohydrates:
49
g
|
Protein:
26
g
|
Fat:
23
g
|
Saturated Fat:
6
g
|
Cholesterol:
67
mg
|
Sodium:
965
mg
|
Potassium:
297
mg
|
Fiber:
3
g
|
Sugar:
3
g
|
Vitamin A:
1965
IU
|
Vitamin C:
13
mg
|
Calcium:
97
mg
|
Iron:
3
mg