These one-pan apple cider pork chops are seared and then oven baked with delicious caramelized apples and sage for a really quick but elegant and easy meal with minimal ingredients.
Pork and apples are such a great compliment to each other. The sweetness from the apples really pairs well with the salty, savory nature of the pork loin chops. In this recipe we brush the pork loin chops with an easy dijon brown sugar mixture that's pressed with sage leaves. This gets seared on both sides to get nice and brown. Then we finish cooking it in the oven with apples so they get nice and soft in the apple cider. This sauce can then be simmered down and the butter is added at the end so it's nice and smooth.
What Pork Chops Should I Use?
I've made this with both bone-in pork chops as well as boneless, and I tend to prefer thick-cut boneless pork loin chops because they're a little more tender and cook better with this method. Both will work for this recipe so go with what you're comfortable with.
I would choose chops that are at least an inch thick so they don't cook too quickly. Pork chops, both boneless and bone-in, should be cooked to a 145 degree internal temperature for the proper doneness.
Another tip for cooking pork chops is to take them out of the fridge and let them sit at room temperature at least 15 minutes before cooking. I like to do this while I mix up the dijon brown sugar coating and chop the apples.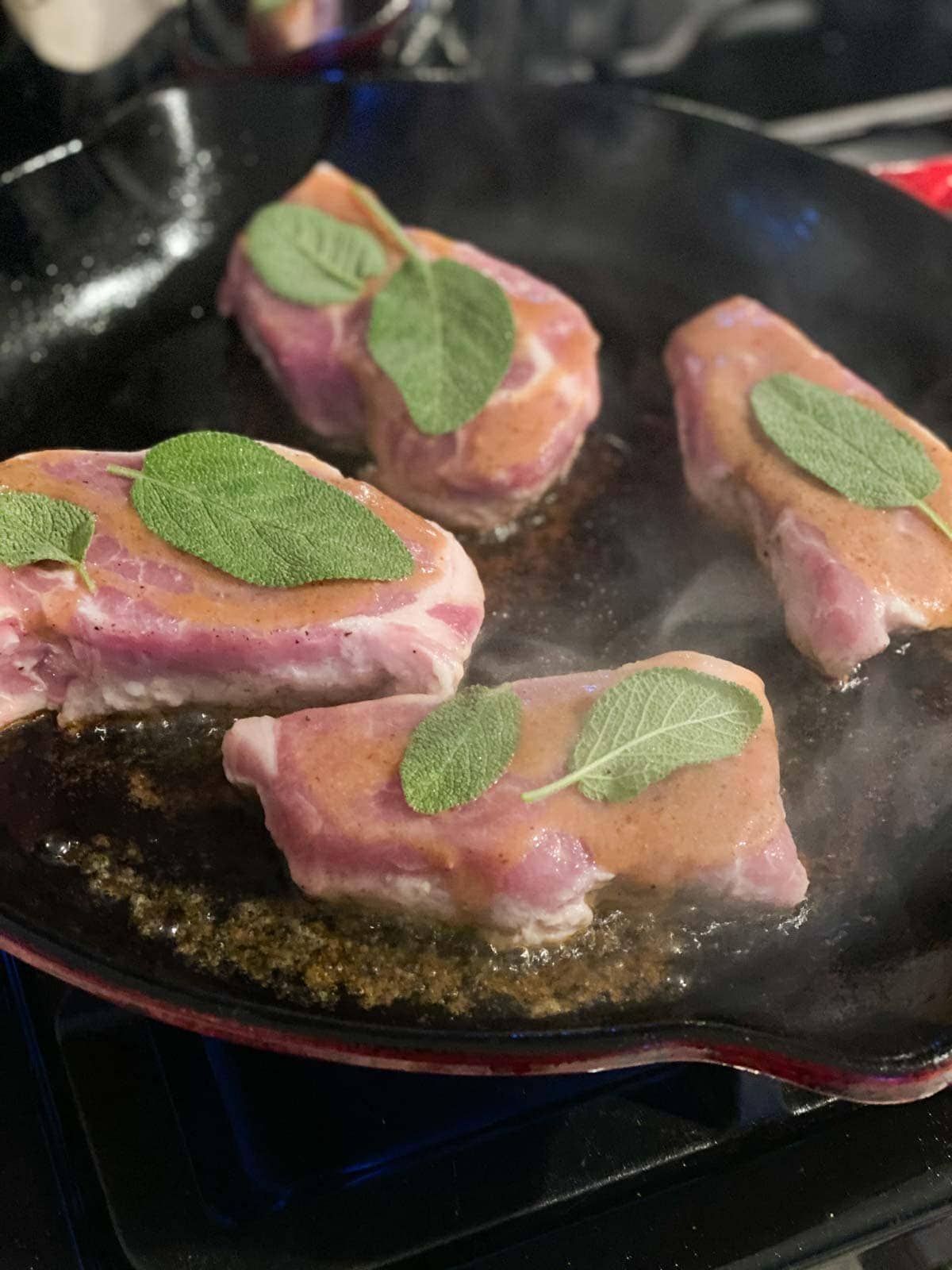 Apple Cider Sauce
My favorite apple cider to use for this recipe are local brands that you can find in the refrigerated fruit section of your grocery store. They won't contain any extra ingredients - it will just be apples!
This might also be confusing for international readers, but apple cider in the US is just apples that are cut and ground into basically apple sauce, then pressed into fresh juice. Sometimes it is even exactly the same as apple juice, it's just labeled differently. Supposedly this is how the popular brand, Martinelli's labels their apple cider and juice. For this recipe, both are interchangeable.
What you don't want is hard cider, which I believe is what international readers are familiar with when they think of apple cider. This is a fermented alcoholic product and it's not advised for this recipe or for a migraine diet.
Because the sauce is so lovely, this is best served with something that soaks it up. Ricotta mashed cauliflower or simple corn polenta are two of my favorites, along with mashed potatoes.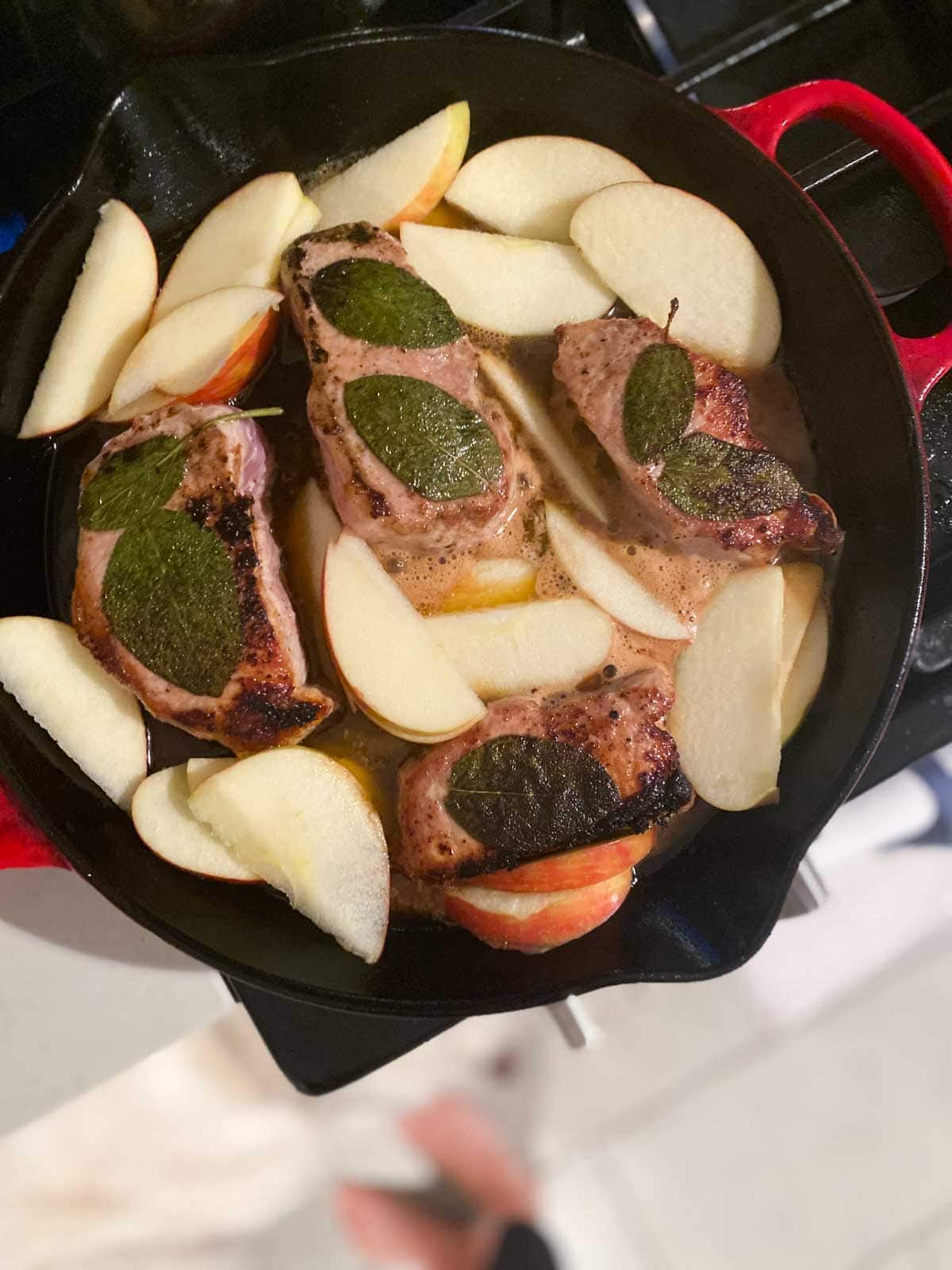 Tips for Cooking
Look for a thicker pork chop, at least 1 inch. You can use bone-in, but I used boneless here.

Use a sweet apple, like honeycrisp or gala

A cast iron pan (or any pan that's oven safe) helps make this into a one pan dish that can go from the stove top to the oven

The sage leaves will stick nicely to the dijon brown sugar sauce, and I rarely have them fall off during searing, but it helps to not mess with them and move them around while in the pan. Set it and forget it till the cooking time is up.

Serve with a vegetable that can soak up the apple cider sauce like mashed potatoes or creamy polenta
Dairy and Gluten Free Notes
For those who are dairy sensitive, you can use ghee instead of butter. Also the brown sugar can be replaced with maple syrup or honey, although I do think it's best with brown sugar. This meal is automatically gluten free.
More Pork Recipes
For more tasty pork recipes like these apple cider pork chops, see these recipes.
Slow Cooker Pulled Pork
Herb Crusted Pork Loin with Roasted Vegetables
Air Fryer Pork Tenderloin
Instant Pot Pulled Pork Tacos
If you make this recipe, don't forget to tag me #thedizzycook or @thedizzycook on Facebook and Instagram. And please leave a review below!
Apple Cider Pork Chops
Pork loin chops are covered with a simple brown sugar dijon mix and pressed with sage leaves for an elegant yet simple dinner that's gluten free.
Print
Pin
Rate
Ingredients
1 ½

pounds (or 4 pcs)

boneless pork loin chops

4

tablespoons

butter, divided

1½

tablespoons

brown sugar

3

tablespoons

dijon mustard

1

bunch

fresh sage leaves (about 4 leaves per chop)

1-2

sweet apples, like honeycrisp or gala, sliced

¾

cup

apple cider

kosher salt and pepper
Instructions
Heat oven to 450 degrees Fahrenheit. Remove pork from fridge and pat dry on both sides. Lightly season both sides with salt and pepper. Mix the brown sugar with dijon and spoon onto one side of the pork. Press sage leaves into the mixture.

In a large cast iron pan (or oven-safe pan), melt 2 tablespoons of butter over medium heat. Add the pork to the pan, sage/sauce side down, and spoon more brown sugar dijon sauce on uncoated side and press in the sage leaves while the first side cooks. Cook for 2-3 minutes per side till browned on the outside and don't mess around with it or the sage leaves will come off! If they do, just use tongs to place them back on top.

Once browned on both sides, add sliced apples and apple cider to the pan. Bring to a simmer and then transfer to the oven, cooking for 10-15 minutes until pork is cooked through (145 degrees F). Remove the pork chops from the pan and cover them with foil. Return the pan to the stovetop over medium high heat for about 3 minutes, reducing the sauce with the apples by about half (the sauce will not thicken, it is meant to be thin, it will just be more concentrated).

Off the heat, stir in the remaining 2 tablespoons of butter and season with salt and pepper to taste. Return the pork chops to the pan and spoon the sauce over the top. Garnish with extra fresh sage, salt and pepper to taste, and serve warm.
Notes
I find pork to be a little more salty, so go easy on it when seasoning.
If your sage is getting burned, the heat is too high. Crispy/dark brown is perfect, not black. You just want the pork to brown around the edges.
For those who are dairy sensitive, use ghee instead of butter. This recipe is naturally gluten free. Maple syrup or honey can be subbed for brown sugar, although I find brown sugar is best.
Look for natural apple cider, like a local brand that's been fresh squeezed. Martinelli's is good in a pinch. Regular apple juice would also work - I like honeycrisp apple juice. Do not use alcoholic/fermented apple cider.
Nutrition
Calories:
437
kcal
|
Carbohydrates:
17
g
|
Protein:
38
g
|
Fat:
24
g
|
Saturated Fat:
7
g
|
Cholesterol:
114
mg
|
Sodium:
345
mg
|
Potassium:
754
mg
|
Fiber:
2
g
|
Sugar:
13
g
|
Vitamin A:
525
IU
|
Vitamin C:
2
mg
|
Calcium:
49
mg
|
Iron:
1
mg