This Anti-Inflammatory Smoothie has pear, spinach and ginger, making it the perfect light and refreshing green smoothie. Packed with pain-fighting ingredients, readers swear it helps with migraine attacks, headaches, and nausea. Hemp seeds add protein and oat milk provides a little extra creaminess!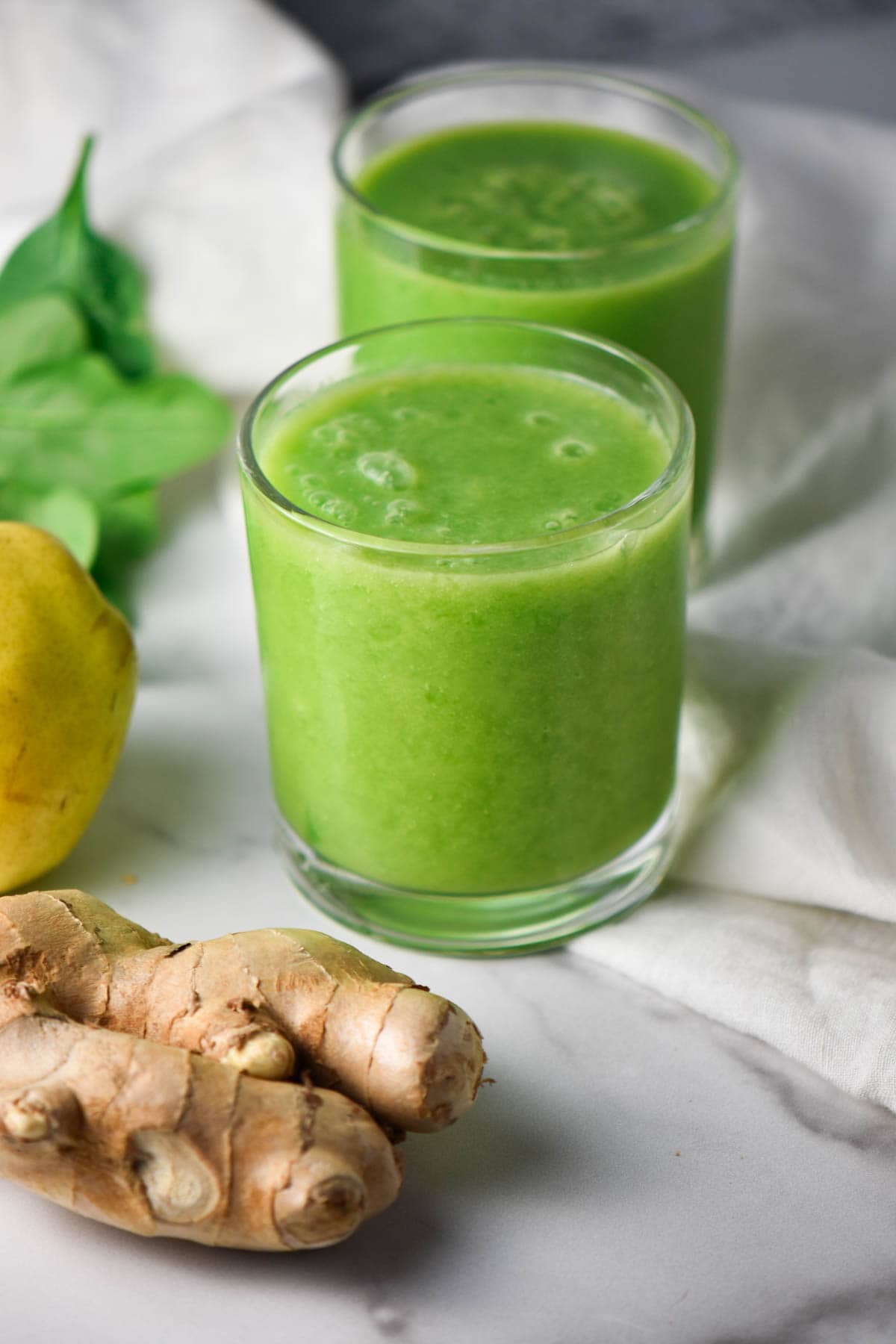 Best Smoothie for Inflammation
When I originally developed this anti-inflammatory smoothie recipe for the really bad migraine days, I knew it had to pack a lot of pain- fighting power. Often when I deal with a vestibular migraine, I want a meal that's easy, fast, and not too crazy with ingredients.
It's important to not use high sugar ingredients that would cause a blood sugar spike. I think in this case, people typically reach for dark berries, but pears can be quite good if you want to mix things up, as they have a low glycemic index. They're also easy on the stomach! Balanced with chia seeds or hemp seeds, they add just enough sweetness to this green smoothie.
Here we want to avoid bananas, which can be high in tyramine and could potentially be a migraine or headache trigger.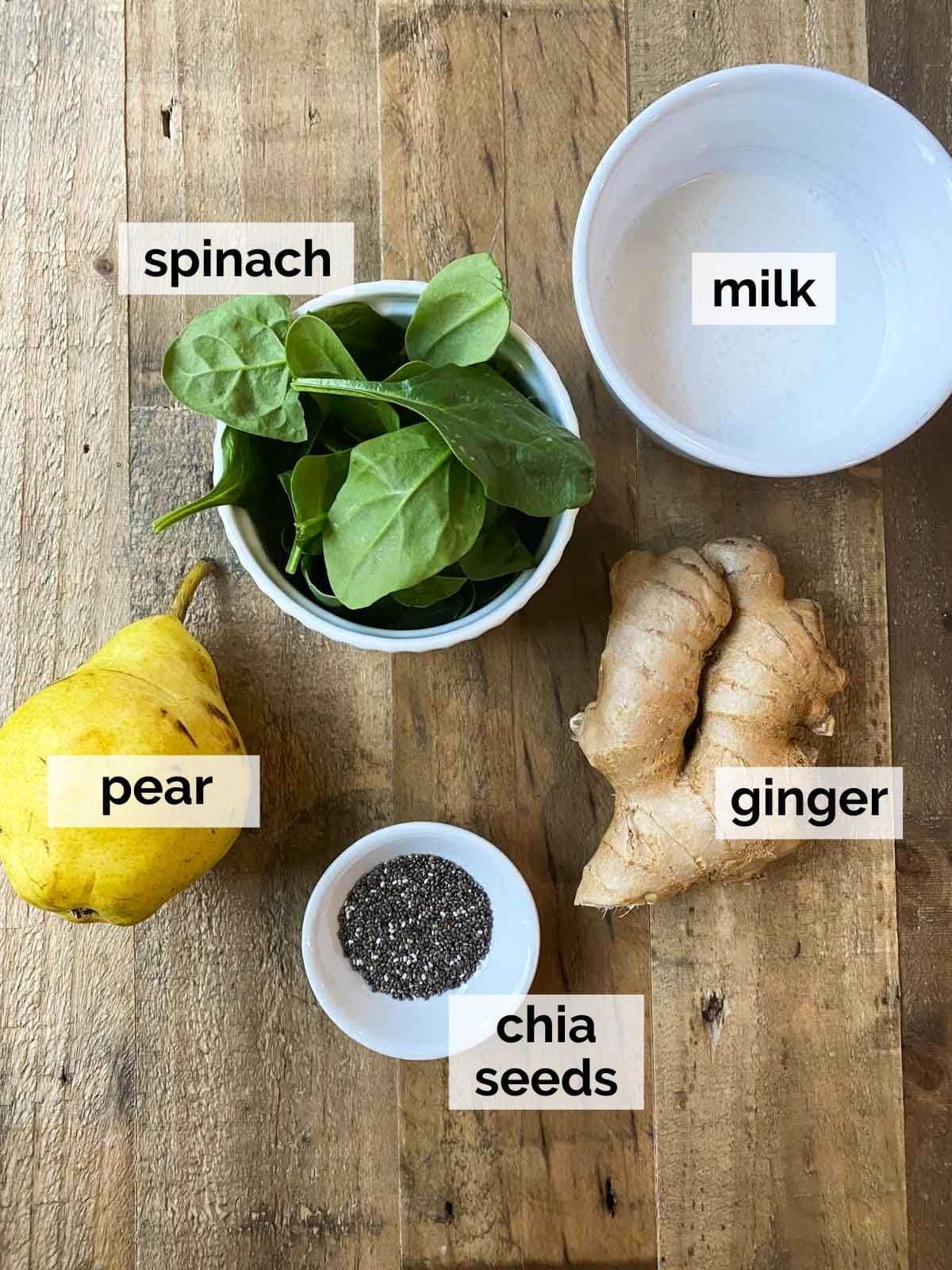 Anti-Inflammatory Smoothie Ingredients
This anti-migraine smoothie is full of magnesium, antioxidants, fiber, and nausea relief.
Pears - Rich in flavonoid antioxidants which means they're a perfect base for an anti-inflammatory smoothie. They promote heart health, weight loss, and gut health as they're packed with fiber. The cool thing about pears is they contain soluble and insoluble fiber. This can not only relieve constipation, but also promote good gut bacteria. Since a lot of probiotics can be triggering for people with migraine, this is a good option to incorporate.

Part of the nutritional benefit of pears is found in the skin, so I like to leave mine on for this recipe and if you have a high speed blender, like Vitamix, it shouldn't be an issue. This is where I also like to spend a little more and get the organic pears.
Ginger - Ginger is included for nausea and pain relief. It is a natural anti-inflammatory, and can also help ease an upset stomach. If you're dealing with nausea or head pain, adding this to your smoothies could potentially help ease some of the symptoms. Studies have shown ginger can help combat motion-induced sickness as well as relieve nausea and vomiting during pregnancy.

Ginger could also help reduce pain during your period. In one study of 150 women, ginger was shown to be as effective as ibuprofen when taken the first 3 days of a period. And if you've been reading my blog for any amount of time, you know that it's effective for migraine associated pain.

Some people find they have to take a supplement at the first sign of a migraine. On the other hand, I struggle with acid reflux when I take ginger supplements. Adding ginger to smoothies or food is my workaround to get the health benefits without the reflux.
Spinach - Included for a boost of magnesium. It's always best to add a few dark leafy greens to your smoothie if it doesn't affect the taste too much. Spinach and kale are considered anti-inflammatory superfoods. Packed with nutrients, a good recipe can mask their bitter flavor. I prefer to use spinach in smoothies as I find the flavor blends a little bit better.

Another benefit is dark leafy greens like spinach have magnesium, which can help prevent migraine attacks. Usually we have to supplement the amount we need for migraine management, but diversifying your magnesium sources is always a good thing.
Hemp Seeds - These are included for a protein boost and also balance the sugars in the pear. A lot of smoothies just put a bunch of fruit in the ingredients, and don't balance it with protein, which helps prevent a spike in blood sugar. Chia seeds also make a great substitute, which is what I used in the picture above.
Milk - I often use oat milk, but any type of milk you like will work for this recipe. For extra protein, hemp milk would be perfect.
How to Make
To peel ginger - use the side of a spoon to gently scrape off the skin. This tip is super handy and keeps a lot of the ginger intact.
To make the anti-inflammatory smoothie - Place all the ingredients in a blender except for ice. Blend till smooth and creamy, about 1 minute. Add ice in ½ cup increments until the desired thickness is reached. This smoothie is on the thin side. Be careful to not add too much ice or the flavors will be watered down. Sometimes, however, that can be helpful for nausea.
Pro Tips for Green Smoothies
Use a really good blender to make this super creamy. Investing in a blender like vitamix will give you the best texture for smoothies. It blends ice extremely well and won't leave you with chunks in the mixture.
Prep this ahead! Freeze pear pieces with ginger, spinach, and seeds in individual plastic bags. Dump them into the blender when ready and add milk and ice. That's it!
Pack some extra anti-inflammation power by adding ½ teaspoon turmeric to the mixture.
Drink this recipe at the first sign of a migraine attack to see if the ginger can help as a proven abortive. Or pair with your acute treatment, like a triptan, to boost its power.
Recipe Substitutions
For low histamine - I would recommend substituting spinach with arugula in this recipe. It gives this anti-inflammatory smoothie a great, peppery flavor. Kale will also work, although it definitely makes the taste a little more "green".
For a thicker smoothie - add in ⅓ cup frozen cauliflower. You can't taste it in this amount, but it will add some extra creaminess to the texture.
Anti-Inflammatory Recipes
For more recipes that will help you fight inflammation like this anti-inflammatory smoothie check out these posts.
If you make this, tag me #thedizzycook or @thedizzycook on Facebook and Instagram. And if you love the recipe, please leave a review below! Follow along on my Pinterest for more great recipes.
Anti-Inflammatory Smoothie
This smoothie packs major pain and inflammation fighting power with a combination of pears, spinach, ginger, and seeds. Great for breakfast or a snack!
Print
Pin
Rate
Ingredients
¾

cup

chopped pear, skin on

*

2

teaspoons

freshly grated ginger

¾

cup

fresh spinach

*

¾

cup

oat milk

*

2

teaspoons

hemp or chia seeds

1

teaspoon

honey or maple syrup (optional)

1

cup

ice
Instructions
In a blender, add the pear, ginger, spinach, milk, and seeds and blend till smooth. Add ½ cup ice and blend till smooth and frothy. Taste and see if it needs a sweetener like honey or maple syrup.
Notes
This recipe makes about 1.5 servings - so either a pretty large smoothie or 2 smaller ones.
Regular milk can be used instead of oat milk - or whatever milk you like best.
If histamine is an issue, substitute arugula for the spinach.
I used Bartlett pears but any sweet pear will do.
Nutrition
Serving:
1
smoothie
|
Calories:
209
kcal
|
Carbohydrates:
27
g
|
Protein:
11
g
|
Fat:
6
g
|
Saturated Fat:
1
g
|
Polyunsaturated Fat:
4
g
|
Monounsaturated Fat:
1
g
|
Cholesterol:
9
mg
|
Sodium:
41
mg
|
Potassium:
530
mg
|
Fiber:
4
g
|
Sugar:
17
g
|
Vitamin A:
2538
IU
|
Vitamin C:
11
mg
|
Calcium:
276
mg
|
Iron:
2
mg
This post was originally published May 19, 2020 and was updated January 12, 2022 to include new photos, ingredient information, recipe tips and process. Below are the original photos.