Fajitas are one of my favorite Friday (or Sunday) night meals. Sure you have to remember to marinate them for a little bit, but they're easy to whip up and super delicious. This particular recipe doesn't have a million spices, but it's packed with flavor. Cherry juice gives this recipe a great tangy flavor without adding a lot of citrus.
I probably have such fond memories because this is one meal we used to eat all the time when I was growing up. As I've talked about before, my mom was never a wonderful cook, but she's a really awesome baker (something I am not). I feel like you're either one or the other, right? If anyone is a great baker AND cook, please send me an email because I clearly need to feature you on this site!
Anyway, we always made really simple meals, particularly on Fridays and Sundays, when we could all sit down together and enjoy them. My mom always bought the McCormick's fajita seasoning packet. My mom, the nutritionist and RN, fed me MSG while I was in the critical stages of growing up! WAY TO GO, MOM. Thankfully I lived to see another day, but now that I'm managing a migraine disorder I have to be more careful with MSG and additives. If you've ever looked at the back of a label, there are hardly any recognizable names in the spice mix other than onion, cumin, chili pepper, and oregano. Who really needs corn syrup solids in their fajitas, anyway?
What makes this dish migraine friendly?
Shallots instead of onions

No citrus included (but tons of tangy flavor with tart cherry juice)

Pantry spices that you can recognize the names of – no packaged mixes!
Marinating time
You really don't have to marinate flank steak a lot time to get more flavor. 20 minutes, while you cut and sauté the vegetables, should do just fine. You don't even need to put it in the fridge, just leave it out on the counter.  If you have more time, by all means, marinate away…and definitely put it in the fridge. I've made this recipe multiple times and while the flavor is always more noticeable if I let it sit overnight, it's still good either way.
What pan is best?
A cast iron pan will give you the best sear for these, which I think is a very important part for fajitas that aren't grilled. You still want a little bit of that char on your peppers, shallots, and meat. A non-stick skillet will work fine if that's all you have as well.


Can I switch up the meat? 
If you're not a red meat eater, try subbing out the steak for chicken or even cauliflower for a vegetarian twist.
I recently partnered with ButcherBox to bring some of my readers access to high quality meat without having to drive to a local butcher. It's difficult for me to find vendors that are migraine diet safe, but I really love the mission of this company. Since all the meat is frozen, you don't have to worry about tyramine build up. It comes straight to your door, so one less place to drive (for us dizzy folks!). And they actually carry homemade sausage with simple and limited ingredients. Here's a special deal for 2 free filet mignon's and $10 off your first box. If you try it, let me know how you like it! We've ordered the custom box since I like to pick and choose what I want.
This post contains affiliate links.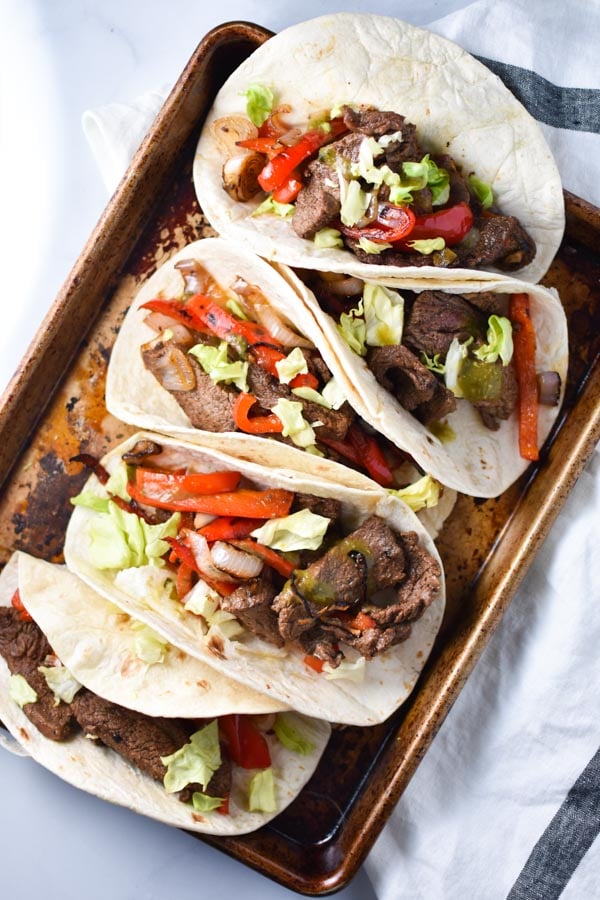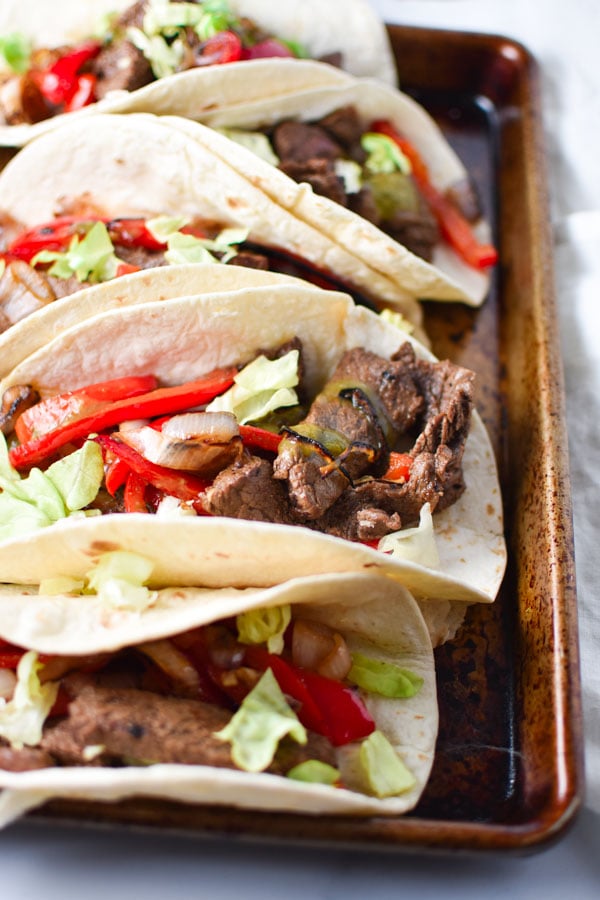 Steak Fajitas (MSG Free)
A quick and easy recipe that everyone will love, these steak fajitas cook up in no time and are citrus free. Tart cherry juice gives these fajitas a wonderful, tangy flavor. Feel free to sub out chicken or even cauliflower.
Cuisine:
American, Mexican
Keyword:
easy, MSG Free, Steak Fajitas
Ingredients
1

lb

flank steak, sliced thinly (approx 1/2 inch) against the grain

3

tbsp

extra virgin olive oil

2

garlic cloves, minced

1

tbsp

white vinegar

2

tbsp

tart cherry juice

1

tsp

ground cumin

1/2

tsp

smoked paprika

4

large shallots

2

bell peppers

1

package

tortillas

* I used central market brand, but Tortillaland has good ones too. Use corn for gluten free.

2-4

tbsp

high heat oil such as avocado or canola
Instructions
In a large ziplock bag, combine garlic, olive oil, vinegar, cherry juice, cumin, smoked paprika, and sliced steak. Steak should be sliced against the grain, which means to cut it in the opposite direction of where the lines run, not parallel to them. Allow the steak to marinate for at least 20 minutes, up to overnight. If only marinating 20 minutes, leave out on the counter.

Meanwhile, slice your shallots and bell peppers into strips. Heat 1-2 tbsp of high heat oil in a cast iron or non-stick pan over medium high heat. Add bell pepper and shallots, leaving it to char on one side for at least 1 minute. Then stir around the pan, browning evenly for 4-5 minutes total.

Remove the shallots and bell peppers from the pan and put in an oven safe dish. Wrap tortillas completely in aluminum foil. Preheat oven to 350 degrees F and place the tortillas and shallot/pepper mixture in the oven to keep warm.

Add 1-2 more tbsp of high heat oil to your pan and place the sliced steak evenly. Do not touch for at least 1-2 minutes to get a nice char on one side, then stir to evenly brown on the other side - 4-5 minutes total.

Remove everything from the oven and place cooked steak in tortillas with bell peppers and shallots. Some good migraine safe toppings are queso fresco, lettuce, radish, and whipped cottage cheese (for a cream cheese substitute).