These cream cheese sugar cookies with cherry frosting are fun to make and delicious. Cherry cream cheese frosting is whipped up with REAL cherries and topped on sugar cookies that are the perfect amount of soft. This post is written by Jennifer Bragdon, The Dizzy Baker.
Cream Cheese Sugar Cookies
I'm so proud to share this recipe with you. I think it's the only sugar cookie recipe you'll ever need. They are so soft with a crispy edge and not too sweet. There's something about adding fat to cookies that gives them the most amazing texture. And the dough (err-ma-gerd!) the dough is so airy and light – just wonderful to work with. You will want to roll out your dough and stack it between wax paper on top of a cookie sheet before refrigerating. This is so much easier than trying to roll out firm, cold dough.
Cherry Cream Cheese Frosting
I tried a couple of frosting recipes for these little cuties and I'm really happy with this one. Typical buttercream frosting does not include cream cheese and calls for about 2 more cups of powdered sugar. I prefer the frosting to be buttery but not too sweet so you can really taste the fresh cherries. Doesn't fresh cherry frosting sound so much better than using pink food coloring? I hope you like it too!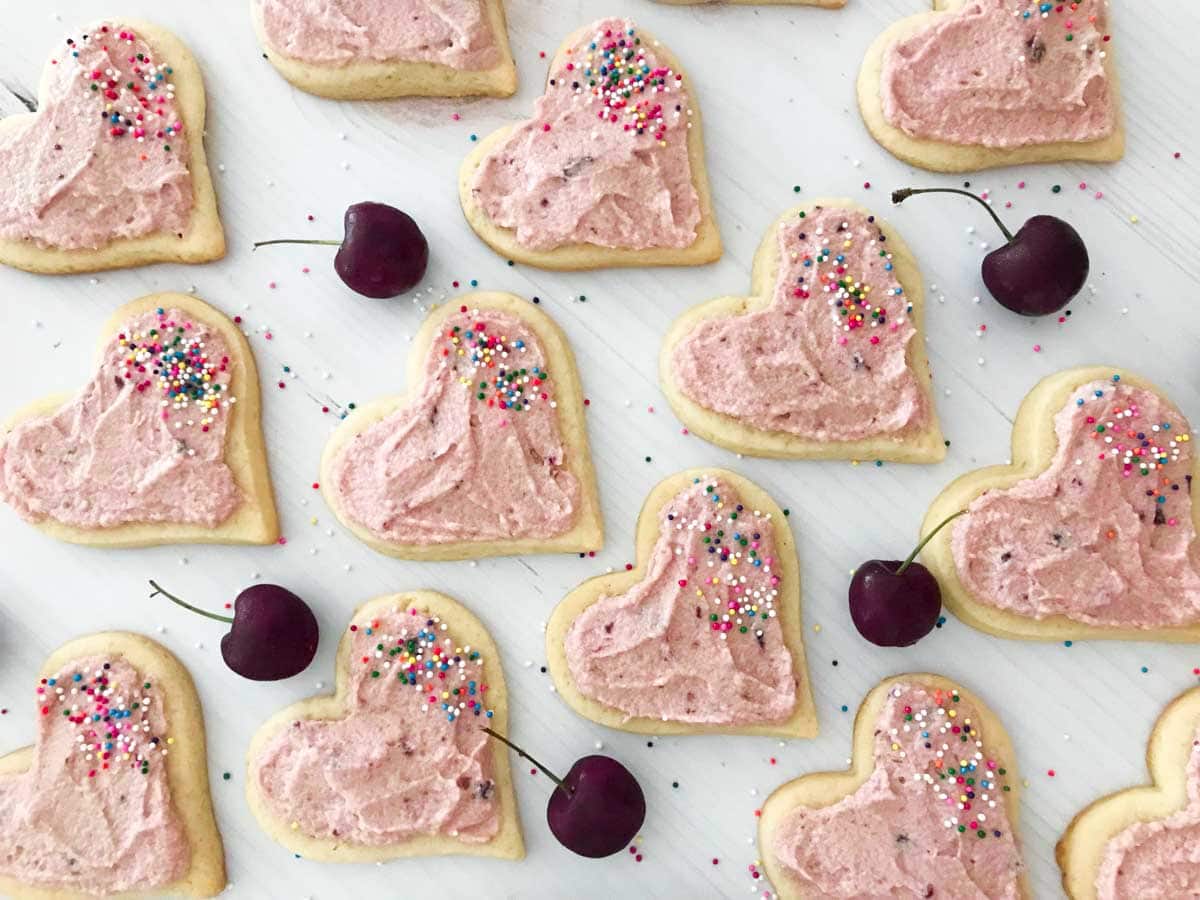 Valentine's Day Cookies
It's February, the month that swirls with all things "love". It's supposed to make us feel dreamy eyed and romantic. But for many of us, for a variety of reasons, it doesn't always feel that way. If you're single, Valentine's Day can exaggerate loneliness. If you're in a relationship, you may feel the pressure of your partners expectations. When you're living with a chronic illness, those feelings can run deeper and leave you wondering if you'll ever find a partner willing to embrace your sick days. The truth is many of us in relationships have the same fear. We're often wondering how our illness is affecting others and that can leave us questioning whether or not we're good partners. For some of us, Valentine's Day has a way of stirring up our insecurities. If you haven't guessed by now, I'm one of those people that feels a bit sad on Valentine's Day. I'm not really a fan of the expected romance that comes with it. Let me explain…
This photo of my dad and me was taken at my college graduation party. It's the last photo I have of us together. He was admitted into the hospital the day after my party and he remained there until he passed a few months later…on Valentine's Day. He was just 58 years old. I don't think you ever really get over the loss of a parent, at least I've never stopped missing him. For me, Valentine's Day will forever be a reminder of that sadness. Let me tell you, trying to turn on the romance when you're remembering the loss of your dad is not easy. So, I've decided to let go of that pressure.
Even though I never have all the romantic feels on Valentine's Day, I do feel a strong desire to tell the people that are there for me that I love and appreciate them. I firmly believe in the cheesy little phrase – "find your tribe, love them hard". If you have that Valentine's Day dread for whatever personal reason you're going through, try shifting those negative feelings. Let kindness, rather than romance, be your guide on Valentine's Day. I've been with my Tom for 21 years and it's important to me to find a way to celebrate together despite my sadness.
You don't have to be in a relationship to express gratitude for those you love. Celebrate with your kids, your parents, your friends, your coworkers, or whoever you feel close to. If you don't have someone special in your life, do something special for yourself. Don't let anything hold you back from enjoying your day. Not Migraine, not sadness, not fear or doubt. Tell your special people, whoever they are, in whatever way works for you, that you love them.
Whew! Now that that difficult story is behind me (and I'm holding my breath hoping it wasn't too much of a bummer on what should be a gooey Valentine post)…let's bake these cookies! You can order cookie cutters similar to mine here. I used a 3 inch which made approximately 36 cookies.
– Jennifer Bragdon
Cream Cheese Sugar Cookies with Cherry Frosting
Not too sweet, soft, with crispy edge, these cream cheese sugar cookies are what dreams are made of! The cherry buttercream frosting is fresh and flavorful without using food coloring for the pink hue.
Cuisine:
American, Cookies
Keyword:
Cherry Buttercream Frosting, Cream Cheese, Sugar Cookies
Servings
:
36
cookies (approx)
Ingredients
Cream Cheese Sugar Cookies
3

cups

all purpose flour

3/4

cup

granulated sugar

1.5

tsp

baking powder

1/2

tsp

salt

1

cup (8oz)

unsalted butter, softened to room temperature

4

oz

block cream cheese, softened to room temperature

* Spreadable brands like Arla will not produce the same texture

1

large egg, room temperature

2

tsp

vanilla extract
Cherry Buttercream Frosting
2

cups

powdered confectioners sugar

1

12oz bag

frozen pitted dark cherries (you'll need 1/4 cup reduced)

4

oz

block cream cheese

1

cup (8oz)

unsalted butter at room temperature

1

tsp

vanilla extract

pinch of salt

Optional: sprinkles
Instructions
Cookie Instructions
Whisk the flour, salt and baking powder, together until combined and set aside. In a large bowl (using a hand or stand mixer) beat the butter and cream cheese together on high speed until smooth and creamy (about 2 minutes). Add the granulated sugar and beat on medium high speed until fluffy and light in color. Add the egg, vanilla and continue beating on medium high speed until well combined (about 1 minute).

Slowly mix the dry ingredients into the wet ingredients on low speed until combined. The cookie dough will be very soft and creamy.

Flour your hands, work surface, and rolling pin. Divide the dough into 2 equal parts. Roll out each portion onto a piece of wax paper or on a silicone baking mat to about 1/4-inch thickness. The rolled-out dough can be any shape, as long as it is even & about a 1/4-inch thick. Stack the dough, between two pieces of wax paper and lay them onto a cookie sheet. Refrigerate rolled and stacked dough for at least 2 hours.

When you're ready to bake, preheat oven to 350°F. Line 2 large baking sheets with silicone baking mats (if you have them). Remove one of the dough pieces from the refrigerator. Using a cookie cutter (I used 3 inch), cut the dough. Re-roll the remaining dough and continue cutting until all of the dough is used. Repeat this process with second piece of dough.

Arrange cookies on baking sheets a few inches apart. These cookies don't spread much but, give them a little space between each one. Bake for 11-12 minutes or until lightly browned around the edges. Allow cookies to cool on the baking sheet for 5 minutes and then transfer them to a wire rack to cool completely before you begin decorating.

Once cool, spread your frosting onto your cookies and place them back onto the cookie sheet. Add sprinkles if you wish. Refrigerate for at least an hour to firm frosting before serving.

Frosting Instructions
Empty your bag of frozen cherries into a small pot and simmer them on med-low until soft (about 15 minutes). Once cherries are soft you'll want to puree them. Mash them (I used a potato masher) in the pot they were simmering in and then beat them with a hand mixer on med speed or throw them in the food processor. Once pureed, set aside to cool.

Add butter to a medium sized mixing bowl. With a hand (or stand) mixer, beat butter until it's light and fluffy. Take your time with this. Your butter will look yellow in the beginning and will turn to more of a light cream color when it's been sufficiently whipped (about 2-4 minutes).

Add cream cheese, salt and vanilla and mix until combined. Add ¼ cup of your reduced cherry puree and mix until combined. Slowly add powdered sugar and mix until well combined. Your frosting should still look light and creamy

If the consistency is too thin, add more powdered sugar. If it's too thick add a bit of cream or milk. If the color of the frosting is not the color you want it, you can add additional cherry puree until you get the color you like. Freeze left over cherry puree for future baking.
Nutrition Facts
Cream Cheese Sugar Cookies with Cherry Frosting
Amount Per Serving
Calories 191
Calories from Fat 108
% Daily Value*
Fat 12g18%
Cholesterol 37mg12%
Sodium 68mg3%
Potassium 46mg1%
Carbohydrates 19g6%
Protein 2g4%
Vitamin A 379IU8%
Calcium 27mg3%
Iron 1mg6%
* Percent Daily Values are based on a 2000 calorie diet.