These roasted lamb chops are dusted with garlic and oregano for a delicious, special meal. Complimented with a whipped mint goat cheese to cool everything down, it makes a great Easter or Christmas dinner.
Roasted Lamb Chops
I love a good Sunday night dinner. I remember when I was growing up, my dad would work late or I would have dance class so we often didn't get to sit down together during the week. However when Sunday night rolled around, it was family dinner night. My mom wasn't the best cook (she's an amazing baker), so our dinners were always interesting.
Sometimes they'd be so good, like "Chicken Divan" which is basically broccoli, chicken, and a ton of cheese. Other times they'd be…interesting…like when she made chicken, canned peaches, and some gloopy yogurt sauce. I don't carry on the tradition of the peach chicken, but I do continue on the idea of Sunday night dinner with my family.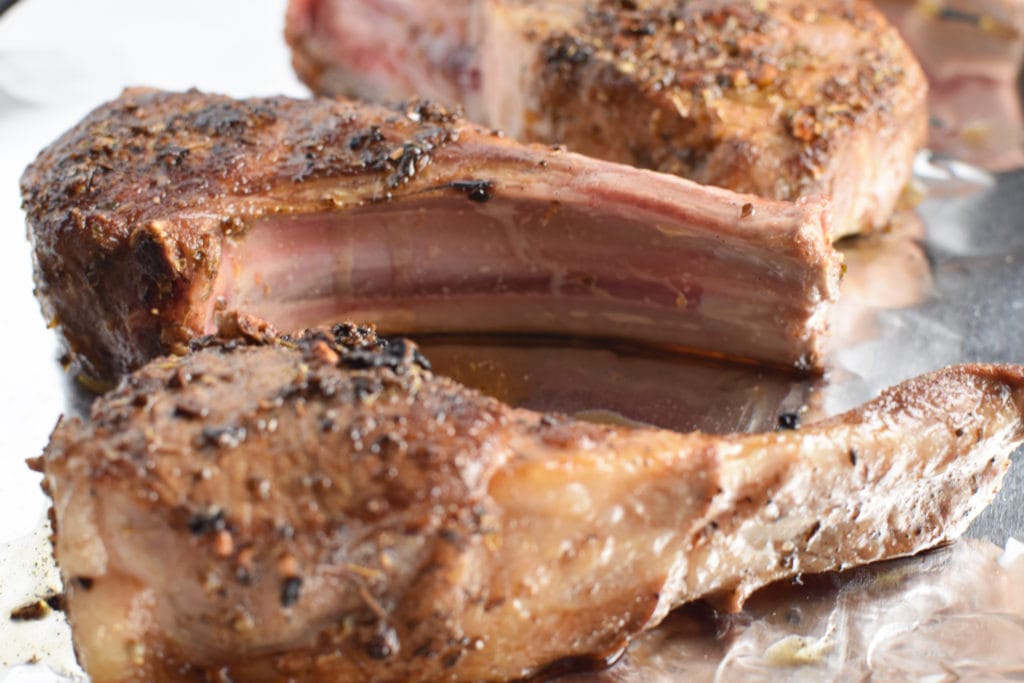 What is Frenched Rack of Lamb?
We never had lamb chops when I was growing up, not even on Easter. I think they're one of those dishes that's a little scary for some people, like mussels or clams. But if you take a chance, the result can be amazing, and half the price it would cost you for a dinner out. I think it also used to be difficult to locate a "frenched" rack of lamb, but now I see it pre-packaged in Trader Joe's for less than $20.
By the way, " to french" means to clean the meat and cartilage from the tips of the bones for a cleaner presentation. Many times your local butcher will already have this done for you. If I want to go a little less expensive, I'll buy lamb loin chops instead. The cooking time is a little bit longer, but the spices and sauce are just as good on those too.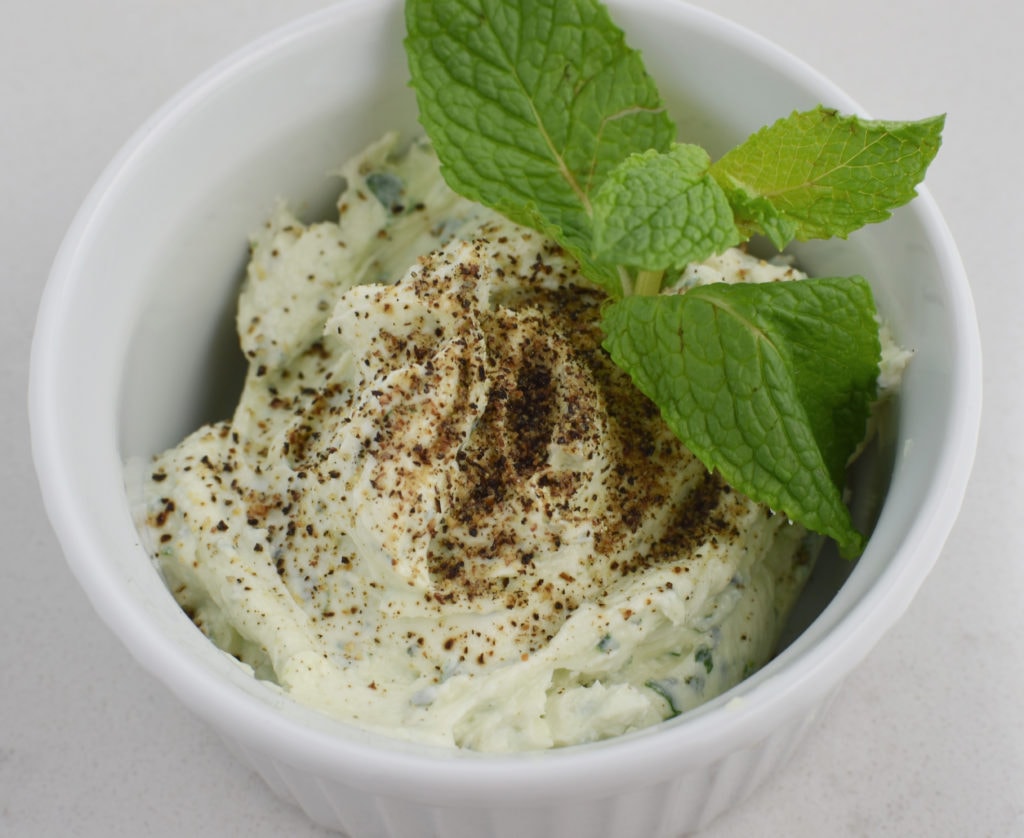 Mint Goat Cheese
When I think of lamb I think of yogurt mint sauce, but yogurt is one of my biggest migraine triggers and on the "avoid" list for Heal Your Headache. I was so sad to give this up, but I've created a new sauce that I think might be even better.
he fresh herbs work really well with the goat cheese, and you still get the tang that you might from yogurt. I find clean mascarpone can be easier to find than clean cream cheese, but if you can't find it you can certainly substitute it with cream cheese. I like Vermont Creamery mascarpone , as well as Philadelphia plain cream cheese.
Roasted Lamb Chops & Mint Goat Cheese
Paprika, cumin, and oregano makes this lamb super flavorful by itself.
Print
Pin
Rate
Ingredients
Spiced Lamb Chops
1

rack (or 8 chops)

frenched rack of lamb, cut separately

You can chop these either 1 or 2 ribs together

¼

cup + 2 tbsp

olive oil

4

cloves

garlic minced

2

tablespoon

dried oregano

1

tablespoon

cumin

1

teaspoon

paprika

½

teaspoon

red pepper

tiny splash of distilled white vinegar

kosher salt and pepper to taste
Mint Goat Cheese
3

oz

fresh, plain goat cheese

2

tablespoon

cream cheese

2

teaspoon

fresh chives, chopped

1

teaspoon

flat leaf Italian parsley, chopped

1-2

teaspoon

fresh mint, chopped

If you really like mint, add 2 tsp. The flavor gets stronger the longer you let it sit.
Instructions
Add all the spices together with olive oil and vinegar, you can blend in a food processor if you'd like. Pull lamb out of the fridge at least 30 min before you decide to cook and sprinkle with kosher salt and pepper. Then top with the olive oil/spice mixture, rubbing it into the lamb on all sides. Allow it to sit at room temperature with the spices.

Prepare a baking sheet with tin foil and preheat oven to 425. Heat olive oil in a large skillet or cast iron over medium high heat until hot, but not smoking. Add lamb chops and sear on one side 2-3 min until deeply browned, then turn and sear another 2-3 min. You may have to do this in batches so your pan isn't overcrowded. Just place seared chops off to the side on the baking sheet.

Placed seared chops into the oven and bake at 425 for 4-5 minutes. I baked mine for 5 minutes and it was medium, which I prefer medium rare. 145 degrees is medium rare, 160 is medium, and 170 is well done. Cover your lamb with foil and rest it for 5 to 10 minutes before serving.
Mint Goat Cheese
Place all the ingredients in a food processor and pulse till fully combined and a little "whipped". Allow to sit for 30 minutes for the flavors to combine. Keep in mind the mint will get stronger the longer it sits so either use it sparingly if you want to make ahead, or add more if you want to serve immediately.
Nutrition
Calories:
305
kcal
|
Carbohydrates:
4
g
|
Protein:
5
g
|
Fat:
31
g
|
Saturated Fat:
8
g
|
Cholesterol:
17
mg
|
Sodium:
87
mg
|
Potassium:
82
mg
|
Fiber:
1
g
|
Sugar:
1
g
|
Vitamin A:
674
IU
|
Vitamin C:
2
mg
|
Calcium:
100
mg
|
Iron:
3
mg