Massage therapy plays an integral role in my migraine treatment plan, so I felt as though it was about time to devote a post to all the techniques I have used to manage vestibular migraine symptoms.
I love massages. It's a big form of self-care for me that first began at my old job at Fossil. While I couldn't control the stress from the workplace, I knew each month I had a special appointment with myself. One where no one wanted anything from me, I could just breathe and relax.
It took me a while to find a massage therapist that I connected with. This is nearly impossible to do unless you go regularly and/or are willing to branch out from salons. Most often, the best way to find a great massage therapist is through personal recommendations. Ask your doctor, your chiropractor, your friends, and even the other ladies at the salon who they like to see. Also be willing to wait. A good therapist usually books well in advance so don't expect same day appointments.
I found my current therapist, Cemetria, through a recommendation of a former therapist who I also loved. She taught massage therapy at Parker, a well-known chiropractic college in Dallas. Her 20 years of experience plus education in the field gave me the confidence to trust her as a part of my migraine treatment plan.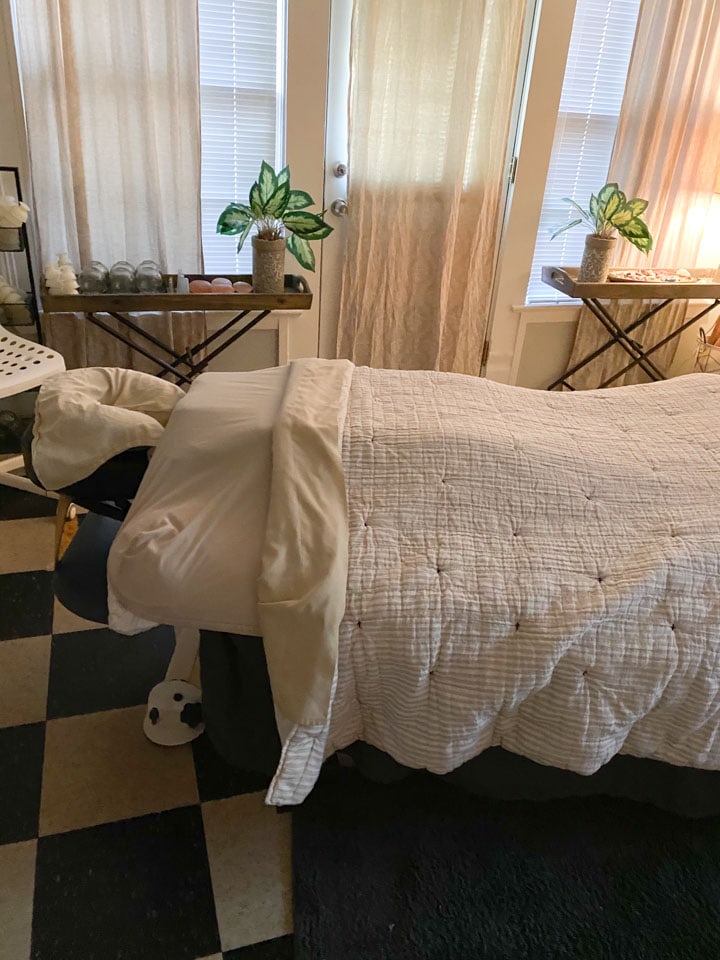 Using Massage Therapy for Migraine Management
When I first became ill with vestibular migraine, I was nervous to hop back into massages and avoided them for a long time. Craving that form of self-care again, I finally reached out to Cemetria and told her what was happening. While she had worked on many clients with migraine headaches, vertigo and dizziness like I was experiencing was new to her. Together we worked on some techniques that were combined for a highly effective treatment.
Most studies focus on the benefits of massage for tension headaches rather than migraine, and especially don't acknowledge vestibular migraine. However, any treatment that promotes relaxation and helps relieve tense muscles can be beneficial. After all, as Dr. Shin Beh says, stress is one of the biggest triggers for migraine attacks. Anything we can do to relieve that stress is worth trying. Working with a skilled, licensed therapist is your best bet for finding relief.
The Benefits of Touch
Being comfortable with your therapist is a key factor to finding relief. After all, this person is touching your naked body for about an hour! If there's any sort of disconnect, you won't be able to fully relax and reap the benefits.
This comes with being open and honest about what you're looking to receive from the massage - are you hoping to just relax or are you trying to work through some pain points? Are you feeling extra stressed that day or are you in a positive mood? These are things your therapist can pick up on and work through on the table.
One key point that I think is often overlook is that migraine can be isolating. Having the comfort of someone else's touch can be incredibly healing.
Swedish Massage vs Deep Tissue
Cemetria tells me one of the biggest misconceptions about massage therapy is that it should be painful to be able to see any benefits. She'll have new clients come in and think they need a hard deep tissue massage to see any relief. But really, your needs can change from session to session. Some days my body is open to receiving deep tissue and other times we need to scale back and combine Swedish techniques with other methods.
So what's the difference? Swedish massage uses long strokes that glide along the body to soothe achy muscles, improve circulation, and ease connective tissue. In comparison, Deep Tissue targets tissues and muscles deep under the skins surface to release knots and "mobilize fluids within the muscle tissue", according to Harvard Health.
Trigger Point Therapy comes in as another option, which is designed to relieve pain in a very specific spot. These can be tricky to find and often involve some "mapping" with your therapist. For instance, a trigger point in your neck could be causing pain in your head. This is also why you may not find relief just rubbing on certain spots at home.
Cupping for Migraines
Cupping therapy is an alternative medicine that originated in ancient Chinese and Middle Eastern Cultures. Special cups are placed on the skin to create suction that can help with pain, promote blood flow, and promote relaxation. There are two types of cupping - dry and wet. Most often you'll be doing dry cupping with a massage therapist (and it doesn't involve any blood - ick). Sometimes fire is used to create suction, but they also make cups that can create a vacuum without setting anything ablaze.
While it looks quite painful once the cups are removed, it's not terrible! I actually find acupuncture to be more uncomfortable than dry cupping. If you hold a lot of tension in your back and shoulders because of migraine, cupping could be a beneficial way to release that build up. This is not a therapy we use regularly in my treatments, but just on occasion where there's a particular pain or a significant amount of tension.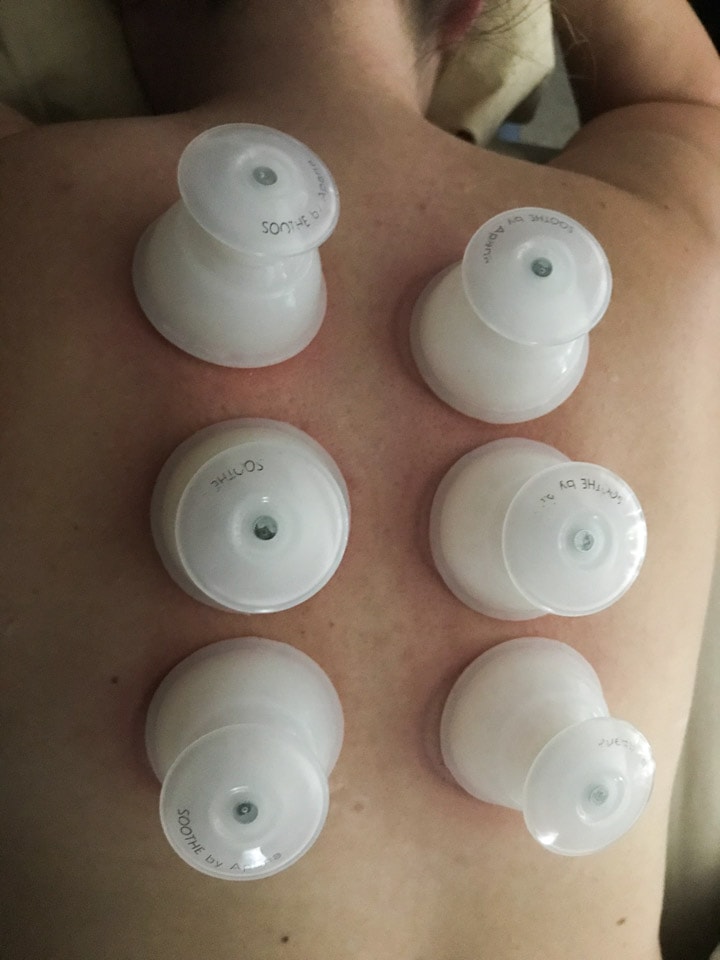 Gua Sha
Gua Sha is another alternative treatment where a massage tool is used to gently scrape the skin to improve circulation and reduce inflammation. The strokes might be long or short, and the pressure can be adjusted according to the needs of the patient.
One very small study used gua sha effectively for a migraine patient going through medication overuse withdrawal headaches. Larger studies have shown it can be effective for neck pain, which is a very common symptom of all types of migraine, including vestibular.
We use these techniques on occasion in my therapy sessions, but you can also practice using gua sha at home since the tool is inexpensive. I find it relaxing to do along my neck and face and there are many YouTube videos that can guide you.
Cranial Sacral Therapy
Cranial Sacral Therapy (CST) is a technique that uses a light touch to relieve tension in the central nervous system. By gentle manipulation of soft tissues, so gentle you can hardly feel it, it's said to increase the motion of cerebrospinal fluid around the brain and spinal cord.
Although cranial sacral can be used for a number of chronic issues, headaches, migraine symptoms, neck and back tension, as well as stress, are some of the top conditions it addresses. There are certain situations where this therapy is not recommended, so always consult with your physician before trying a new technique. You'll also want to make sure your therapist is licensed to practice this therapy. Most of these therapies require additional education and certification.
Reflexology for Migraine
Reflexology applies appropriate pressure on specific points of areas on the feet, hands, or ears that are believed to coordinate with different body organs or systems. It's believed that applying pressure to these points have a beneficial affect on a person's health and the corresponding systems. Some studies have also shown it may be effective for anxiety relief. While the research on reflexology for migraines is limited, some small studies have shown benefits. However, more studies are needed to show that it's an effective treatment.
It might sound totally crazy, but there are times that parts of my feet genuinely ache when pressed on, and I notice it corresponds with my head or ears. This is easy enough to try at home, but there's nothing quite like having a therapist do it for you! I think the largest benefit you'll receive from it is when it's a part of your massage therapy treatments.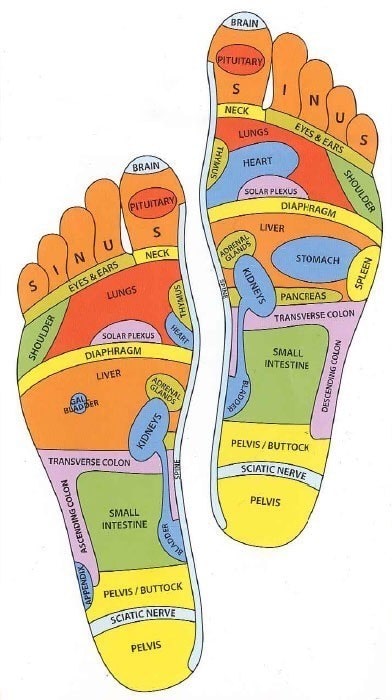 Photo via Well and Good by Judi Singh
Acupressure for Dizziness
One of my favorite parts of my treatment, acupressure uses light pressure on points around the body to promote relaxation and stimulate relief. You know all those "migraine poses" in pictures where people are pressing on their temples? It's sort of the same thing!
In my session, my therapist will put biofreeze or a cooling product on her fingers and gently press some of these pressure points - my temples and behind my ears, my third eye, the base of my skull on both sides, and the crown of the head. In my early vestibular migraine days, I felt as though the back of my ears and upper neck was almost inflamed and warm, adding cooling products during our sessions and at home provided some relief.
Pre-COVID it would be more of a facial massage, but masks and other protocols have prevented this. You can give yourself a gentle face massage at home by using the tips of your fingers or a small jade roller.
I begin by pressing my thumbs on both sides of my nose, applying pressure to the sinus area.

Then slide them up to my forehead, just on the inside of my brows. Hold the pressure, massaging in small circles if you'd like.

Slide both thumbs up and over your brows to to your temples, just to the inside of your hairline. Pause to apply pressure or massage in small circles.

Work your way to the back side of your ears, continuing to apply a firm but comfortable pressure. Give the ear lobes a little love rub.

Slide down into the jaw, massaging out any extra tension you're holding there.

Don't forget the base of the skull! End there with applying pressure while taking deep, steady breaths
Feel better already?! This technique hits many of the pressure points that can relieve migraine symptoms and headaches.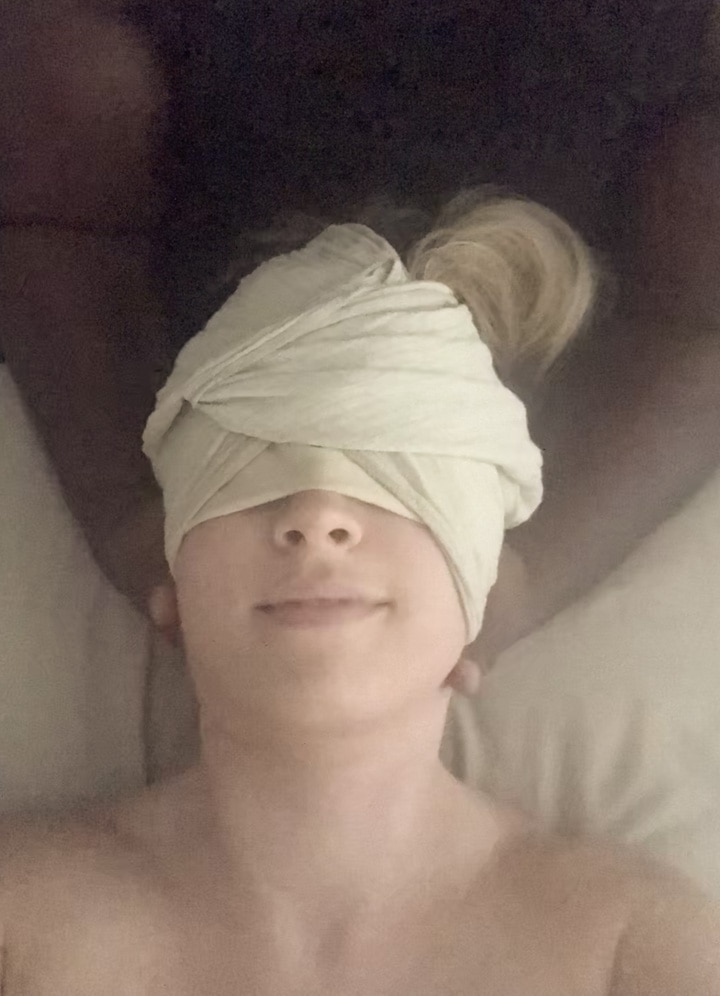 Dizzy After a Massage?
Often, especially in the beginning, I did feel more dizzy after a massage. In the days following, the benefits far outweighed the initial drawback, but I know it's tough to see this at first. Over time, the dizziness wasn't as severe after our sessions, but there are a few tips that I've learned to help out with this feeling.
Adjusting the table BEFORE you get on it. Or if it needs adjusting, stand up and get off the table or have your therapist warn you. Sometimes having them drop it suddenly can mimic some of the drop attacks or vertigo and it can be triggering.

Wrapping your head. My therapist has a "mummy wrap" (see above pic from 2019) that she does with thin towels which cover my eyes and put a gentle pressure on my head that makes it feel secure. This is usually follows the acupressure therapy on my head.

If the wrapping idea doesn't make sense to your therapist, or you're afraid of feeling claustrophobic, having a weighted eye mask is a good substitute that can help you feel more grounded. Discuss if you'd prefer to have it heated or chilled when applied.

Don't get up right away. I typically roll to one side, then gently press myself up. This seems less jarring then going from lying flat to sitting up. Sit on the table and let yourself relax for a while before you try to stand.

Hydration is so important. Go into the the massage well-hydrated (it's ok to use the bathroom in the middle!) and make sure you're keeping up with it following your session.

Begin with a back massage using Swedish or deep tissue techniques, and then end with reflexology and acupressure. This will give you time to settle from more intense therapy to one that's relaxing and meditative.

Laying flat can be an issue for some, so work with your therapist to provide an incline if you find that to be a benefit. If they do prenatal massage, they should have the equipment they need to make you as comfortable as possible.

Arrange transportation. I'd try to coordinate with my husband's schedule so he could drop me off and pick me up, but having some kind of transportation if you know you'll be more dizzy after is helpful. Sometimes I'll listen to a podcast or a book on tape in my car while I wait for the initial dizziness spike to subside.
At Home Techniques
While nothing can quite replace the touch of a skilled massage therapist, there are some methods I like to use at home in between appointments if I'm having a lot of neck and back tension.
Foam Rolling
This is not just for athletes! Foam rolling can help alleviate muscle tension and trigger points as well as promote relaxation and reduce inflammation. With vestibular migraine, I tend to hold a lot of tension in my upper body and neck. If I can keep everything loose, it definitely helps me prevent tension from building and lower attacks.
There are so many helpful foam rolling videos out there and I am no expert, but what seems to help me the most with tension that collects in my upper back is just a simple upper body roll. I like to hold my head so my neck doesn't have any extra tension while I bridge my lower body to apply pressure to my back.
You can finish by resting your neck on the foam roller, right where it meets your head and then very slowly turning your head from side to side, holding where you feel any tension or tightness.
Tennis Balls for Neck and Back Pain
Nothing fancy here, but your dog's favorite toy could also be your best friend. Find a tennis ball with minimal slobber and hit those tense spots.
I'll start by leaning against a wall and sliding the tennis ball between my upper back and the wall, which seems to be the easiest place to begin. Then roll around and notice any trigger points or spots of tension. Go slow and easy - remember the goal is not to cause yourself pain, but just work out some of the tension. This also allows you to get into smaller spaces than the foam roller can reach.
For my neck, I won't lean against the wall, but just gently rub the tennis ball on the sides and up under where my head meets my neck.
Has massage therapy helped you with migraine management? Have you tried any of these tips and tricks? Let me know in the comments!