This Pomegranate Chicken Salad is easy to make in just 10 minutes for a protein-filled lunch. Sweet pomegranate seeds are combined with a shredded chicken salad that's easy to put on sandwiches, crackers or salads.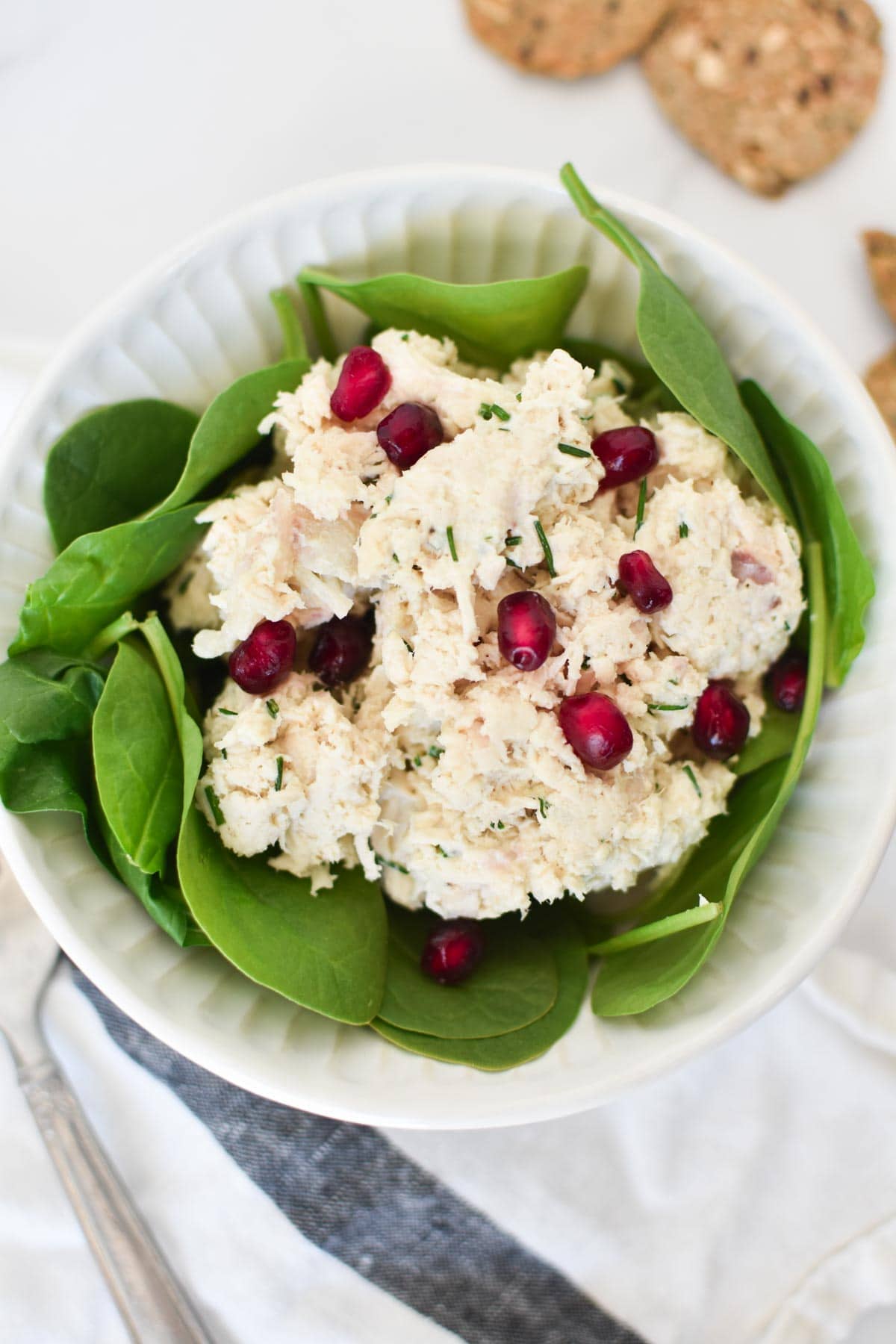 This post was originally published July 2018 and updated June 2021 with new pictures and better recipe tips.
Why Make This Recipe
This is one of my favorite chicken salad recipes for a reason.
It's easy to make with really limited ingredients.
It reminds me of the fancy chicken salads you get at a tea room.
It's perfect for meal prep and packed with good protein.
You can put this on sandwiches, crackers, salad, or eat it by itself which is so versatile.
This recipe follows a migraine diet, paleo, gluten free, and dairy free, making it a healthy choice for those with food allergies or limitations.
Ingredients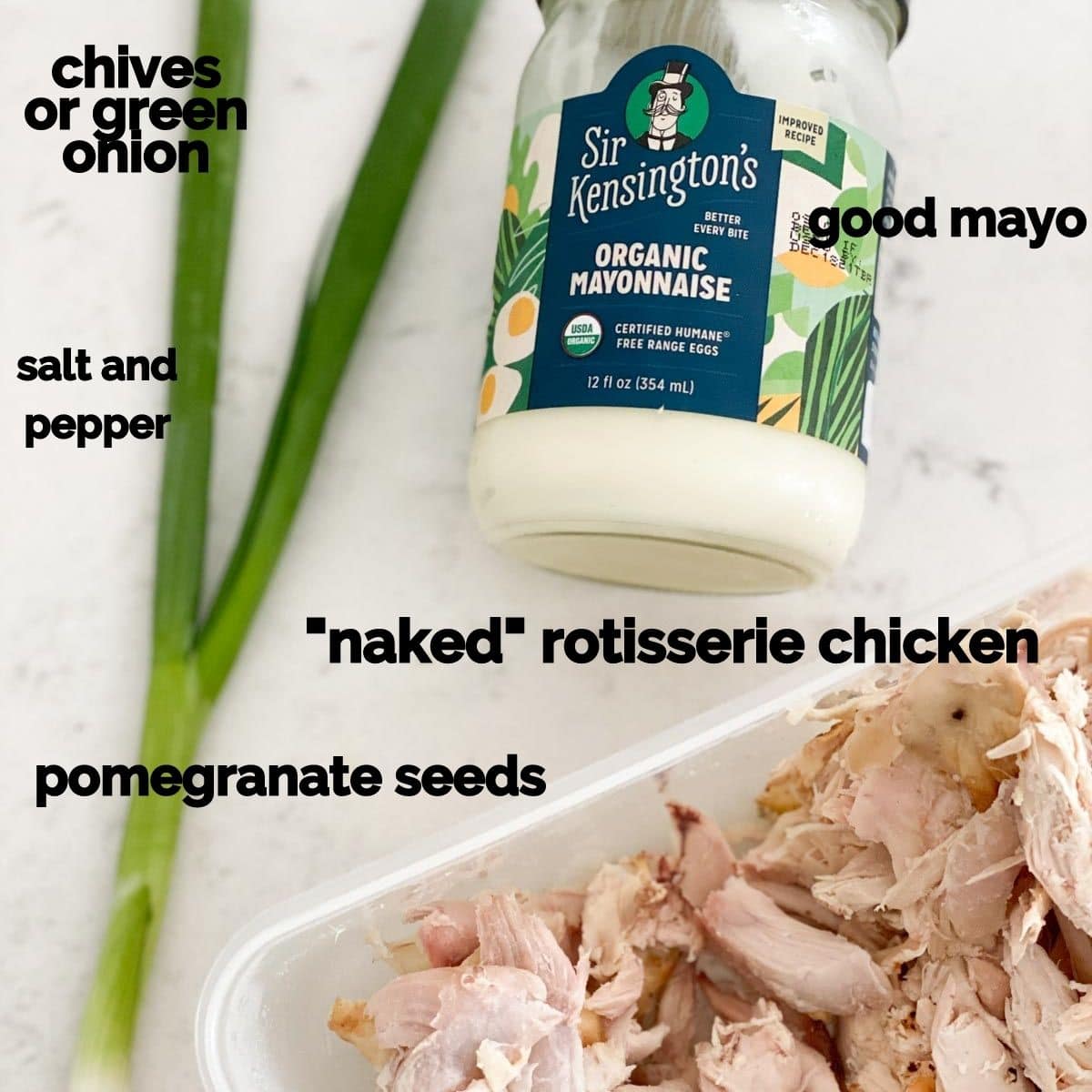 Rotisserie Chicken - I highly recommend starting with a "naked" rotisserie chicken. You can find these at Whole Foods, Sprouts, Fresh Market, Central Market, just to name a few.
"Naked" chicken doesn't refer to a scandalous chicken (har har)...it's actually quite decent! "Naked" refers to an unseasoned whole chicken. You may think "how much can they actually add to a rotisserie chicken if it's done in house?", but most of the one's I've picked up, even in Whole Foods, can contain hidden MSG or other migraine triggers in the flavorings. One thing you don't have to worry about with organic, naked chickens is the injections a lot of less expensive rotisserie chickens might have to flavor them or plump them up. If you missed this post about air chilled chicken and how to make sure you're getting the cleanest brand, be sure to check it out.
Mayo - I would recommend either making your own mayonnaise or using a mayo with good ingredients. If you need an egg free option, try this Aquafaba Mayo.
Chives or Green Onion - Both will work for this recipe. I grow chives pretty easily in my garden, so I just use whatever I have on hand.
Pomegranate Seeds aka "Arils" - These can be found in small packages, usually near the packaged fruit section. Sometimes you have to really look for them cause they can be hidden! Trader Joe's has the best deal on these that I've found.
How to Make a Shredded Chicken Salad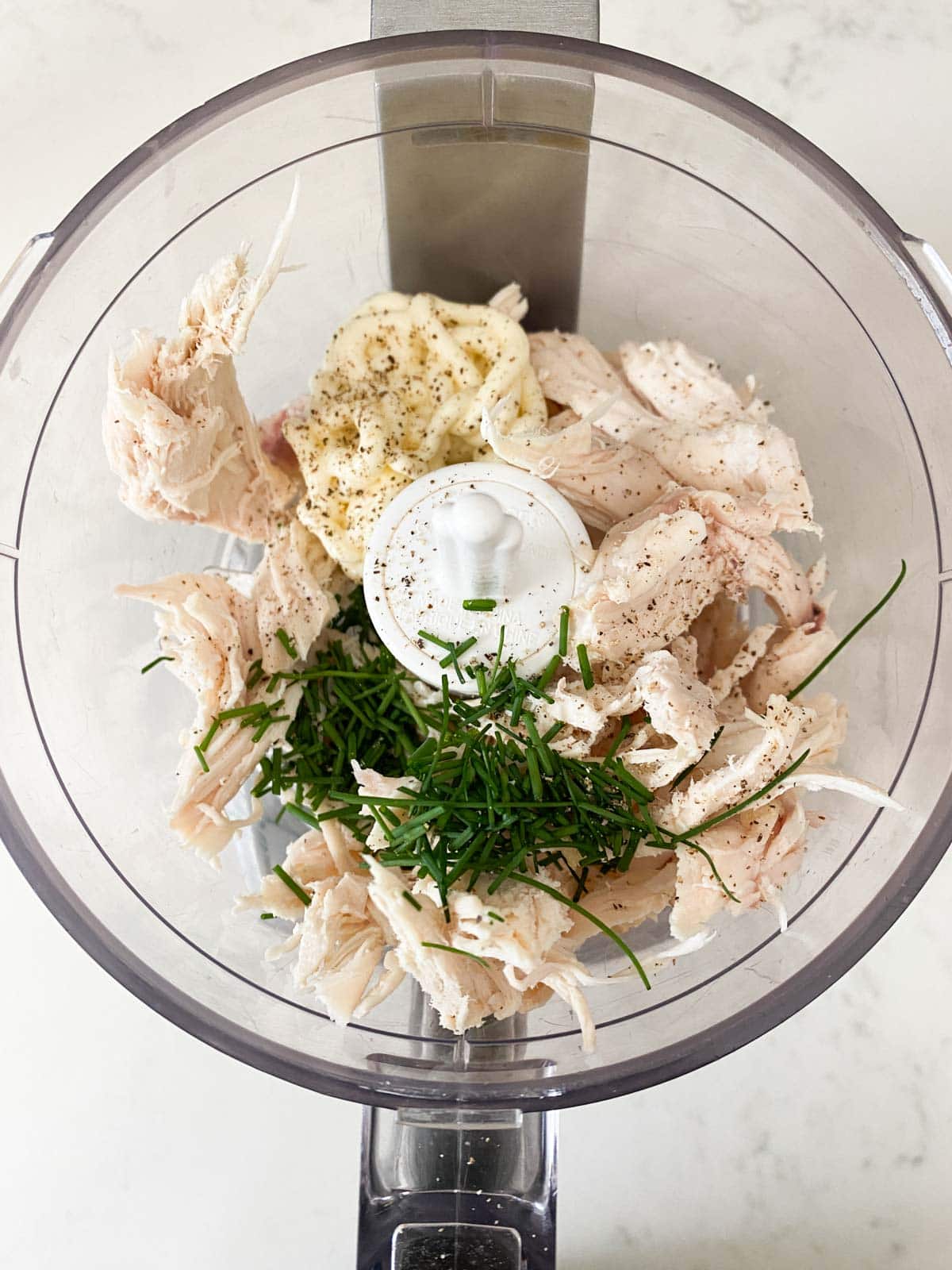 No need to turn on your oven for this one, but a food processor can be helpful to get that shredded texture. Obviously you can just chop the chicken and mix together, but I sometimes prefer the texture of using the food processor. The trick is to only pulse enough to get it chopped finely, but not enough to pulverize it. We don't want chicken salad goop.
Start by chopping your green onion or chives (you can do this in the food processor if you have one).
Add in mayo, chicken, salt, and pepper. Do quick pulses 5-10x until the right texture is reached. You can stop and stir the mixture to release any large chicken pieces from the sides.
Taste and adjust any seasonings. Mix in the pomegranate seeds and chill for 10-15 minutes.
If this needs a little more acidity, I like to add ½ lemon squeezed in before pulsing. If you're following a migraine diet and eliminating lemon, add 1-2 teaspoons of distilled white vinegar.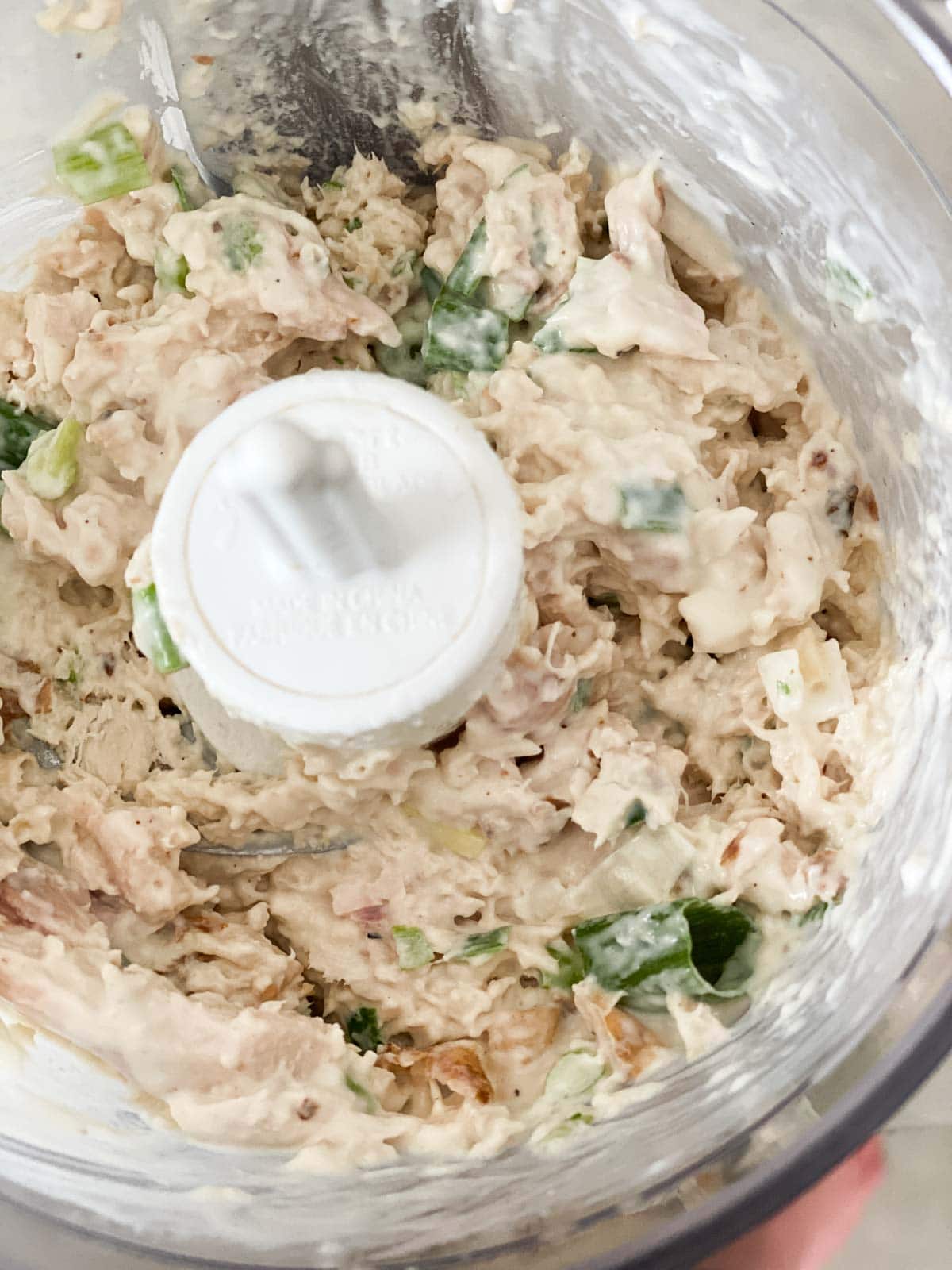 Storing Leftovers
Naked rotisserie chicken has been my lifesaver for the times when I was feeling terrible, or even today when I have recipe testing to do and need a quick and easy meal. I like to buy one on a Sunday, peel it, and separate it into two bags - one with light meat and one with dark meat. Then I will typically save one for a lunch the next day, and put the rest in the freezer to avoid tyramine build up.
If you have leftover pomegranate seeds, these are a wonderful, tart replacement for dried cranberries. I also love to put some in my sparkling water for a cute mocktail. And if you need a side dish, this couscous with pomegranate seeds is awesome.
This pomegranate chicken salad can be stored in the fridge up to 3-4 days if using fresh chicken. By fresh, I mean either just purchased from the grocery store where it was cooked that day, or pulled out of the freezer the night before.
Other Chicken Recipes
For more delicious chicken recipes that are also great for lunches or meal prep, check out these ideas.
The best positive of chicken salad? You coworker won't stare you down like she might if you brought the tuna salad.
If you make any of my recipes, don't forget to tag me #thedizzycook or @thedizzycook on Facebook and Instagram. And please leave a review below!
Pomegranate Chicken Salad
This simple recipe is best with rotisserie chicken, mayo, and pomegranate seeds and can be meal prepped for a healthy and protein-filled lunch.
Print
Pin
Rate
Ingredients
½

tablespoon

fresh chives or green onion, chopped into small pieces

2

tablespoon

good mayonnaise*

¾

cup

rotisserie chicken meat, pulled or roughly chopped

kosher salt and pepper to taste

1

tablespoon

fresh pomegranate seeds

Optional: Distilled white vinegar or lemon juice for extra acidity.
Instructions
In a food processor (if using), pulse chives or green onion till finely chopped. Add mayo, chicken, salt and pepper. Pulse quickly 5-10x until desired consistency is reached. Stir in pomegranate seeds and chill for 10-15 minutes before serving.

For more acidity, add 1-2 teaspoons of vinegar or lemon juice with the chicken/mayo combo. If you don't have a food processor, simply chop the chives/onion and chicken and then stir to combine.
Notes
Plain rotisserie chickens can be found at Whole Foods, Sprouts, Fresh Market, and Central Market, to name a few. They're just whole chickens with salt and pepper or no seasonings.
Pomegranate seeds are typically found with other packaged fruit/berries but are usually hidden!
If following a migraine diet, do not use lemon juice, only use distilled white vinegar or a pinch of sumac for lemon flavor.
See my pantry staples post for mayo suggestions or make your own (see post for suggestions).
Nutrition
Calories:
386
kcal
|
Carbohydrates:
3
g
|
Protein:
16
g
|
Fat:
34
g
|
Saturated Fat:
7
g
|
Polyunsaturated Fat:
15
g
|
Monounsaturated Fat:
10
g
|
Trans Fat:
1
g
|
Cholesterol:
75
mg
|
Sodium:
238
mg
|
Potassium:
206
mg
|
Fiber:
1
g
|
Sugar:
3
g
|
Vitamin A:
202
IU
|
Vitamin C:
4
mg
|
Calcium:
14
mg
|
Iron:
1
mg